Britain's Princess Eugenie, 30,  inspired a teen cancer patient, saying she's 'proud of her big old scar,' a remnant from scoliosis surgery on her back when she was just 12, the Daily Mail reports. In a Zoom chat sponsored by Teenage Cancer Trust, the conversation turned to
RELATED: These Intimate, Sexy Photographs Show Scars and More — a Powerful Message About Femininity and Beauty
Read More
body image: "I have always
struggled with my body image
, way before I got diagnosed with cancer," Darcy Shaw, 21, told the princess. "And now I have a scar on my neck and chest from surgery," said Shaw, who said scars from her skin cancer surgery made her think, "well, everything is going to plummet."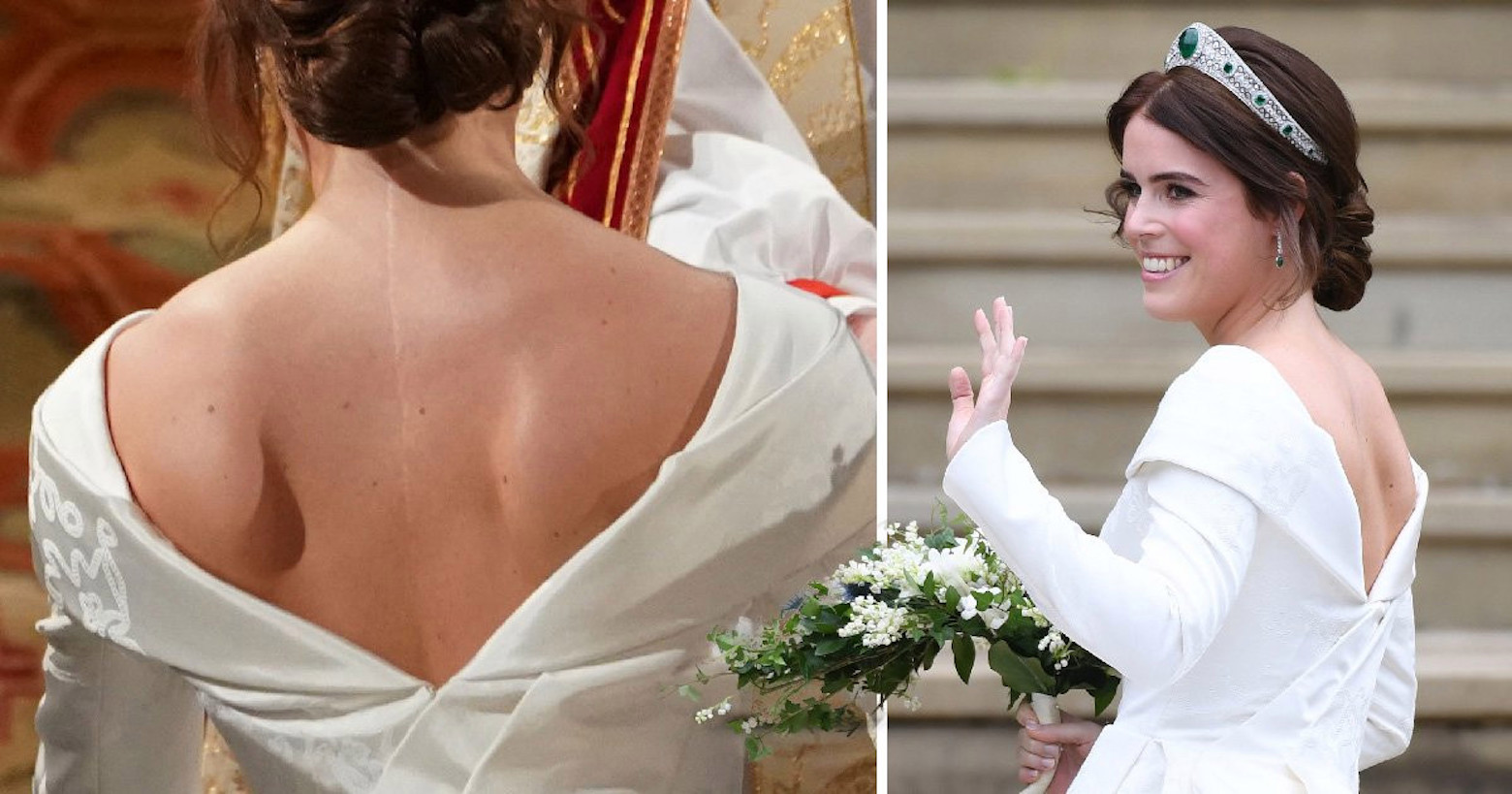 Princess Eugenie inspired cancer survivors by proudly displaying her scar — from scoliosis surgery — at her 2018 wedding. 
But Shaw told the princess, "'I saw pictures of you in your wedding dress and the scar, and it inspired me that you were so open about it and wanted to have it on show."
RELATED: This Amazing Photographer Shows All Her Scars from Cancer and Says to 'Love and Respect' Your Body
Eugenie, who is Queen Elizabeth's granddaughter, walked down the aisle in her 2018 wedding to Jack Brooksbank wearing a dress with a deep V-back that put her scar on bold display. Shaw went on to say that Teenage Cancer Trust helped her re-frame her view of her body post-surgery: "I've attended body image workshops  …  it's boosted my confidence, I can't believe it."
"Woo! I love hearing that, Darcy. I have a big old scar down my back and I'm proud to show it off," said Eugenie, an honorary patron of the British cancer organization.
On Saturday, the British royal, 30, shared a photo of her back scar on Instagram (above). "I just wanted to share my scar and encourage anyone out there who's gone through something similar to share theirs with me," she wrote.
RELATED: 'Radiant Racheli' Beats Hodgkin Lymphoma, Sends Positive Vibes To Young Survivors
"Let's be proud of our scars! I'd love to repost any of your images on my stories so please tag me and I will share. #internationalscoliosisawarenessday."
Over Zoom, Eugenie and her sister, Princess Beatrice chatted to six young cancer survivors, who shared the challenges of facing cancer during COVID-19 — including "shielding" (social distancing), appointment delays, and not being able to have loved-ones visit them in the hospital — and the support they've received from the organization's youth-support coordinators.
RELATED: 'The Who' Lead Singer, Roger Daltrey, Is Scared For Teens Battling Cancer Amid COVID-19 — 'They Suffer In Silence'
"Sadly, for them and others, this isn't their first experience of … the isolation [cancer] can bring,"  Teenage Cancer Trust chief executive Kate Collins, said of the teens. "Young people facing cancer often feel isolated from their friends and peers, who are moving on with their lives."
Young Cancer Fighters: Special Needs
When people think about cancer, they don't typically think of young adults. But young adults do get cancer, and they have unique needs. When Matthew Zachary was facing brain cancer as a 21-year-old college student, he noticed a real lack of resources for people in his situation.
RELATED: Teenager With Cancer Gives His Nurse a Buzzcut — A Heartwarming Show of Support During Trying Times
That's why he created Stupid Cancer. And now, 22 years after his diagnosis, he feels like the resources he wished he had are finally becoming available.
After facing brain cancer at 21, Matthew Zachary founded Stupid Cancer, to provide resources for young people with cancer.
"I feel like I was hand-sculpted to create an organization," Matthew says. "And be a voice for the invisible Gen-Xers – the most underserved age group in cancer. We get it more, we die more, we are diagnosed late, we are misunderstood … it's different, and if you want to save our lives, it requires a completely different framework."
RELATED: This Inspiring Teen Undergoing Chemo Makes Special Shirts for Kids with Cancer
Matthew says that now, finally, young adult cancer is getting more attention. And help for the people who feel like they might lose their 20s to the disease is more widespread and available. "I built Stupid Cancer to be what I wish I had," Matthew says.
Learn more about SurvivorNet's rigorous medical review process.
---