Jordan Harouche, an incredibly charismatic 16-year-old boy who was diagnosed with cancer in his brain, has captured the hearts of the entire cancer ward at Hassenfeld Children's Hospital at NYU with his ceaseless smile, upbeat attitude, and genuine excitement to talk to everyone he meets. In an interview with SurvivorNet, he spoke tenderly about his grandparents, who have been by his side throughout treatment, sang the praises of his mom for being totally in attuned to him and always trying to help, and explained how he began giving away T-shirts he and his grandmother make to young patients in chemotherapy.
"Everyone was giving me these cancer gifts, [like] stuffed animals. I'm 16, I really don't need a stuffed animal," he said. So, instead, he began asking people to give him T-shirts he could, especially in kid sizes, so he could turn them into chemo-shirts.
Read More
Jordan was diagnosed in October with a
germ cell tumor
in his brain, a rare type of cancer that can occur anywhere from the brain down to the gonads. After his second cycle of chemotherapy, he had an MRI scan and got great news — his tumors were largely gone. He still has to complete three more cycles of chemo and radiation.
T-Shirts for Cancer Patients
It was during chemo that Jordan had an idea. Like many others who undergo the treatment, Jordan has  a small, implantable reservoir with a tube that attaches to a vein, called a chemotherapy port, to enable him to get the drug without a needle stick. In order to reach the port, he has to wear a hospital gown during treatment.
RELATED: New Discoveries, New Hope — 2019's Top 10 Advances in Treating Cancer
"I personally hated the gown," he explained. "I don't want to walk around in one." So Jordan and his mom came up with the idea to take T-shirts and put zippers in them for easy access to chemotherapy ports, and then to distribute them for free to kids going through treatment. While some companies make these, they tend to be more costly than regular shirts.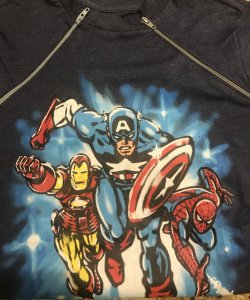 "My grandma sits with me and just sews in the zippers," Jordan said. The T-shirts they repurpose are donated from friends and family.
RELATED: Having Trouble Eating During Chemo? From Cheerios to Pho, the Foods Survivors Tell Us They Could Enjoy
Jordan's mom, Jodi, told SurvivorNet that the shirts are especially important to the younger cancer patients. "These little kids are walking around in these tremendous gowns and tripping on them," said Jodi. "You never in a million years would have realized that something so little could be something so big."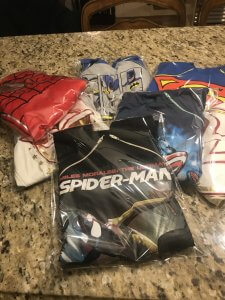 One little boy Jordan gave shirts to, named Alden, loved them so much, he said, that "he saw me the other day in the clinic wearing [one] and he started taking his shirt off" to put it on.
RELATED: Selma Blair's Beautiful Note — The Importance of Kindness During Chemotherapy
Not surprisingly, Jordan also loves to draw and sketch, "I sketch family cartoons, like describing people," he said. "My cousin always does spray tans, so I drew a cartoon of her getting a spray tan, just to mess with her. I drew my uncle watching football and cursing at the TV."
His art teacher from school, he said, was the first person to email him when people learned  he had cancer.
Jordan's Cancer Journey
Jordan's diagnosis seemed to come out of nowhere. Like most teens, Jordan, who lives outside of New York City in Long Island, N.Y., was focused on video games and sports. But then he began to experience symptoms that brought him to a doctor.
RELATED: This Gorgeous Mural Made by Children with Cancer is Completely Out of this World
Dr. Theodore Nicolaides, director of Pediatric Oncology at the Hassenfeld Children's Hospital, who is treating Jordan, said that "in October, [Jordan] started having fatigue, vomiting and thirst and urination — a lot more than normal. … Those signs really suggest something going on with the brain."
RELATED: Tips For How to Handle the 'Cancer Conversation' With Friends and Family When You Gather for the Holidays
Doctors found a mass in the pituitary gland area and another one in the pineal area, and diagnosed him with a germ cell tumor, a type of cancer that can occur anywhere from the brain to the gonads. Jordan's was on his brain.
But Jordan, with his contagious smile, said even when he was an inpatient — he now comes to the hospital just for treatment — things weren't that bad. "You're pretty much just hanging out and relaxing," he said. He also said he was actually less nauseous as an inpatient because the doctors would give him anti-nausea medication.
The worst part? "We have pre-season right now and if I didn't have my port I could actually play," he said of lacrosse. "But since I have the port and they don't want it to get destroyed or something, I can't play, which kind of sucks."
Support  from Friends — and a Very Special Mom
When it comes to visitors, Jordan says his friends keep him entertained during treatment in the hospital.
"I have a very small, tight group of friends," Jordan said. "My friends come every day. They all come in cycles. My friends come, my girlfriend comes, everyone just comes in a flow."
And his girlfriend, he said, is really accepting of everything that's happening in his life. She "surprisingly does not even care [that] I'm bald," he said.
In addition, his two older brothers have been there for him throughout the process. "They visit me during chemo, and they text me every day. It's really nice," he said. "We play 'Mindcraft' and 'Fortnight.'"
But it's his relationship with his mother that has really helped keep him strong.
During treatments, he said, whenever he gets nauseous, which happens frequently, "she can just look at me, and just tell." And for those moments when his mom isn't quite sure how he's doing, whether physically or emotionally, they have a secret code.
"He says to me, 'Can I have a lollipop?'" Jodi said, "and that says to me, 'I'm sick of this shit, and I'm not feeling well, and I'm upset.'" They then either talk about it, or Jodi gives him space — but either way, it helps him, he said, to know someone's on the same page as him.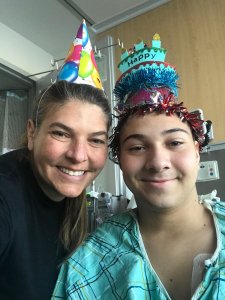 "He's very in touch with his emotions and how he feels, and he's very good at sharing how he feels with us," said Jodi.
More about Germ Cell Tumors
Germ cell brain tumors are very rare, accounting for less than 5% of all brain tumors in children, according to St. Jude's Children's Hospital. They are more common in boys than in girls, and about half of them occur in children and young adults ages 11 to 30.
Germ cell tumors break down into two categories: germinomas, and other germ cell tumors. For germinomas, the five year survival rate is 90%. For other types of germ cell tumors, radiation therapy can help to control the disease in 40% to 60% of children and id chemotherapy is added, the 10-year overall survival rate is between 70% and 80%, according to St. Judes.
Jordan's cancer was not germinoma, so it was a little bit more difficult to treat, said his doctor, but "with treatments like radiation and chemotherapy, the outcomes are still good."
Learn more about SurvivorNet's rigorous medical review process.
---