Jeff Bridges' Comeback From Covid & Cancer
Actor Jeff Bridges was dealing with both cancer and Covid-19 at the beginning of 2020. However, he pushed on through and now recounts his recovery as a "gift being presented."
Bridges who stars in the FX series "The Old Man," has opened up in a recent interview about how his tumor significantly decreased in size amid his challenging recovery from Covid-19.
Bridges was being treated for lymphoma, a blood cancer, at the time that he was diagnosed with Covid. Because his immune system was weakened from the cancer treatment, the virus hit him particularly hard.
Beloved actor Jeff Bridges, 73, who stars in the FX series "The Old Man," has opened up about how his tumor significantly decreased in size amid his challenging recovery from Covid-19 — something he calls a "gift."
Speaking from his Santa Barbara, California, home, Bridges told AARP in their latest cover story, "I was doing those fight scenes for the first episode of 'The Old Man' and didn't know that I had a 9-by-12-inch tumor in my body."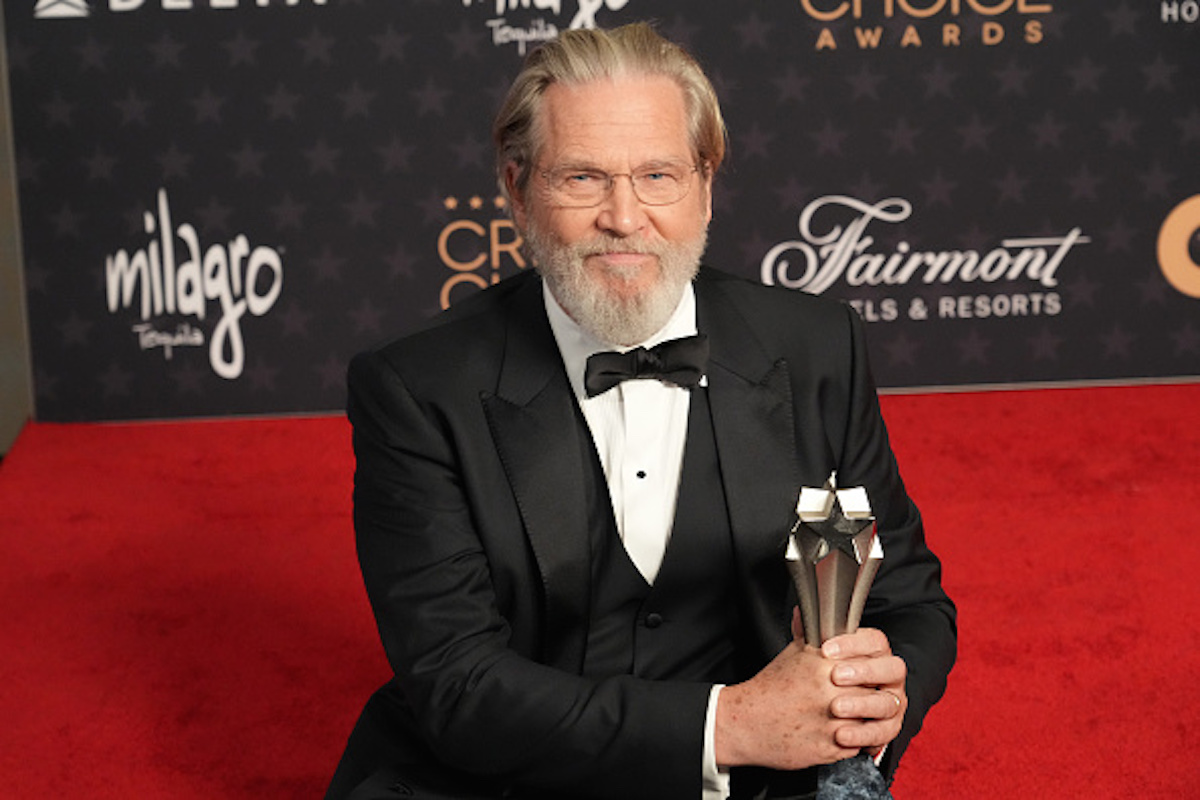 Read More
"You'd think that would have hurt or something, when they were punching me and stuff," he recalled about how he felt amid shooting for the drama series. "It didn't." He explained how his tumor has now reduced "to the size of a marble," but his Covid-19 recovery was an even harder battle, especially with getting back on his feet in the hospital. "A lot of getting better was a matter of setting really small goals. At first, they'd say, 'How long can you stand?' For a while, my record was 45 seconds before I'd collapse. And then they were saying: 'Oh, look, you're standing for a minute! That's so cool, now can you walk 5 feet?'"
He doubted that he would be able to return to work, but later obtained a bout of optimism and thought, "Maybe I can."
"I have to admit that I was still frightened of going back to work. Then I began to think of my recovery as a gift being presented," Bridges explained, noting that the "gift" led to being able to walk his youngest daughter Hayley down the aisle at her wedding.
It's clear Bridges strives to make the most of his life for his film producer wife Susan Geston since 1977, and also his two older daughters, Isabelle and Jessica.
The actor, known for iconic roles like "The Dude" in The Big Lebowski, has come a long way since his cancer diagnosis and Covid-19 battle, and is now starting to film Season 2 of "The Old Man."
When he spoke about finishing Season 1 of "The Old Man," Bridges describes it as "a dream."
"So cut to two years after taking that break. I come back to work, and, man, it was like a dream, as if we'd just had a long weekend or something. I was seeing all the same faces in the cast and crew. Very bizarre," he said.
"Everybody showed such dedication and hung in. We finished it. I appreciate that."
Jeff Bridges' Cancer Battle
Jeff Bridges was diagnosed with lymphoma in 2020 and started chemotherapy treatment right away. Although Bridges hasn't personally specified which type of lymphoma he was diagnosed with, AARP noted that his cancer was, in fact, non-Hodgkin lymphoma, cancer of a type of white blood cells called lymphocytes, which are part of the immune system.
While cancer treatment was going well, he was also diagnosed with COVID-19 in January 2021 — and due to his cancer treatment having weakened his immune system, Bridges wound up spending months in the hospital.
According to AARP, Bridges' cancer went into remission quickly after he was put through chemotherapy infusion, which was followed by an oral chemo protocol.
He dubbed his wife as being his "absolute champion" as she stayed by Bridges' side as he recovered from covid in the hospital. "She really fought to keep me off a ventilator. I didn't want to be on it, and the doctors didn't necessarily want that. But Sue was adamant," he told the news outlet.
He was later treated with a blood plasma called "convalescent plasma," which consists of viral antibodies.
Despite his struggle, like so many cancer survivors, Bridgers was left with a renewed appreciation for life.
"I'll be honest. I didn't know if I was going to make it," he told Esquire in an earlier interview. "I was on death's door there for a while in the hospital … When I finally went back to work, after a two-year hiatus, it was the most bizarre kind of thing. It felt like a dream."
"I came back after all that time, and saw the same faces [while shooting The Old Man], the same cast and crew," he added. "It was like we had a long weekend. I gathered everyone and I said, 'I had the most bizarre dream, you guys.' I was sick and out, but all that feels like a gray mush now."
Understanding Lymphoma
Jeff Bridge's battled non-Hodgkin lymphoma, one of the two most common types of lymphoma.
Lymphoma is a cancer of the immune system that affects infection-fighting cells called lymphocytes. And there are more than 40 different types of lymphoma.
Sneaky Lymphoma Symptoms Often Lead to a Late Diagnosis
"Lymphoma is split up into a number of different categories," Dr. Elise Chong, a medical oncologist at Penn Medicine, previously told SurvivorNet.
"The first distinguishing breakpoint, if you will, is non-Hodgkin lymphoma versus Hodgkin lymphoma," she added, "and those sound like two different categories. But non-Hodgkin lymphoma comprises the majority of lymphoma, and Hodgkin lymphoma is a single specific type of lymphoma."
Hodgkin lymphoma has distinctive, giant cells called Reed-Sternberg cells. The presence of these cells, which can be seen under a microscope, will help your doctor determine which of the two lymphoma types you have.
There are a few other important differences between non-Hodgkin lymphoma and Hodgkin lymphoma to note. For one thing, non-Hodgkin lymphoma is much more common. And you're more likely to be diagnosed with it after age 55, like Jeff Bridges. People usually develop Hodgkin lymphoma at a younger age.
It should be noted that another difference between these two types of lymphoma is that non-Hodgkin lymphoma is more likely to spread in a random fashion and be found in different groups of lymph nodes in the body, while Hodgkin lymphoma is more likely to grow in a uniform way from one group of lymph nodes directly to another.
These two different types of lymphoma behave, spread and respond to treatment differently, so it's important for you to know which type you have.
What Life May Look Like After Treatment
If patients have not experienced too many complications from their chemotherapy, "they are often able to go back to many of the same things that they did before they had their diagnosis of cancer and are able to live full and complete lives," Dr. Michael Jain, medical oncologist at Moffitt Cancer Center, told SurvivorNet in an earlier interview.
Age, Race, and Exposures Might All Factor Into Lymphoma Risk
If the cancer does return at some point, any future treatment you get will depend on:
The type of lymphoma you had
The type of treatment you received for it
How long it has been since you finished your treatment
Your overall health
Making a Survivorship Care Plan
So what comes after successful treatment? "At that point we often focus on the survivorship issues that they may have, preventing second cancers, and properly following them," Dr. Jain explains.
A survivorship plan will include a schedule for follow-up exams and tests, plus a schedule for tests to check for any long-term health impacts from your cancer or treatment, and screening for any new cancers. (You're at higher risk for cancers such as melanoma, lung cancer, and kidney cancer if you've had non-Hodgkin lymphoma).
Your doctor will likely tell you what to look out for in terms of side effects that could show up late or over the long term. Your care team will provide you with diet and physical activity recommendations as part of your survivorship plan.
Moving On From Treatment
It's natural to feel continuing mental health effects, such as depression and anxiety, even after your treatment ends. This is where you can benefit from a supportive community. Look to strengthen your relationships with friends and family, faith groups, support groups, and mental health professionals to buoy you as you move on from treatment.
In addition to caring for their mental health, people who finish treatment and are in complete remission will want to move on from cancer with a physically healthy lifestyle. Eating nutritious foods, exercising regularly, staying at a healthy weight, and not smoking are all lifestyle practices that generally contribute to a healthy quality of life.
Indeed, cancer and its treatment might naturally point survivors in the direction of such practices. "Mostly [we're] trying to maximize the quality of life that people have, because once you have a cancer diagnosis, I think it is an important time in someone's life where they can take stock and really understand what's important," Dr. Jain adds.
Contributing: SurvivorNet Staff
Learn more about SurvivorNet's rigorous medical review process.
---