It's a feat in and of itself to qualify for the U.S. Open — qualifying as a cancer survivor is simply amazing. It turns out, there were several survivors playing for the United States on the courts at this year's Open — which runs from Aug. 19 to Sept. 8.
Allie Kiick, a 24-year-old player from Florida has battled melanoma. Victoria Duval, a 23-year-old player, also from Florida, was diagnosed with Hodgkin's lymphoma when she was just 18 years old. Nicole Gibbs, a 26-year-old player from Ohio, was diagnosed with a rare oral cancer just this year and still went on the play in the Open. All three have spoken about their bouts with the disease in their own way, and all three have demonstrated incredible strength and athleticism, even in the face of adversity.
Allie Kiick – Melanoma Survivor
Read More
Kiick, who is the daughter of former Dolphins running back Jim Kiick, has been through incredible struggles in her professional career. From 2015 to 2017, she was forced to rest and recover off the court. First, she suffered a debilitating bout with mono, and then in August 2015 doctors found melanoma on the tennis player's back. To top if off, she had to undergo several knee surgeries due to injury.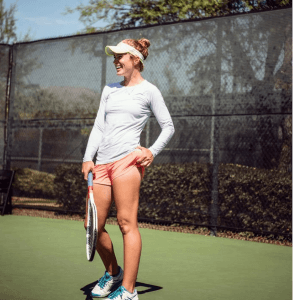 In an interview with WTAtennis, Kiick explained that the time off was humbling and difficult. "My back is like a road map, scars everywhere," she said. "I've matured a ton. I think that came with working a regular job, going to school, seeing things from a normal person's perspective. The [coaching] job I had was like $25 an hour, and it was hard work! They [the students] were, like, five year olds, and it was hard. I can honestly say I do not want to ever be a coach. Ever."
Melanoma is a rare but deadly form of skin cancer. Most cases develop due to sun exposure. Dr. Anna Pavlick, an oncologist at NYU Perlmutter Cancer Center, told SurvivorNet in a previous conversation that melanomas are so dangerous because they have a tendency to spread through other parts of the body, either through the lymphatics or the blood stream. When melanoma is diagnosed in early stages, it can often be removed with surgery. The cancer becomes more difficult to treat the farther into the skin it goes. In a write-up for CrackedRaquets.com, Kiick confirmed that because her cancer was considered stage 1, her doctors were able to remove it with surgery.
Vicky Duval – Hodgkin's Lymphoma Survivor
Another tennis star, who also happens to be a close friend of Kiick's, Victoria Duval, also overcame major health issues to find her way to the U.S. Open. Duval was just kicking off her tennis career, and had risen to a No. 89 ranking worldwide when she was diagnosed with Hodgkin's lymphoma at age 18. Like so many cancer survivors, Duval turned to art to help her cope with cancer treatment.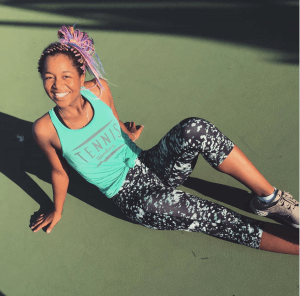 Speaking about her time with the disease, Duval told Trans World Sport that even though her doctor tried to warn her, she wasn't really prepared for the challenges that came with cancer.
"The doctor prepared me and he said, 'This is not going to be easy. You're gonna have days where you're gonna feel horrible, you're gonna feel like crying, you're gonna complain all the time.' And after the first round, I reacted very well," Duval said. "And then it hit me. I practically couldn't eat for three months, and I ended up cutting my hair off. It was life-changing."
During that time, Duval turned to drawing and creating. After she beat cancer, she started a company called Dooval — she sells T-shirts featuring her art, and some of the proceeds go towards cancer research. The tennis star has been cancer-free since 2014.
Nicole Gibbs – Salivary Gland Cancer Survivor
Another fellow tennis player, Nicole Gibbs, actually battled cancer this year and still made it to the U.S. Open. Even though she lost her match this week, Gibbs told the Associated Press that she can't be too upset about it, considering the other victory she had this year — over a rare form of oral cancer called salivary gland cancer.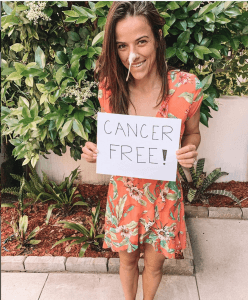 Gibbs' cancer was discovered during a visit to the dentist, when her doctor discovered a growth on the roof of her mouth. The dentist initially didn't suspect anything serious, but upon further testing found that the growth was cancerous. Gibbs underwent surgery in May to have it removed.
The tennis star said that the surgery and subsequent time spent recovering likely had some effect on her game — but it's something she can work on in the future. This year, she's just happy to be on the court.
"I'm definitely bummed out," Gibbs, a former Stanford star, told the Associate Press about her loss. "At the same time I think I do have a new perspective, that it's not life and death out there. It's a privilege to be on a court like that against a player like that. I was just really trying to soak up the moment."
Learn more about SurvivorNet's rigorous medical review process.