Famed musician Elton John and singer/actress Olivia Newton-John, both cancer survivors who have done phenomenal work bringing awareness to the disease, have been recognized by Queen Elizabeth with the esteemed New Year's Honours List.
Newton-John, who has breast cancer for the third time, was raised in Australia but born in England. She'll be made a dame for her "services to charity, cancer research and entertainment," according to CNN.
Read More
RELATED: The Celebrity Survivors Who Changed the Way We Think About Cancer in 2019
John, who was knighted by the Queen in 1998, was elevated to the honor system's highest level — Companion of Honor — which only 65 people can hold at one time, CNN reported.
The official list from the U.K. Cabinet said the legendary singer was being honored for "services to music and charity."
John took to the internet to let fans know what an honor it is to be recognized by Buckingham Palace.
I'm humbled and honoured to be among such highly esteemed company in receiving the Companion of Honour.

2019 has turned out to be a truly wonderful year for me and I feel extraordinarily blessed.

Elton xx pic.twitter.com/iam3EItGYH

— Elton John (@eltonofficial) December 27, 2019
Olivia Newton-John's Cancer Journey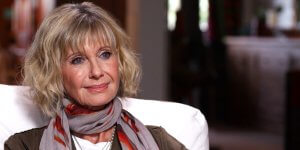 Newton-John was first diagnosed with breast cancer in 1992. She has had two recurrences since, including her latest diagnosis — which was metastatic, meaning the cancer had spread to distant parts of her body. In an interview earlier this year, Newton-John told SurvivorNet that she has "adjusted to living with cancer," and she is using her experience to advocate and share advice with others in similar positions.
RELATED: Olivia Newton-John Opens Up About Using Medicinal Marijuana
The actress' cancer — which she has used a combination of traditional medicine like chemotherapy, hormone treatments and radiation and holistic methods like herbal supplements and medical marijuana to treat — is what led her to founding the Olivia Newton-John Cancer Wellness & Research Centre in Australia. The centre focuses on treating the whole person going through the cancer journey; wellness, Newton-John said, is an important part of the recovery process.
"I said I would lend my name only if they include a wellness center, that was really important to me — to support the whole person going through this journey," she said. "We have acupuncture and meditation and yoga and homeopathy, and all the things that I was able to do for myself and that people can't always afford to do. I wanted to make that a part of the program, and I've been very grateful and very thrilled that the patients are getting to experience those things as well."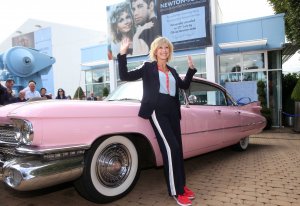 The actress also donated a huge number of her personal items — including items from movies she's starred in like the iconic black leather jacket and skin-tight pants from Grease — to auction with Julien's Auctions to raise money for her wellness center in Australia.
Elton John's Cancer Journey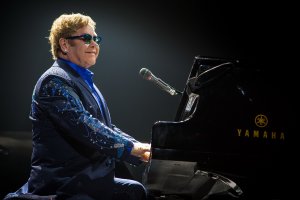 Rock icon John was first diagnosed with prostate cancer in 2017. He disclosed in his book "Me," that despite the diagnosis, he felt fortunate that prostate cancer is a very common cancer and his had been caught early. Still, many men deal with side effects after prostate cancer surgery, such as sexual or bladder control issues — and John got candid about how he was one of those men.
Speaking to BBC One earlier this year John revealed that when he was booked to perform a Las Vegas concert two weeks after getting surgery, he had to make some accommodations to ensure that he wouldn't be dealing with treatment side effects on stage — and those accommodations included a diaper.
RELATED: Singer Sir Elton John Reveals He Went on Stage in a Diaper after His Prostate Cancer Surgery
"If only they knew at that moment I was pissing myself," John said of his post-surgery performance during the interview.
Also in his book, the singer explained that many men are hesitant to have prostate cancer surgery because of the side effects, but because he and husband David Furnish have two children, the decision was easy for him.
RELATED: Elton John's Prostate Cancer: The Challenging Sexual Side Effects Even After An Excellent Prognosis
"A lot of men won't have it, because it's a major operation, you can't have sex for at least a year afterwards and you can't control your bladder for a while," John wrote. "But effectively, my kids made the decision for me. I didn't like the idea of cancer hanging over me — us — for years to come. I just wanted rid of it."
Learn more about SurvivorNet's rigorous medical review process.