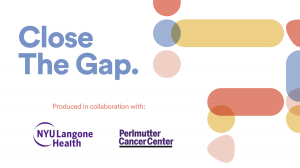 SurvivorNet and NYU Langone Health's Perlmutter Cancer Center are collaborating to help close the racial gap in cancer prevention, cancer care, and survival rates.
Read More
Eighty percent of Americans with cancer are not treated at an academic cancer facility, and the SurvivorNet community has told us that it's important to hear from physicians and organizations who provide this community care.
The Cancer Treatment Centers of America (CTCA) is one of these institutions.
Throughout the coronavirus pandemic, in the cancer community we continue to hear about elective surgeries and other procedures put off to reduce the risk of patients getting infected with COVID-19 when they come into a hospital for some other type of care. However, Dr. Pat Basu, the President, and CEO of Cancer Treatment Centers of America, tells SurvivorNet that his chain of private, for-profit hospitals doesn't consider any type of cancer treatment to be elective — and the organization has worked hard throughout the pandemic to continue treatments for patients as planned.
Related: COVID-19 Resources for People With Cancer
According to Dr. Basu, CTCA has seen an increase in patients trying to access cancer care while avoiding exposure to the virus.
"Cancer patients have always been told that early, consistent and complete therapy is essential to
battling this deadly disease, so for us in a specialty cancer center, almost no cancer-related surgeries would be considered 'elective,'" Dr. Basu  says. "We have continued to perform most surgeries or procedures throughout the COVID-19 crisis and have seen an increased volume of cancer patients seeking care from outside hospitals that had to focus their efforts on COVID-19."
Still, like other hospitals across the U.S., CTCA has had to make some changes, such as regular COVID-19 testing and moving certain visits to a tele-health setting, to ensure patient safety.
"Speed to care has always been a primary focus of ours at CTCA, and an area where we perform
exceptionally well. In this time of COVID-19, this is especially important," Dr. Basu explains. "We test all patients undergoing surgery for the COVID-19 virus, thus avoiding delays for self-monitoring, quarantining or, 'waiting things out' until the COVID-19 incidence curve flattens. We have also leveraged tele-health to limit patient exposure."
Addressing Disparities in Cancer Care
The COVID-19 pandemic brought something doctors who work in cancer have long known to the public eye: there are major disparities when it comes to access to healthcare and health outcomes between people of different races. Black Americans in particular were reported to be faring way worse with COVID-19 than white Americans. The same can be said for certain cancers, such as breast and prostate.
Dr. Basu says CTCA has ongoing projects in place to let people in all communities know about the importance of cancer screening, understanding your individual risk, and seeking medical care when experiencing symptoms.
"We have a history of working with physicians in these communities as well as with national leaders and organizations that represent these minority communities," Dr. Basu says. "We are working with the Hispanic community to launch No Esperes, a public service campaign designed to address certain cultural barriers that keep many Latinos from getting regular screenings. We've also worked with community partners to increase cancer awareness among the African American community through various programs such as Our Journey of Hope (OJOH). We have offered education and screening programs in underserved minority communities.
"We are raising the red flag, getting the message out by sharing that important screenings should
continue. We also launched an online, free risk management tool to empower people everywhere with
information about what kinds of screenings they will need," he adds.
Disparities in cancer care — and healthcare in general — can be shocking. For example, black women and white women are diagnosed with breast cancer at the same rate in the U.S., but black women are 40% more likely to die from the disease. Black and Latino men are also much more likely to develop prostate cancer — and should be aware that screening recommendations may require them to start getting tested at a younger age, and more often.
Addressing these disparities is an ongoing challenge in the medical field — and experts tell us there's much work to do.
Related Video: Black and Latino Men Significantly More Likely to Get Prostate Cancer
Dr. Edwin Posadas explains disparities in prostate cancer rates. 
Learn more about SurvivorNet's rigorous medical review process.