How Covid-19 Disproportionally Impacts Minorities
Some individuals in minority groups cannot practice social distancing due to jobs that require them to work on-site — increasing possible exposure to Covid-19
Minorities have a higher possibility of being diagnosed with hypertension and cardiovascular diseases, diabetes, and lung diseases
Public health officials must find solutions to combat all diseases facing minority groups, including coronavirus
The coronavirus pandemic has become a world-wide problem, but minority groups are especially affected by the outbreak. The question is why?
"[Minority groups] are the people who have jobs that require that they work," says Dr. Otis Brawley, a Medical Oncologist and Epidemiologist at John Hopkins University. "It's many socioeconomically poor people don't have the luxury of being able to socially distance. They can't go home and work from home. They're the bus drivers who still have to drive buses. They're the people who still have to work in grocery stores. They're the people who still have to do a lot of the service type things that we need in order to keep our society running."
Read More
In addition to risk of being exposed to the virus in the workforce, Dr. Brawley points out that public health issues in the United States has affected minority groups' long-term health. He says Black and Hispanic groups are more likely to have hypertension
and cardiovascular diseases, diabetes, and lung diseases. This combination of diseases can ultimately increase the possibility of pre-mature death.
"What we really need is an effort to combat all of these diseases, including the Coronavirus," Dr. Brawley says.
Underrepresentation Of Minorities In Cancer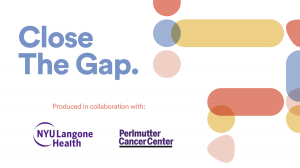 SurvivorNet and NYU Langone Health's Perlmutter Cancer Center are collaborating to help close the racial gap in cancer prevention, cancer care, and survival rates.
Racial diversity in the cancer world has been a problem for a long time, and clinical trials are just one way in which underrepresented groups are often disadvantaged when it comes to this disease. In a study from researchers at the University of British Columbia, the University of Texas MD Anderson Cancer Center, the Fred Hutchinson Cancer Center in Seattle and Baylor University in Texas, found a lack of racial diversity in landmark clinical trials used to determine government approvals for cancer drugs. Blacks, Asians and Hispanics were dramatically underrepresented in the trials compared to whites.
If racial minorities are left out of clinical trials that are used to grant government approvals, then those approvals may not accurately reflect what is best for the population with cancer. Given the finds, the study advocates for increased efforts to enhance minority representation in clinical trials and to eliminate racial disparities.
Breast cancer survivor, Erika Hart, spoke to SurvivorNet about how minorities are often underrepresented when it comes to talking about cancer — particularly advocacy campaigns.
Breast cancer survivor Erika Hart talks about underrepresentation of minorities in cancer advocacy campaigns
"If you look at a lot of breast cancer advocacy campaigns they're mostly white, middle class, house in the suburbs, five kids, and when I was diagnosed I was broke living in Brooklyn about to get married to a woman…Breast cancer can happen to anybody, so you want to be seen in advocacy campaigns," Hart told SurvivorNet.
Learn more about SurvivorNet's rigorous medical review process.
---