Rachael Ray's Incredible Contribution
Celebrity chef Rachael Ray virtually met with two-time bone cancer survivor Emily Cox, and announced that she would be donating $30,000 to Cox's fundraising goal for a prosthetic leg.
Cox was first diagnosed with bone cancer in 2019, and entered remission after going through a surgery. However, once the cancer returned two years later, she decided to completely remove her entire left leg in order to eliminate all signs of cancer.
Bone cancer is caused when an unusual amount of cells grow within the bone. The disease is typically treated with surgery, chemotherapy and radiation therapy.
Celebrity chef Rachael Ray is not only cooking up incredible creations in the kitchen, but also changing people's lives one donation at a time. The acclaimed TV chef recently heard about two time
bone cancer
survivor Emily Cox, and her inspiring journey into remission. To help complete her fundraising goal, Ray donated a hefty amount for Cox's incredible cause.
In a touching video, Ray held a video meeting with Cox where she announced that in honor of her second time entering remission from bone cancer, the chef would donate $30,000 to complete her fundraising goal. This fundraiser was created in order to fund expenses for a $75,000 prosthetic leg Cox will need after going through surgery. "I'm so happy," Ray told Cox while fighting tears. "I cannot wait to see pictures of that [prosthetic leg]. We don't know what to say about how inspired we are by you."
Read More
Related: Did You Know the Musician Little Richard Died of Bone Cancer? Here Are the Symptoms of this Disease
Canada-native Emily Cox, 24, was first diagnosed with bone cancer three years ago, when she was living a "normal" life filled with work, friends, and family. However, during a vacation with her boyfriend she noticed a severe and consistent pain in her knee while taking a leisurely hike. She decided to visit the emergency room and go through imaging, which found that she had bone cancer. "My world flipped upside down," Cox said. "I didn't really even know how to comprehend what was happening."
Cox immediately went through four rounds of chemotherapy in order to shrink the tumor, which was successful. She also went through limb salvage surgery where they replaced the bottom half of her femur and knee joint with a prothesis. After the surgery, she went through six more rounds of chemotherapy and was declared in remission.
Related: How to Cope When Recurrence Rattles Your Faith At The Age of 25—Two-Time Colon Cancer Survivor Danielle Ripley-Burgess Shares Her Story
However, this wouldn't be the last time Cox would face cancer. After two years of remission, she visited her doctor for some follow up scans, and the x-ray found bone irritation. She went through a biopsy and doctors concluded that her cancer had returned. "I knew the treatment would be aggressive, but I had no idea what was in store," Cox said. She did extensive research on treatment options, but eventually decided that the only way to fully eliminate the cancer was to remove her entire left leg. The decision was clearly difficult for Cox, but she decided to take control of her health and do what's best for her.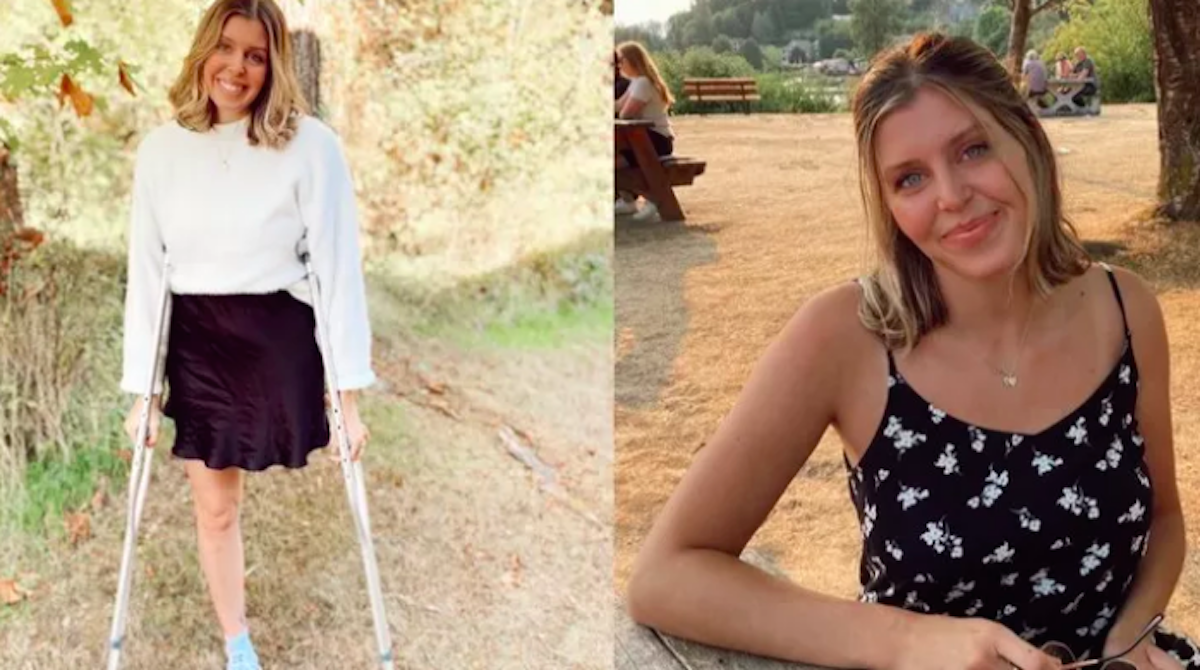 Bone Cancer: A Breakdown
Bone cancer is caused when an unusual amount of cells grow within the bone. In 2021, approximately 3,610 new cases of bone cancer will be diagnosed in the U.S., resulting in about 2,060 deaths from the disease, according to the American Cancer Society (ACS). The disease is typically treated with surgery, chemotherapy and radiation therapy.
Related: Did You Know Actor Tom Hanks' First Wife, Samantha Lewes, Battled Bone Cancer? Resources For Coping When A Spouse Has Cancer
Bone cancer can have very specific symptoms to look out for, and it's important to note location of the pain. Here are a few important main symptoms to watch out for, and check with your doctor if you're experiencing them.
Pain: This is the most common sign of this disease, and the pain may become more severe during physical activity. A tumor from bone cancer can weaken the bone, too, leading to breakage, or a fracture.
Lump or swelling: Bone cancer tumors can lead to lumps or swelling around the site of the tumor. Cancer that occurs in the neck bone may present as a lump in the throat that causes difficulty with swallowing.
Fractures: Bone cancer impacts the strength of the bones, and it can cause the bone to break or fracture.
Other symptoms: Other signs of the disease can be numbness, tingling, and weakness in the body. Bone cancer can cause weight loss, fatigue, coughing, and trouble breathing.
College Athlete on TikTok Uses the Outdoors to Keep an Upbeat Mindset as He Faces Bone Cancer Diagnosis
Learn more about SurvivorNet's rigorous medical review process.