In a chapter of his new memoir titled "An Expensive Hairpiece", Alex Trebek, 80, addresses the wig that has gotten him through "Jeopardy!" tapings during his treatment for stage 4 pancreatic cancer.
RELATED: Alex Trebek's "Hair" Looks Amazing Just After Finishing Chemotherapy — Here's The Expert Guide To Wigs During Cancer
Read More
"One of the side effects of chemotherapy is that my hair has fallen out. So ever since I started undergoing treatment, I've been wearing a hairpiece," Trebek reveals in his new book, 
The Answer Is…Reflections On My Life
. Clearly it's a damn good one if you didn't realize it until just now."
Why He Got His First Hairpiece
But Trebek shares a secret "even die-hard Jeopardy! fans" may not know: "I actually started wearing a hairpiece in early 2018, about a year before I made my initial announcement about my cancer diagnosis."
Dr. Julia Nangia, a medical oncologist at Baylor College of Medicine conducted a study that found scalp-cooling devices helped 50 percent of women keep their hair after four rounds of chemotherapy,
The reason? He underwent surgery to remove a blood clot on his brain.
In a fall at his lake house, "I slammed into the tub so hard it moved about an eighth of an inch." Because he hadn't blacked out and there was no bleeding, he assumed he was okay.
RELATED:  Marriott CEO Arne Sorenson, Hairless From Chemo, Leads His Global Team Through COVID-19 Crisis
But he soon noticed balance issues and his left leg "started to drag a little."
A Lifesaving Annual Physical
Fortunately, he had an annual physical scheduled at Cedars-Sinai. When his doctor saw Trebek's balance problem, he sent him to the hospital's emergency department. "Good news," they told him after an MRI, "It's not a stroke.'
Instead, he was diagnosed with a bilateral subdural hematoma" — blood clots on both sides of his brain.
The surgery left him with "long stitches on each side of my scalp where they cut through the skull."What was left was "this flimsy tuft of grey hair hanging there." Trebek called the look "a reverse Mohawk."
"That's when the producers decided I needed a hairpiece."
"Nobody Can Tell"
"The guy who did it does wigs for a lot of the big stars, mostly women," Trebek writes. "I won't share their names, but I bet you'd be surprised."
These pieces are so good. Nobody can tell. In fact, he says, he fooled Jane Pauley who was shocked to learn he was wearing a hairpiece during their interview for CBS Sunday Morning, "and she was sitting two feet away from me."
RELATED: Ricki Lake, 'Liberated and Free,' Lets Go of Hair-Loss Shame — Cancer Survivors Send Messages of Support
"In a pinch," he says, "I can do it myself." And he has. "I did it once when Jeannie and I went out to dinner and it wasn't bad. In my case, the hairpiece makes me look better than my real hair. I probably should've started wearing it a long time ago."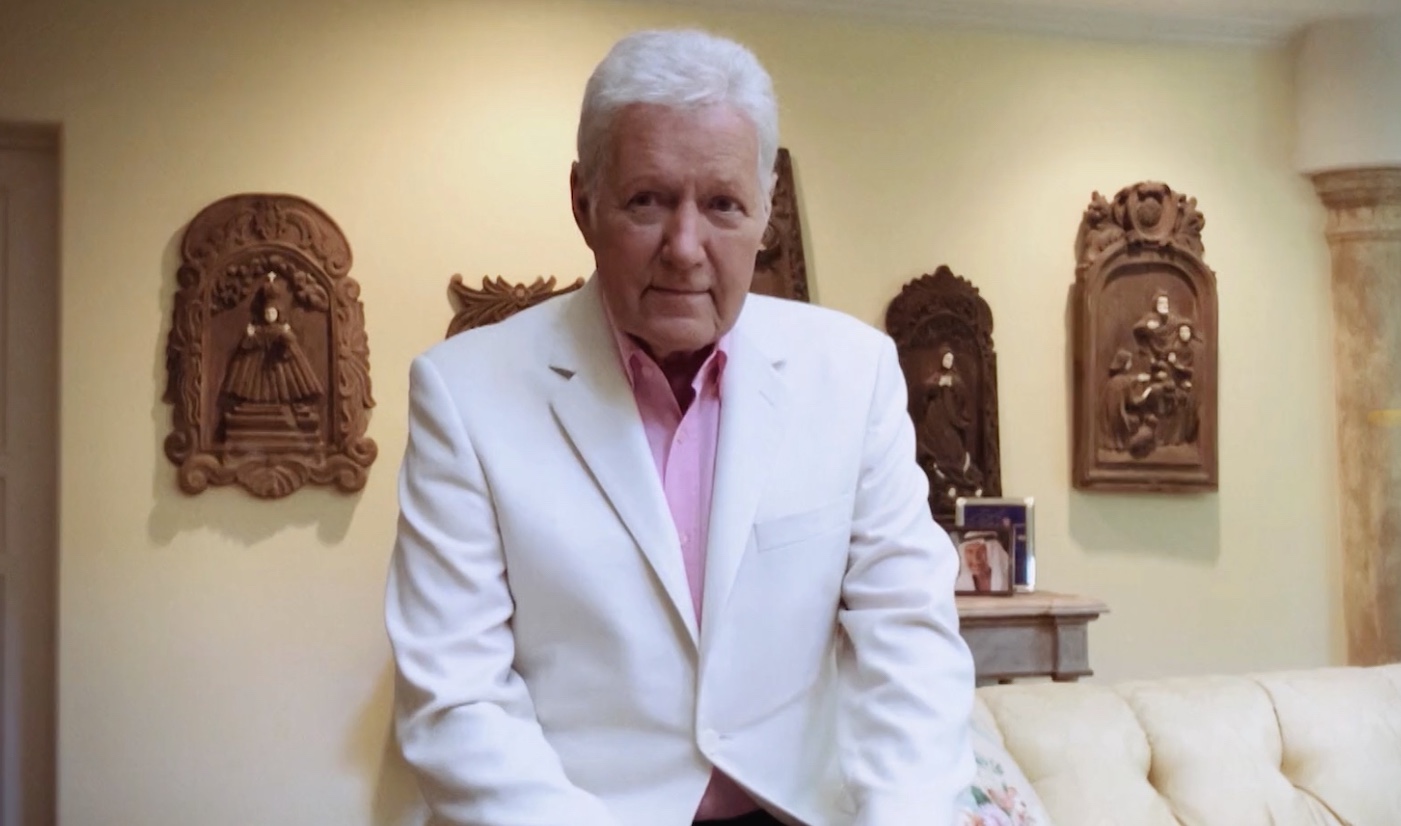 So, What Makes Trebek's Wig So Convincing?
SurvivorNet spoke to New York-based hair and wig designer Robert-Charles Vallance, who told us that typically, clients will reach out to his company — Angels of New York — after a recommendation from a local oncologist or a cancer support group, and the process begins with finding the perfect wig for the individual.
RELATED: If You're Looking For Ways To Deal With Hair Loss During Cancer, You're Not Alone
Vallance said that a lot of men experiencing the side effects of cancer treatment decide to just roll with it. If hair loss is a problem, many men decide to cover it up with a baseball cap or some other sort of hat, or just wait for hair growth to begin again. He pointed out that since so many men these days wear their hair very short anyway, he sees way fewer male clients looking for realistic wigs.
RELATED: "Hopefully my own hair will grow back, 'cause I like my own hair!" says Jeopardy Host Alex Trebek
In Trebek's case, though, Vallance said his wig is so convincing because he has "fuller hair" to begin with.
"A custom, well-made wig can create a total illusion," he said. "The fact that he has fuller hair, [that's why] he's able to wear it. They were able to replicate the illusion of his hair."
Learn more about SurvivorNet's rigorous medical review process.
---