The world was shocked when beloved Jeopardy! host Alex Trebek announced that he was battling stage 4 pancreatic cancer earlier this year. Pancreatic cancer is notoriously difficult to treat. Only 3% of people diagnosed with the disease live for 5 years, and most of them live only 3 to 6 months. The diagnosis left Trebek's millions of fans worried that he may not be able to return to the Jeopardy! stage — the hosting job he's held for 35 years. However, in the few interviews the 79-year-old TV host has given since announcing his diagnosis in March, it seems that Trebek is beating the odds — and responding really well to treatment. Still, cancer — especially advanced cancer — does come with some side effects.
In a May interview with PEOPLE, Trebek said that he was undergoing chemotherapy — and that his tumors were shrinking.
Read More
"It's kind of mind-boggling," Trebek said of his response to treatment. "The doctors said they hadn't seen this kind of positive result in their memory … some of the tumors have already shrunk by more than 50%."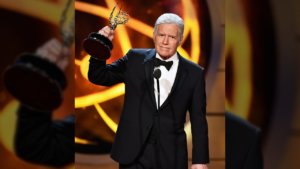 Even though Trebek seems to be responding exceptionally to treatment — and even said he is hopeful that he may be able to undergo some cutting-edge immunotherapy — he is suffering some side effects as well. Chemotherapy works by killing cancer cells, but it often kills a number of healthy cells in the process. Common side effects of chemo treatments are hair loss, loss of appetite, nausea and vomiting, and fatigue. Trebek has spoken openly about how he lost his hair due to treatment.
As he finished up filming the last season of Jeopardy!, the TV host wore a wig to hide the side effects. He said in an interview with CBS that he's hopeful that his hair will grow back during the summer — when the show's cast and crew take a break from filming.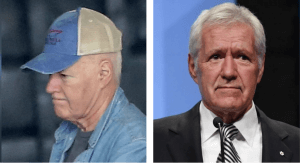 "We have the summer months off," he said. "So hopefully my own hair will grow back, 'cause I like my own hair!"
What are the side effects?
Many fans have also worried that the harsh treatments may take a serious toll on Trebek's overall health — and prevent him from continuing his Jeopardy! duties. The TV host has one of the most recognizable voices and looks in modern television. After all, he's graced our TV screens for more than three decades. And some of the side effects associated with the chemotherapy combinations traditionally given to people with pancreatic cancer — such as mouth sores, shortness of breath, and fatigue — could affect Trebek's ability to get through the next season of the show.
However, the host, as well as those close to him, seem optimistic that Trebek will get the better of his cancer battle — and be able to continue his hosting job. Photos released last month by Jeopardy's official social media accounts showed Trebek out with family and friends to celebrate his 79th birthday bash. The TV host looked happy and healthy surrounded by his loved ones — and thousands of fans commented to wish Trebek well as he continued his cancer battle.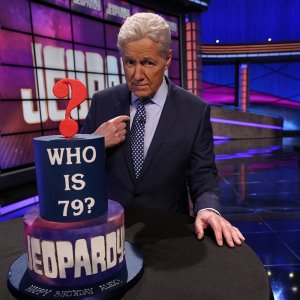 Updates on Trebek's Health
A long-time colleague of Trebek's also offered a message of hope about the host's health earlier this month during a conversation with The Hollywood Reporter. "Alex is remarkable in many ways, not the least of which is he's got an iron will and an unequaled determination to beat this," said Harry Friedman, who worked alongside Trebek as a producer on Jeopardy from 1997, up until the latest season. "He underwent several rounds of chemo and that brought his numbers down. They were around 1,000 at one point and now they're down into the high teens."
Though Friedman did not specify what these numbers were counting, his update aligns with what Trebek himself shared with PEOPLE in May — that his chemotherapy treatment had shrunken his pancreatic cancer tumors a "mind-boggling" amount.
This is rare for patients with Trebek's type and stage of cancer. According to Dr. Allyson Ocean, a Medical Oncologist at Weill Cornell Medical Center, chemotherapy drugs and radiation often have a hard time penetrating pancreatic cancer tumors. One of the reasons for this is that pancreatic cancer tends to be diagnosed late — as it was for Trebek — after the cancer has already spread. At earlier stages, pancreatic cancer rarely causes any pain or symptoms, meaning doctors and patients don't necessarily have a reason to suspect it's there.
But while chemo and radiation don't tend to be all that effective in treating late-stage pancreatic cancer, there are some instances where it is, and according to Friedman and Trebek himself, Trebek's cancer is one of those cases.
Learn more about SurvivorNet's rigorous medical review process.