For any parent facing a cancer diagnosis, the question of what to share with children can be heart-wrenching. Criscilla Anderson, 40, and her husband, country singer, Coffey Anderson, 42, told SurvivorNet in an interview that they've found the answer is in telling the age-appropriate truth, but gently.
RELATED: As Criscilla Anderson Fights Colon Cancer Under Quarantine, Hip-Hop Dancer Feels 'Blessed To Be Here With My Children'
Read More
After initially being told she had colitis, she was diagnosed with stage 3 colon cancer in June of 2018, "I actually did not talk to my kids about it," she told SurvivorNet. "I didn't feel that that burden needed to be on them. I wanted them to just be kids."
Coffey Anderson's mother died of cancer when he was just ten years old. "I know this hits close to home for him," his wife says.
The couple has been open about their family life, which is a little bit hip-hop, a little bit country, with cancer mixed into the equation. In mid-March they dropped the reality-show trailer (above), but the plan was shelved when the pandemic hit.
RELATED: Country Singer Coffey Anderson and Wife, Criscilla, Tackle Her Stage 4 Colon Cancer as a Family: 'We are a Team'
To address her chemotherapy treatments, Anderson took a soft, yet straightforward approach with their children. "They knew that I was taking a medicine that was going to make Mommy sick but, ultimately, was going to make me healthy."
"I Knew In That Moment, I Couldn't Lie To Him"
As her diagnosis has evolved — from stage 3 colon cancer, through two remissions, to stage 4 colon cancer — so has her message.
And, as questions arise, she's had to make difficult decisions, sometimes in an instant. Their oldest son, for instance, just celebrated his 9th birthday: "He was old enough to understand [at first] but I didn't want that weighing on him." But when he asked her specifically about cancer, she quickly changed her strategy.
Dr. Heather Yeo, Colorectal Surgeon and Surgical Oncologist Weill Cornell Medicine and NewYork-Presbyterian, says colon cancer in younger people is on the rise.
"After I was in remission, we were on a walk one day and somehow, we got in the conversation of cancer. He said, 'have you ever had it?''
RELATED: Country Music Star, Coffey Anderson's Wife, Criscilla, Proves There's Hope For Young People With Colon Cancer
"I knew in that moment I couldn't lie to him. I had to be honest with him. And he took it very well. And I said, "God healed me. I had it — but I beat it'. And he was like 'wow'."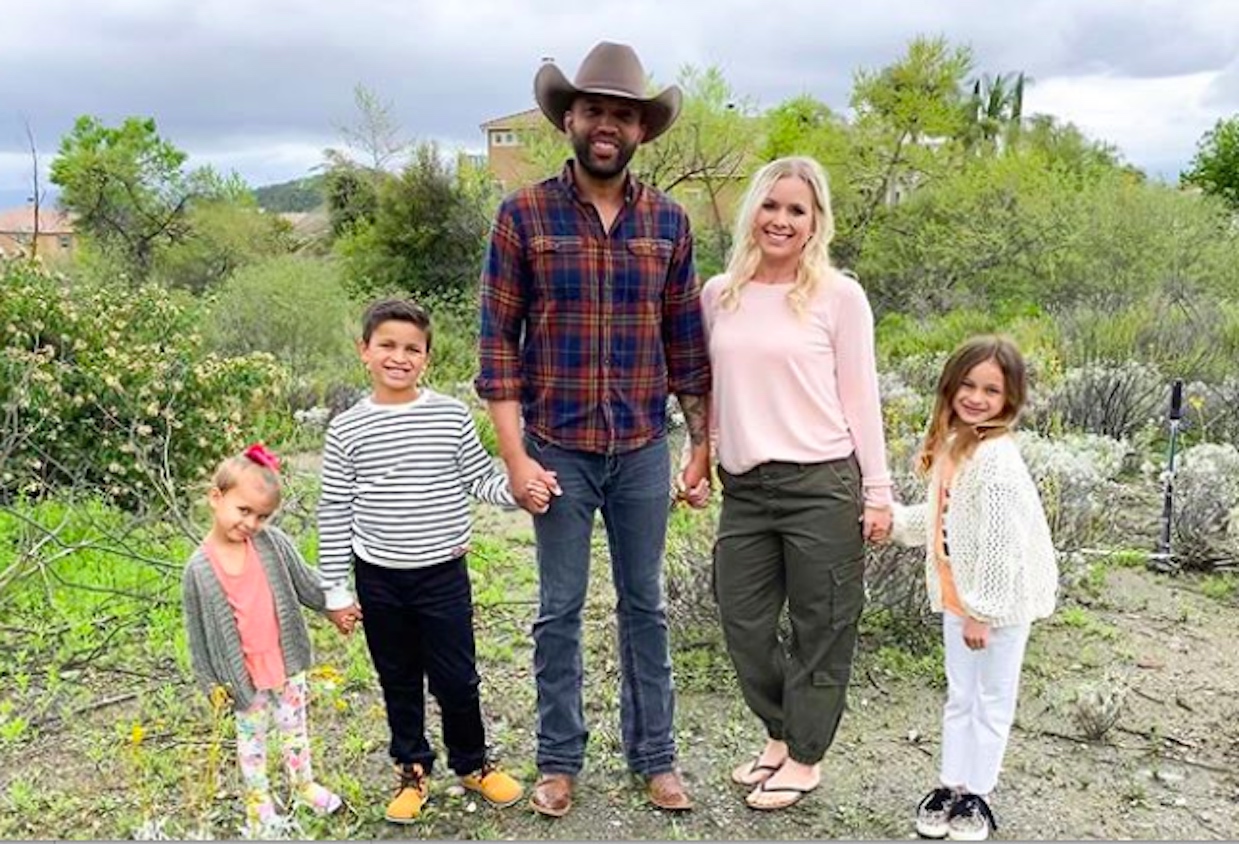 Coffey and Criscilla Anderson with their children, Everleigh, Ethan, and Emmarie. 
She immediately got her husband on the phone for a three-way call, "so he could be involved in the conversation and we were walking and it was very good."
'They Know That I'm Fighting It'
When her cancer returned in 2019 – this time, the diagnosis was stage 4 – she continued to keep her oldest child informed. "Because he had known that I had it, I had to be continue to be honest because he was getting older."
RELATED: Country Singer, Coffey Anderson and wife Criscilla Sought Alternative Therapies For Her Stage 4 Colon Cancer in Spain
"They know that I'm fighting it," she says," They know that I'm doing a lot of things to say healthy so that I can be around for them. I hasn't affected them too much, I think. They're happy children."
Criscilla Anderson's Cancer Journey
She'd competed in two marathons and had always been healthy. But in May of 2018, stomach pains would hit, leaving Anderson doubled-over in pain. "As a mom, you always feel like you don't have the time to deal with things like this," she said.
"But there came a point when I couldn't ignore it anymore."
"We still get cures, even in stage 4 patients," says Dr. Heather Yeo, "which I think is really exciting." 
When the pains worsened, she went to the emergency room and was diagnosed with colitis. But a prescribed antibiotic didn't help. She was diagnosed with stage 3 colon cancer that June.
Months of chemo followed with a brief remission. But after her six-month scan, she underwent a third surgery for a recurrence.
RELATED: Cancer Moms: Criscilla Anderson, Wife of Country Singer Coffey, and Friend Julie's 'Forever Sisterhood'
After more treatment and a brief remission, Criscilla reported a stage 4 metastatic colon cancer diagnosis in November, 2019. "It was really hard to hear the doctor say that he doesn't think it's curable. He thinks it's treatable," Criscilla said in an emotional post on Instagam. "And that wrecked me."
For Now, An Holistic Approach
Although she is in the care of an oncologist, Dr. Marwan G. Fakih, M.D., at City of Hope, Anderson has chosen to avoid further chemotherapy for now.
"I know that the kind of chemo for my cancer will stop working – your body will become immune to the chemo and it will stop working," she explains of her decision. "So I don't want to exhaust that just yet."
This approach does not follow standard treatment and — to be extremely clear with the SurvivorNet community — doctors say this kind of personal medical decision should absolutely not be followed by others without intense consideration and medical consultation and supervision.
Instead, she monitors the cancer closely, undergoing frequent scans and blood work, while following a holistic regimen: "I'm doing a vegan diet, supplements, and holistic natural healing treatments – hyperthermia, which puts your body in like an artificial fever to help you fight disease. Hyperbaric chamber. High dose vitamin C," she explains.
RELATED: Criscilla Anderson Sought Alternative Therapies For Her Stage 4 Colon Cancer in Spain
"I have a doctor in Spain. Based on my blood and based on my bloodwork, he tells me what supplements I need to take."
"My oncologist specializes in colon cancer. He knows that I have opted-out of the chemo route," Anderson explains. "He doesn't pass any judgment. In fact, after my last set of scans, he said 'whatever you're doing, keep doing it."
RELATED: Criscilla Anderson, Hip-Hop Dancer & Wife of Country Singer Coffey Anderson, Shares Colon Cancer News: 'I Know This Is My Miracle'
While the journey isn't easy, Anderson is buoyed by the recent advances in "with cancer and cures." Even at stage 4, she says, "cancer isn't an automatic death sentence. You can live with cancer as a chronic disease."
Learn more about SurvivorNet's rigorous medical review process.
---