Dick Vitale will miss the start of the NCAA basketball season as he receives treatment in his ongoing battle with lymphoma.
The sportscaster tells the Sporting News that he will not be calling the annual Champions Classic because of his chemotherapy, which he receives every Monday.
Read More
Vitale explains in the interview that he needs
72 hours to recover after each round of chemo
, making it impossible for him to travel from Florida to New York City.
Ever the optimist, Vitale explains that there is a silver lining to his not calling the Champions Classic for the first time since its inception in 2011.
View this post on Instagram
"That's opened the door for me to the UCLA-Gonzaga game, which I've been assigned to, that's No. 1 and 2, the 23rd, absolutely is definitely possible. They're going to get me to the Kentucky-Louisville game. They're going to get me to Baylor and Villanova. They're going to get me to a tournament near the house here – rather than do the Bahamas, I'm going to do the one up in Orlando, semifinals and finals," says Vitale.
"They said to me, 'Dick, leave the chemo, leave the cancer to us. We want you to be active. You've got a great appetite; your heart is in great shape, all your organs are in great shape. Just go live your life'."
Vitale previously said that he would continue to work while receiving lymphoma treatment in his second cancer battle this year. He shared the news that he beat melanoma just two months before his lymphoma diagnosis.
"The plan is to treat my lymphoma with steroids and six months of chemotherapy," wrote Vitale in a first-person piece for ESPN Front Row announcing the news of his diagnosis.
"The medical experts tell me it has a 90-percent cure rate. They say I can continue to work, so I will have to manage my work schedule around my chemo schedule as they will monitor my test results along the way."
Vitale also reveals in his new interview that doctors initially diagnosed him with cholangiocarcinoma, also referred to as bile duct cancer, due to the location of his cancerous growth. They only realized their mistake a few hours before his scheduled robotic surgery.
"It just floored me," says an emotional Vitale of that misdiagnosis.
Vitale presented all the common symptoms of the disease: "discolored urine and stool, a yellowing of his skin tone and a ferocious itching that no treatment he attempted could mitigate."
Cholangiocarcinoma is both incurable and rapidly lethal unless doctors can remove all tumors from the body.
Vitale had decided that for this reason, he would have robotic surgery rather than a traditional operation. Then, a last-second look at his scans by his gastroenterologist changed the trajectory of both his diagnosis and treatment as well as his prognosis.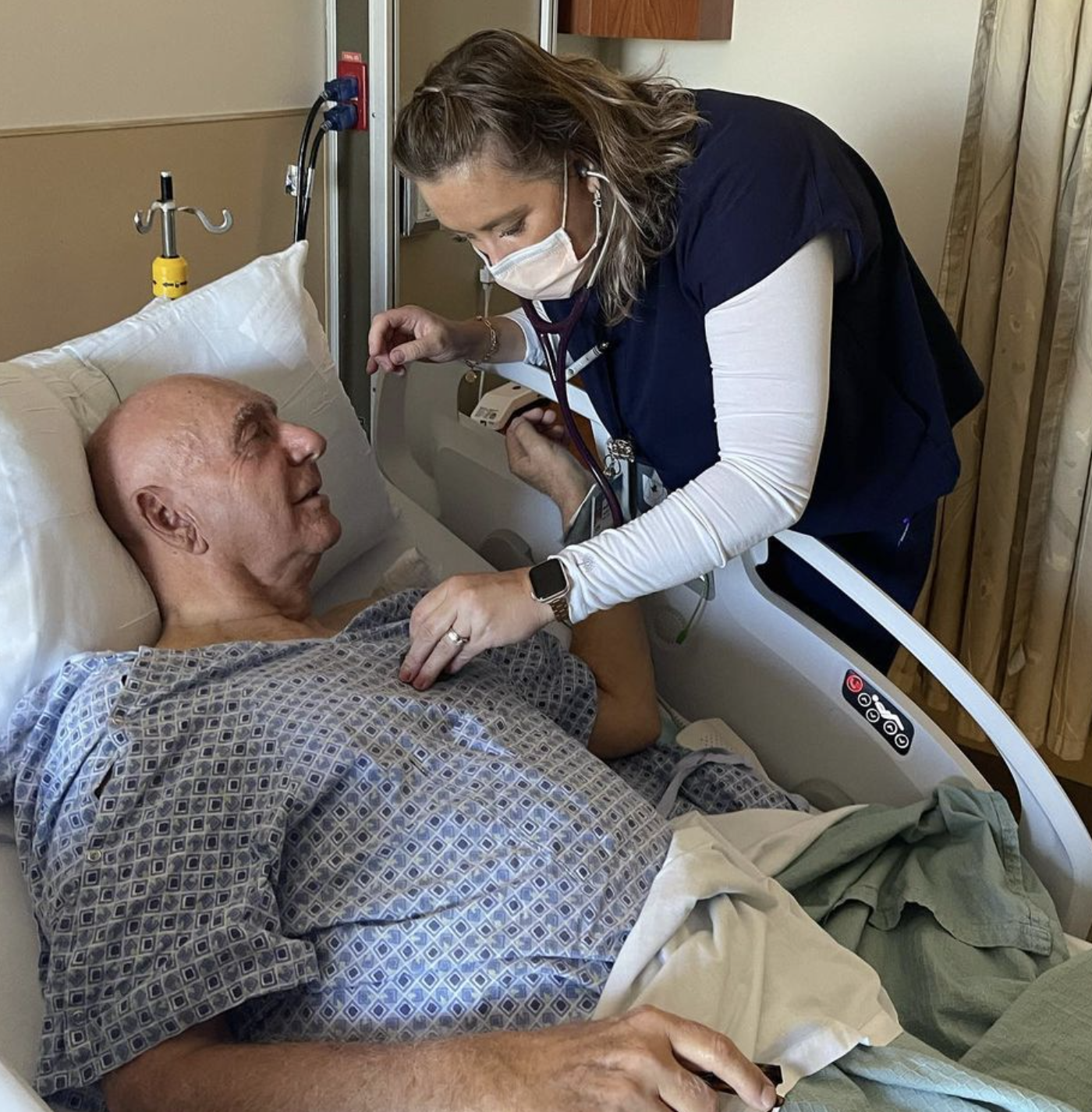 Related: Designer For Princess Diana & Diana Ross Says Bile Duct Cancer Didn't Upset Her, It Made Her "Pull My Life Together"
Hours before surgery, Vitale git a call from Dr. Stephen Kucera.
"He said, 'Oh my God, Dick. We looked at the CAT scans you took up at Moffitt, we studied them intensely, and we firmly believe – and we have to verify it – we don't think this is bile-duct cancer, which would be an incredible Christmas present if that's true," recalls Vitale of the conversation.
The other members of his tumor team concurred with Dr. Kucera after reviewing his records.
Vitale admits that while the outlook is markedly better, he is still cautious about the hurdles ahead while receiving treatment for his curable and seldom lethal lymphoma.
"Handling chemo is going to be major," says Vitale. "But they're so optimistic and so good. I've got a great team."
He says that he experienced fatigue and exhaustion after his first round of treatment but no nausea, fever, or chills that many struggle with in the days after receiving chemo.
Round two produced no side effects, and Vitale says he "felt better than [he had] in weeks" the following day.
Related: Remembering NFL Great Walter Payton Who Passed Away After Battling Rare Bile Duct Cancer
What is Cholangiocarcinoma?
Cholangiocarcinoma, also known as bile duct cancer, is a rare disease that is both incurable ad increasingly lethal over time.
It forms in the bile ducts, which carry the body's enzymes to break down fat to other organs. Only when a doctor can altogether remove the tumor or tumors from the body is survival a possibility for patients.
Palliative care options can include surgery, radiation, stents, and chemotherapy. This is a standard treatment plan given the advanced age of most patients at the time of diagnosis and the low five-year survival rate for the disease
Symptoms of cholangiocarcinoma include:
abdominal pain
yellowish skin
weight loss
generalized itching
fever
discolored urine and stool
Spotting Lymphoma Symptoms
The first lymphoma symptoms can be so subtle that you might not even notice them. It may not be until you visit your doctor for a check-up that you discover there could be a problem.
"People say, 'But I feel completely fine,' and that's very normal," pointed out Dr. Elise Chong, associate director of clinical research at the lymphoma program at Penn Medicine. It is often "because either someone palpated a lymph node and felt some swelling in their neck or their groin or under their arm."
If you are at risk for this cancer because you had cancer or an organ transplant in the past, you have an autoimmune disease, or you have an infection such as HIV or Epstein-Barr, it may be worth watching out for symptoms like these:
Swollen lymph nodes in your neck, armpits, or groin
Weight loss
Tiredness
Fevers
Swollen belly
But keep in mind that these are more likely to be symptoms of something far less serious, such as a run-of-the-mill infection.
There are also a group of symptoms doctors refer to as "B symptoms." Those include fever, night sweats, or weight loss. "If people are having any of these symptoms, it's essential that they tell their physician early so that doctors can do the proper testing," noted Dr. Chong.
Lymphoma: What Are The Symptoms?
Learn more about SurvivorNet's rigorous medical review process.
---