Coping With an Advanced Melanoma Diagnosis
Michelle Richardson, 49, was diagnosed with advanced melanoma (the most dangerous skin cancer) after a mole under her bra strap became itchy, started bleeding and changed colors.
Melanoma starts in the same cells that give your skin, hair, and eyes their color. In melanoma, the cells change in a way that makes them able to spread to other organs.
Immunotherapy treatment helped bring Michelle Richardson's melanoma into remission.
Immunotherapy drugs use the body's immune system to attack cancer, and several drug options are available for certain instances of melanoma
A cancer diagnosis can cause you to have a wide range of emotions. It's important to remember that counselors, therapists, and support groups can help you cope with your new cancer diagnosis.
When a mole on Michelle Richardson's back became itchy and started bleeding, her doctor initially told her it was likely because of her bra strap something many women can likely relate to. But when the mole changed color too, she knew the cause of her symptoms was more serious. It turned out to be melanoma, the most dangerous form of skin cancer, and more tumors later developed all throughout her body.
Richardson's journey began in 2017, when she thought a small mole underneath her bra strap was nothing more than a minor irritant until it started bleeding when she scratched it.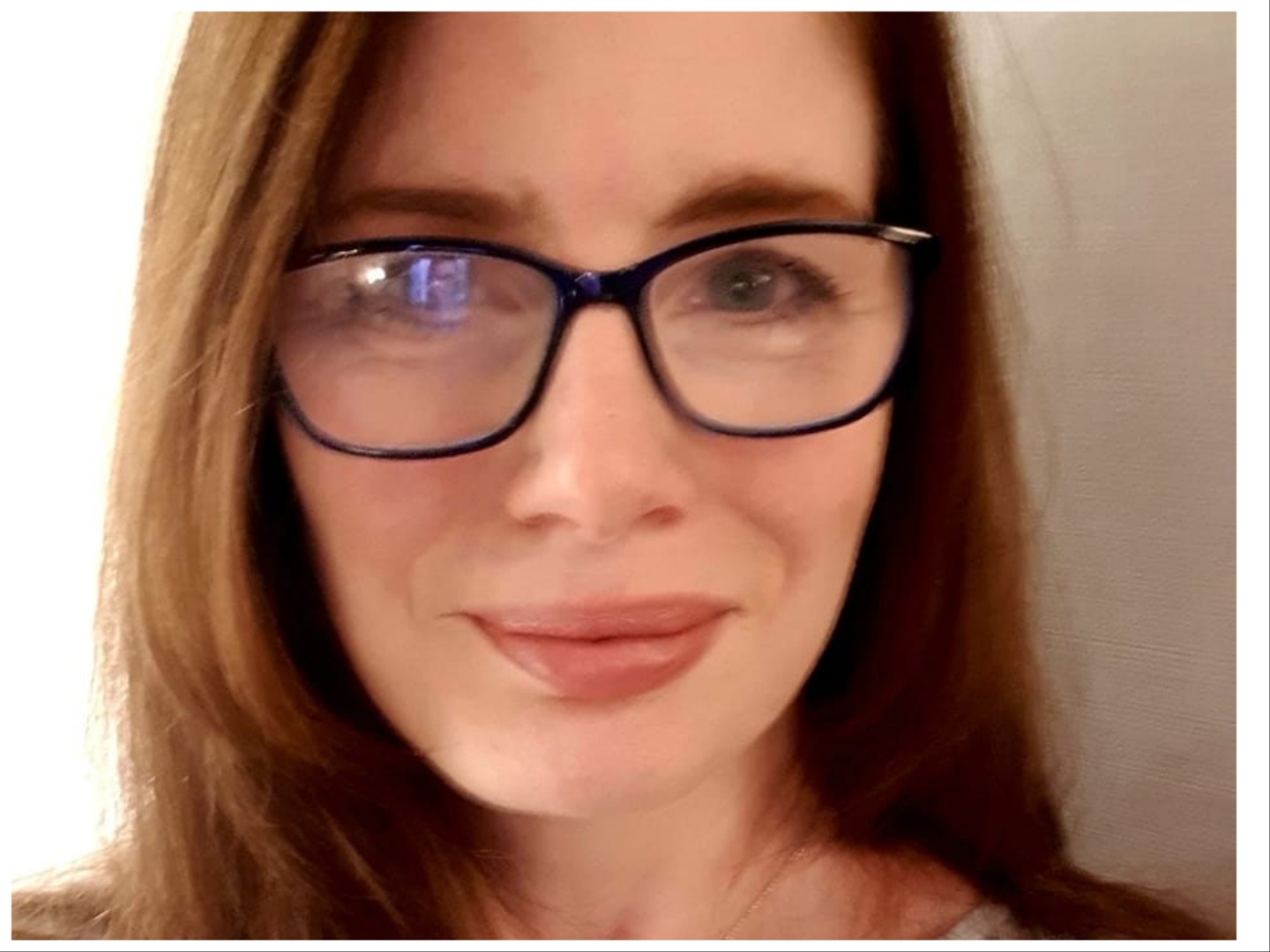 Read More
Out of an abundance of caution, Richardson went to see her doctor to get the mole checked. At first, her doctor did not suspect it was cancer. "He said it is probably just your bra strap rubbing, I don't think it's melanoma, see you in three months," Richardson
told
the U.K.-based news outlet The Mirror. The mole continued to bother Richardson, and it then grew darker in color. When she went back to the doctor, she had a biopsy performed.
When her results came back, she learned she had a "thick layer of skin cancer, at stage 1B," the outlet reported.
Stage I melanoma is no bigger than the size of a sharpened pencil, and it's easily cured by having a dermatologist remove it.
Richardson's skin cancer was removed in 2018. Her doctor tried to reassure her everything was fine after the procedure.
Richardson said her doctor told her, "It was really thin, we've taken it out and the wider tissue removed around it. It was caught early, and he's not worried about it."
Although scans did not find any signs of cancer, she underwent lymph node surgery to further minimize her cancer risk. During the procedure, doctors found a "tiny microscopic deposit of cancer" that wasn't picked up during Richardson's scans because it was too small to be detected.
This is an example of micrometastasis, where small numbers of cancer cells have spread from the primary tumor to other parts of the body, according to the National Cancer Institute.
This meant she was actually at a more advanced stage 3 melanoma, according to The Mirror.
"There was no treatment at the time, that was the weirdest bit," Richardson told The Mirror. "Living with the knowledge there could cancer but nothing to do about it. That was the hardest part as there was no plan. So I threw myself back into work and focused on my daughter, who was just nine at the time."
Richardson underwent scans every three months, and they all came back "clear," according to The Mirror.
"I was sobbing with so much pent-up fear and anxiety," Richardson said. "I kept thinking, 'What are they going to find on the scan?' I was thinking about it every single day and it was getting me down."
She turned to counseling to help her cope with all her feelings, and she found support in Facebook groups with people going through similar situations.
But then, in the fall of 2019, Richardson started finding small tumors on her body, beginning with a chickpea-size lump on her pelvis.
"I had lumps everywhere under my skin, so all of my chest and stomach and back and face and neck were covered in really painful lumps. It happened in the space of a week," she described.
After doctors checker her out, they realized the cancer was spreading fast and was now in her lungs and brain.
Richardson admitted she feared the worst and worried for her young daughter.
"It was utterly terrifying," Richardson said.
Her dermatologist, "went white when he looked at me. I knew then it was stage 4. I knew that outlook was going to be very, very bad," she added.
Although Richardson was preparing for the worst, she learned immunotherapy treatment may be able to help her. By this time, she could not work and struggled with everyday tasks like getting out of bed.
Immunotherapy drugs use the body's own immune system to attack the cancer.
By December 2019, Richardson learned her treatments were working, as her breathing improved and her lumps shrunk. She continued immunotherapy until September 2020, when her doctors said the cancer was in remission.
WATCH: Beating Aggressive Melanoma An Immunotherapy Success Story.
With a renewed sense of gratitude toward life, Richardson urges other people seeking a golden-brown tan to always use protective sunscreen.
"With any other cancer, if they said you could put a cream on your skin to prevent it, you'd do it without question, but people aren't with melanoma. It's just not worth it for a tan," Richardson said.
Understanding Melanoma
Melanoma starts in the same cells that give your skin, hair, and eyes their color. In melanoma, the cells change in a way that makes them able to spread to other organs.
If you notice changes to a mole you've had for a while or a new growth on your skin, it could be signs of melanoma, according to SurvivorNet's experts.
Melanoma is mostly found on sun-exposed areas of skin, like your face, neck, arms, and legs. However, melanoma can form on parts of your body that receive very little sun or ultraviolet (UV) exposure. These areas may include:
The palms of your hands or soles of your feet
On your eyes or mouth
Under your nails
Dermatologist Dr. Dendy Engelman previously told SurvivorNet, "It's a common misconception that people think they only have to protect their skin when they're in the bright, warm sunshine. But the reality is, we can get sun damage at any time throughout the year…even in the cold, wintry months."
SurvivorNet experts recommend you do regular skin exams to look for any unusual spots or moles on your body. This can be an important first step to preventing skin cancer from advancing.
WATCH: Understanding the ABCDEs during skin exams.
When you check your skin, use the acronym ABCDE as your guide:
Asymmetrical moles: If you drew a line straight down the center of the mole, would the sides match?
Borders: Is the mole irregular or jagged?
Colors: Are there multiple distinct colors in the mole?
Diameter: Is the mole larger than 6 millimeters (mm), about the size of a pencil head eraser?
Evolution: Has the mole's color, shape, or size changed over time?
If you answered "yes" to any of these questions, our experts say it's time to see your dermatologist for a skin check.
Other possible signs of melanoma may include:
A sore that doesn't heal
Color that spreads from the border of a spot to the skin around it
Redness or swelling that goes beyond the area of a mole
Itchiness, tenderness, or pain
A change in the way the surface of a mole looks
Scaliness, oozing, or blood
Immunotherapy for Skin Cancer
Immunotherapy is a medicine that helps your immune system wake up, search for, and then attack melanoma cellswhether microscopic or in the form of large or bulky tumors.
"When immunotherapy came on the market, it was such an exciting time for everyone involved in the care of melanoma, the main reason being is it went from this scary unmanageable cancer with no treatments to one that could potentially have a long-lasting result with patients absolutely never having to worry about their melanoma," explains Dr. Cecilia Larocca, a dermatologist at Dana Farber Cancer Institute.
WATCH: What's next for the immunotherapy revolution?
There are several FDA-approved immunotherapies for melanoma. Each is approved for certain instances of melanoma.
​Tebentafusp-tebn (Kimmtrak)
Aldesleukin (Proleukin)
Atezolizumab (Tecentriq)
Dostarlimab (Jemperli)
Interferon alfa-2b (Intron A)
Ipilimumab (Yervoy)
Nivolumab (Opdivo)
Peginterferon alfa-2b (Sylatron/PEG-Intron)
Pembrolizumab (Keytruda)
Talimogene laherparepvec (Imlygic)
Imiquimod (Aldara)
The goal is to keep steadily reducing the chance of recurrence in all patients. It's not a one-size-fits-all approach.
Some people may not be candidates for this therapy. What works for one person might not work for another, and researchers are continuing to study new and better ways to use immunotherapy to fight melanoma.
WATCH: Clinical trials using CAR-T Cells show promise.
When it comes to side effects of immunotheraoy for melanoma, they can vary from person to person. For example, Richardson experienced depigmentation in her hair and skin.
According to the research published in Frontiers in Medicine, immunotherapy used to treat melanoma can lead to "vitiligo-like depigmentation. This depigmentation is caused by activated anti-melanoma immunity, which targets not only malignant cells but also healthy melanocytes."
The severity of the immunotherapy side effects depends on whether you're being treated with one medicine or a combination of two medicines, explains Dr. Anna Pavlick, medical oncologist at Weill Cornell Medicine.
"You have about a 10 to 15% chance of developing side effects such as severe rash or severe diarrhea" from a single-agent immunotherapy drug Dr. Pavlick tells SurvivorNet.
If you have metastatic disease, you may be offered two immunotherapy medicines, which increases the risk of developing side effects to "about 50%," Dr. Pavlick said.
Common Immunotherapy side effects include:
Fatigue
Nausea or stomach discomfort
Joint pain
Diarrhea or constipation
Cough
Rash
Loss of appetite
Changes in blood cell counts
Fever
If you experience these symptoms with immunotherapy, it's important your talk about them with your doctor, as they may be able to help you manage the side effects of your treatment.
Coping With a Diagnosis
Richardson's cancer journey brought along tons of emotional anxiety. Hearing you have cancer can leave you feeling scared, anxious, and depressed among tons of other emotions.
SurvivorNet wants you to know these feelings are normal. We also want you to know there are resources available to you to help you cope.
Counselors and therapists can offer tips and strategies for coping with your new cancer diagnosis. They can also validate your concerns and give you someone to talk to when you feel isolated.
Support groups can also help you cope with a diagnosis. Often, support groups can be made up of people all battling the same cancer or disease.
Support groups can also be made up of loved ones comprised of family and friends. Your circle of support helps you navigate your cancer journey by helping you along the way emotionally and physically.
Knowing you have loved ones by your side at every step helps you process those emotions and cope with your new reality during your journey.
Questions for Your Doctor
If you have been diagnosed with melanoma, here are some questions you may consider asking your doctor to help understand your situation:
Has my melanoma spread to other parts of the body or is it localized?
What are my treatment options?
Am I a good candidate for immunotherapy?
Will there be side effects associated with my treatment?
What types of financial and emotional support will be available to me as I begin my cancer journey?
How long do you expect my treatments to last?
Will I be able to work and continue my daily activities during treatment?
Learn more about SurvivorNet's rigorous medical review process.
---