The Chapman family has been in the news a lot as their matriarch and bounty hunting extraordinaire Beth Chapman battled advanced cancer. Beth sadly passed away at the end of June at 51 years old. Over the past few months, as Beth's cancer battle continued, the family was in the midst of filming their latest reality series Dog's Most Wanted. Even though Beth put on a brave face throughout her battle and assured fans that she would continue her work with husband Duane (Dog the Bounty Hunter) Chapman, her illness likely played a role in her ability to keep up with the film schedule.
Earlier in the year, it was announced that the debut date of Dog's Most Wanted, which will air on WGN America, had been pushed back — and fans were left wondering if it would ever make it to TV. But now, they finally have their answer. The show will debut on WGN America on Wednesday, Sept. 4, and from the looks of the show's trailer, Beth's cancer battle will play a huge role.
Read More
"If I'm gonna die, I'm gonna die in my boots," Beth says in the trailer, posted online by WGN America. She had assured fans throughout her battle that despite her stage 4 diagnosis, she wasn't going to let the illness get in the way of doing what she loved to do. And if the trailer shows anything — it's that Beth was 100% true to that promise.
Dog, along with several other members of the Chapman clan, also took to social media to announce the debut date on Monday afternoon. "Fe Fi Fo Fum Look our America here we come We're going to make America Safe Again," Dog wrote in the caption of his Instagram post announcing the date.
Jamie Chapman, Dog's daughter-in-law by way of Jamie's marriage to his son Leland, and Dakota Chapman (Leland's son/Dog's grandson) both took to Instagram to share similar postings. "America get ready," Dakota wrote in his caption. "Here's the date you've been waiting for," Jamie wrote in her Instagram story.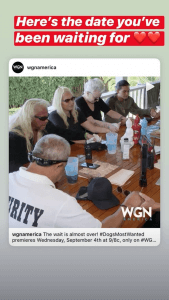 Despite some family drama that went on during Beth's cancer battle, the Chapman family has been spending a lot of time together in the weeks since she passed away. Several of the Chapman children regularly update their social media accounts to share never-before-seen photos of Beth, or snaps of the family enjoying time together. For a lot of fans, it's really meaningful to see the family come together in their time of grief — especially since Beth had been an inspiration to so many people.
She was admired not just because she was a woman succeeding in an industry that is typically dominated by men, but because she took on her cancer battle with such bravery. The SurvivorNet community drew a lot of inspiration from Beth. One fan even reached out this week to tell us how much following Beth's story meant to her.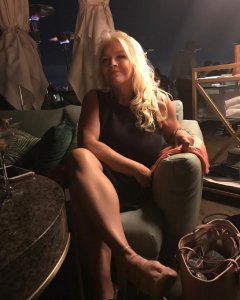 "I watch a video every day just to remind me what a wonder lady Beth is," the fan wrote.
Before she passed, Beth had been battling cancer for awhile. She was first diagnosed in September of 2017 with stage 2 lung cancer — but she was treated and declared cancer-free a few months later. At the end of 2018, however, the cancer returned, and by then it had progressed to stage 4 lung cancer. Beth was really open with her fans about the struggle of dealing with an advanced cancer in the public eye. But she was not totally clear with fans about how her cancer was being treated this time around. Typically, with advanced lung cancer, doctors will now try to cater treatment to a person's individual disease — a process known as precision medicine. However, it's unclear what treatment route, if any, Beth took.
She was very open with fans about how heavily she was relying on her faith during the cancer battle, though. In a heartfelt Mother's Day speech Beth gave this year, she said she considered her disease "the ultimate test of faith."
Dog's Most Wanted will debut on Sept. 4 at 9 p.m. on WGN America.
Learn more about SurvivorNet's rigorous medical review process.