Did Duane "Dog the Bounty Hunter" Chapman propose? Did Moon Angell accept? In a Monday interview with the doctor on "The Dr. Oz Show," one thing was clear: The reality-TV star, 67, is struggling to find his footing in the wake of his wife Beth Chapman's death from cancer just seven months ago.
RELATED: ''Ruining My Dad' — Duane 'Dog' Chapman's Daughter Cecily Joins 'Baby Lyssa' in Outrage Over Moon Angell
Read More
Angell, the woman who served as Beth's assistant, sat by his side during the interview. A longtime family friend, she's been the focus of emotional speculation — and an Instagram feud with two of Chapman's daughters — about whether she and Chapman have kindled a
romantic relationship
at a time when most think it's "too soon" for Chapman.
One of the posts that got fans upset was of Dog thanking Moon.
View this post on Instagram

Fans who caught the Dr. Oz preview clip last week saw Dog ask: "Moon Angell, will you marry me?" On the show, he revealed that the proposal was a bluff, designed to quash rumors of their romance when Angell instantly turned him down. And she did, citing they share a friendship but nothing more.
The day after the interview, Dog posted this to Instagram:
View this post on Instagram

Angell was maid-of-honor in Beth and Duane Chapman's wedding. She has been helping Chapman with household tasks in the months since Beth died.
'What Made You Choose Life Over Death?'
Chapman described Moon's role in his grief process.
"I couldn't stop crying," he told Dr. Oz. "And I wasn't going to commit suicide with gun or something…I was going to take a lot of pills. Because Beth left all her big pills there."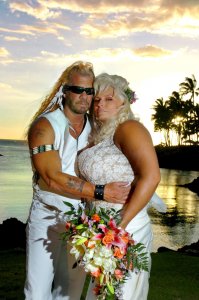 "You were going to commit suicide?" Dr. Oz asked. "What made you chose life over death?
Chapman looked to Moon. "Well she's pretty rough, this one."
"I say 'brutally honest'" Moon interjected, describing how she has worked to pull him out of his grief and isolation. "It's one way and this is the way we're going to do it. He needs to get going. We need to get back on the show and get him busy again."
'I've Never Seen Him So Vulnerable'
Moon also addressed Chapman's tough-guy image: "The whole world sees him as like, um, a bounty hunter, tough and gruff, and 'I can handle everything.'" But, says Moon, "I've never seen him so vulnerable. I've never seen him bawling so much and, you know, off on his own, in his own little world. I'm like 'hey' [claps hands]."
Beth's Closet Brought Him to Tears
One issue that has angered Chapman's daughters, Lyssa and Cecily, is the suggestion that Angell has cleared Beth's clothes from the closet and replaced them with hers. In the Dr. Oz interview, Angell said, "He would walk by the closet and bawl, and shut the door, and then open the door, and then he would go in." She paused, looking to Chapman for approval, "I think this is pretty intimate."
RELATED: "I Force Feed Myself Like I Force Fed Her"– Duane "Dog" Chapman Loses 17 Pounds As He Grieves After Beth Chapman's Funeral
"Go ahead," Chapman said.
"But he would smell Beth and he would go in there and sit down and cry and cry and cry," Angell continued. "And he asked me, 'Do you think that you could take Beth's things out of the closet?' So, it wasn't a negative thing. It was because he just couldn't do it anymore."
"And then I walked by and it was empty," Dog said, "and I'm like, 'Oh, God,'" he continued, wiping away tears. "I said, 'Moon, put some of your stuff in there.' She said, 'No,' I said, 'Moon, it's an order.'"
For Surviving Spouses, Grief is Like a Rollercoaster
Although it's described in phases or stages, grief may feel more like a roller coaster according to the American Cancer Society. 
RELATED: The Toughest Conversations: Losing a Spouse to Cancer
The ups and downs can make it hard for the bereaved person to feel any sense of progress. A bereaved spouse may feel better for a while, only to become sad again. Some wonder how long the grieving process will last, and when they might find relief. There's no one-size-fits-all answer to this question, but it's common for the grief process to take a year or longer. Even as the pain may become less intense, it's normal to feel emotionally involved with the deceased for many years.
Learn more about SurvivorNet's rigorous medical review process.
---