When a loved one's cancer journey ends in death, the process of grieving can have both physical and emotional effects. After the death of his beloved wife Beth Chapman from stage II throat cancer, Duane Chapman's grief is taking many forms, including extreme weight loss.
RELATED: Duane "Dog" Chapman Says He Sleeps With His Wife's Ashes By The Bed– Concerns About How Badly Dog is Suffering on The Eve of Beth Chapman's Funeral
Read More
Since Beth's death, Duane says he has lost 17 pounds in two weeks. "I can't eat. Two bites, I'm full. I got to force feed myself like I force fed her," he said in an interview with
Entertainment Tonight
.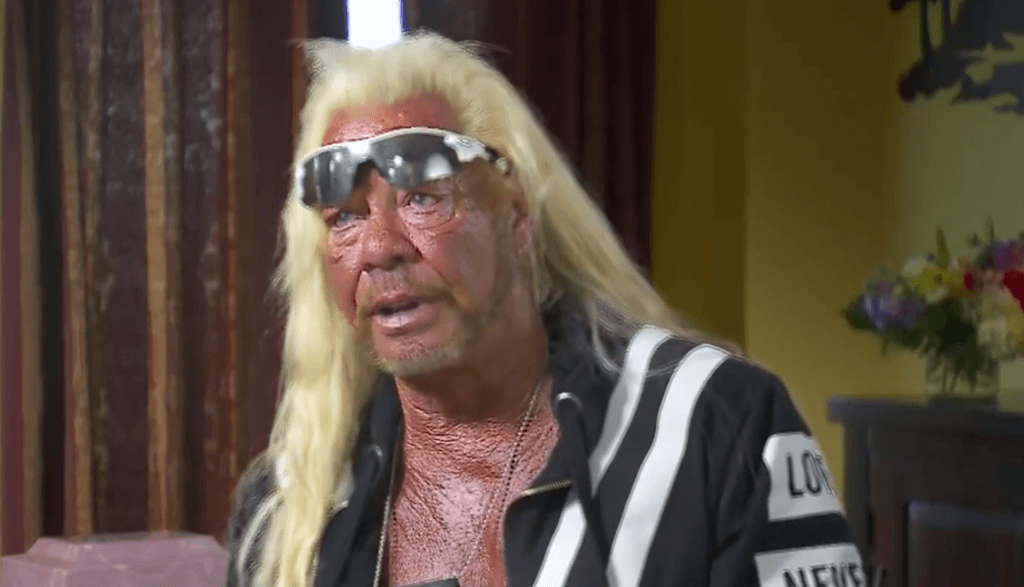 In addition to the weight loss, Duane is also having a lot of trouble sleeping without Beth by his side to provide mid-night comfort."I haven't gotten past the place where I'm [not] putting a pillow where she was and covering it up," Duane revealed in the interview. "And then I wake up in the middle of the night and I see her and it doesn't register that [it] ain't her. I'm still there."
RELATED: "Please, Let Me Go": Some of Beth Chapman's Last Words to Duane "Dog" Chapman During Cancer as She Prepared Her Husband For The Worst
He reminisced in the interview about their sleeping habits when Beth was sick. "I wake up to always touch her, especially when she was sick I'd have to wake up a few times when she stopped breathing. I couldn't hear it no more," he recalled.
And said that he's so used to taking care of her he doesn't know how to get real rest without that purpose in mind. "And she's laying and I'm like, 'You are not dying like that. I will not let you die.' So I'm so used to that that I don't sleep solid anymore."
Self-Care After Losing a Loved One
Restaurants are just another venue for missing his beloved wife, who used to read him the menu and help him order. Now, he said, he "can't see the freakin' menu."
His inability to read the menus, he says, is related to his weight loss. "I would go, 'What do I want today, honey?' and she would name two things," he explained. "I never ordered…I'm having a hard time ordering food. I've lost 17 pounds. Chewing ice helps, and I've lost 17 pounds in about two weeks."
While it's clear that he's still processing Beth's death, he did share that he's "got a whole new look on life."
"People would say I lived a long and great life, sometimes a hard life," he said, explaining that while he has no suicidal thoughts, he's "ready" to join Beth. "Well, of course. I said, 'You beat me to this.'"
"I went through experiences to help others — I really mean this. The other day I met [a guy]. He goes, 'Dog, you know I love you. I'm sorry, I lost my wife six months ago,' and I hugged him and I felt a connection like, boom, instantly brotherhood, right," he shared. "So when you go through something and somebody else [goes through the same thing], there's something there. That's why I'm going through it, but I use that thing that's bad to help me help others."
Information on Losing A Spouse To Cancer
A lot of the interviews we feature on SurvivorNet are with people who have actually taken on cancer, but what about those, like Dog, who have to watch someone they love die from the disease?
John Duberstein lost his wife, writer Nina Riggs, to metastatic triple negative breast cancer. He said in an interview that while he was watching her suffer from the disease, he couldn't help but wish things could go back to normal … but Nina had already embraced her new normal.
John Duberstein talks about his experience of losing a spouse to cancer
"I really wanted things to go back to normal, whatever that meant," John said. "She was not for that. She wanted to embrace the existence that she had, even before she knew she was going to die imminently. I did not want to talk about what was going to happen with me after Nina died. Nina is the one that really brought it up, she brought it up a number of times. She wanted to make sure that I knew that it was OK … she really wanted me to have another relationship after she was gone."
John said that even with the pain of losing Nina, and even though he didn't want to talk about it at the time, he's so glad that his wife started those seemingly uncomfortable conversations. "In retrospect, I can't even explain how glad I am that I had that," John said.
Learn more about SurvivorNet's rigorous medical review process.