When is it ok to remarry after losing a spouse to cancer? Duane 'Dog' Chapman, 67, has proposed his girlfriend, Francie Frane, 51, according to a report in The Sun. The pair met after Chapman left a voice message for Frane's husband, Bob, asking him to do some work on his property. Frane returned the call, explaining that Bob had died of cancer six months before Beth Chapman's June 2019 death from throat cancer.
RELATED: For the First Time Since Beth Chapman Died of Cancer, Duane "Dog the Bounty Hunter" Chapman is Smiling Again
Read More
The two bonded over their shared loss and, in recent weeks, they've gone public with their relationship. Under quarantine, the pair have been sharing Chapman's Colorado home together.
"I Know That God Brought You Into My Life"
Frane said of the proposal, "I wasn't expecting it at all … he said, 'Come in, sit down because I need to talk to you'. "So I put all the food in the kitchen and I came in and he said, 'I know that God brought you into my life and I don't want to spend one moment of it without you'."
She added: "And he got down on one knee and he opened the ring box and he said, 'Will you marry me and spend the rest of our lives together?' "Who can say no to that? It was wonderful."
After sharing a photo with Chapman for the first time, Frane told well-wishers on Instagram: "[N]Either one of us can replace what we had with Bob & Beth and we don't want to," she said, acknowledging Beth Chapman and her own husband, Bob Frane, who died of cancer within months of each other in 2019.
RELATED: Duane 'Dog' Chapman Shares Sweet Message About Loss Months After Losing Wife to Cancer
"What we do know is that God has brought two people who have walked a treacherous road together and shown us LOVE is possible again ❤️ And as Wonderful, Loving and Kind as You all think Dog is, HE IS & MORE !! I LOVE YOU DUANE LEE."
In a 2017 photo, taken with Bob and shared on Instagram (above), Frane called her husband, "the love of her life." The couple plan to wait until after lockdown to marry and want their family — Chapman has 12 children, Frane has two sons, both have grandchildren — to join them in the celebration.
The Family Approves
And the family drama surrounding Dog's friendship with Beth Chapman's former assistant, Moon Angell, has faded, replaced by support and joy from daughters Lyssa and Bonnie. "How cute are these two ?! ❤️" Lyssa posted on Instagram.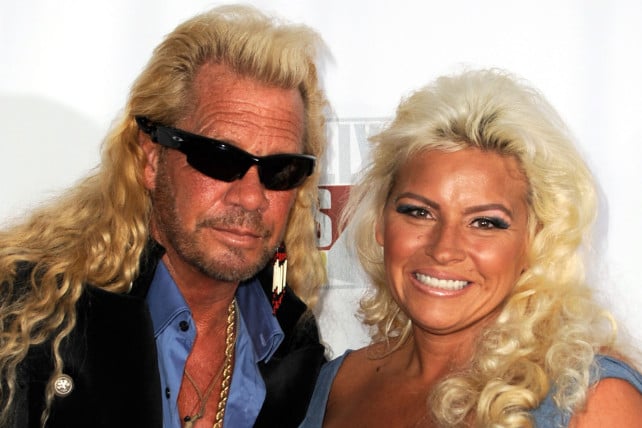 Before her death in June 2019, Dog and Beth Chapman were married for 13 years. 
Her sister, Bonnie, chimed in to quash the few naysayers: "Everyone who's judging my father should sure hope that they never have to lose their loved one and get judged for trying to fill the void. Your opinion is invalid. My mother would've wanted him to be happy. Now please shut up and let my dad live in peace."
RELATED: Moving On After Grief– Did Duane 'Dog' Chapman Just Propose to Beth Chapman's Assistant, Moon Angell?
The relationship comes just a few months after speculation surfaced that Dog was dating his longtime friend Moon Angell. His daughter Lyssa openly disapproved of their relationship, and a source told PEOPLE at the time that things weren't romantic.
Beth Chapman's Cancer Journey
Beth Chapman was diagnosed with stage 2 throat cancer in 2017 . After initial treatment, she was declared cancer free. But in 2018, she was diagnosed with stage 4 lung cancer. In 2019, Beth decided to forego cancer treatment, instead of choosing to spend her last months with her family doing what she loved most — catching fugitives.
Duane 'Dog' Chapman spoke to SurvivorNet after Beth Chapman's death about his role as husband, during her cancer journey.
Beth died at age 51 in Honolulu, surrounded by family members. The Chapman family held two emotional memorial services, one in Hawaii and one in Aurora, Colo. The two locations were where most of "Dog the Bounty Hunter" was shot, and where they often spent their free time.
Dealing Publicly with Grief
Most celebrities have to grapple with their grief in the public eye of course. "Little by little, Day by day"  were the words that helped singer Celine Dion as she slowly recovered from the grief of losing her husband to complications from throat cancer. The words became a song called "Recovering."
RELATED: Celine Dion's Touching Tribute to Her Beloved Husband Rene, Who Died Four Years Ago From Throat Cancer
René Angélil, Dion's husband who also managed her music career, also had throat cancer. Dion said Rene was the only man she ever loved and the only man she ever kissed.
Learn more about SurvivorNet's rigorous medical review process.
---