The Chapman family, famous for their reality-TV crime series "Dog the Bounty Hunter" and now "Dog's Most Wanted," have had a tragic year. Beloved family matriarch Beth Chapman passed away from cancer in June, making this the first holiday season the Chapman clan is facing without her.
Amid their grieving, the Chapmans seem to be embracing each other's company, with Dog even suggesting that a new series of "Dog's Most Wanted" featuring the whole gang may be on the way.
Read More
RELATED: Duane 'Dog' Chapman Shares Plan for a New TV Show & How He's Coping With Grief After Losing Beth
Lyssa Chapman, daughter to Dog and step-daughter to Beth, took to Instagram Christmas Day to share a photo and a bittersweet message to her late step-mom.
Fans were quick to offer love and support to Lyssa, as the reality star has been candid about how difficult it was to lose her step-mom. Even though the two were engaged in a bit of a public spat over an alleged Mother's Day snub earlier this year, Lyssa has made it clear that minor feuds aside, she loved her step-mom and misses her terribly.
RELATED: Bonnie Chapman Opens Up to SurvivorNet About the Pain of Losing Her Mom
'Dog's Most Wanted' Season 2
Dog also shared a few holiday messages and photos (including the one seen above of him sitting on Santa's lap) with fans. One post, featuring a heavily tattooed cartoon Santa Claus, smoking a cigar and carrying a gun, hints that a second season of "Dog's Most Wanted" may be in the works.
Dog's fans loved it. WGN America, the network that airs the "Dog's Most Wanted," has yet to confirm a Season 2, though, so the question of when the show would be filming and airing still remains. However, Dog has said he'd like to begin filming shortly after the holidays — and he's hoping 2020 will be a better year for him and his family.
"What a terrible year I had," Dog told Entertainment Tonight in an interview last week. "Ended this year with Beth being gone, so I know that 2020 has got to be better [because] nothing can be that bad. I'm just gonna kick off the new year. I'm hoping to start season 2 on 'Dog's Most Wanted' right after the holidays are over and so I'm gonna be the most bounty hunter they've ever seen. We're going to go after all the dangerous, no-good bastards that we can, so I'm kinda looking forward to beating up all the bad guys."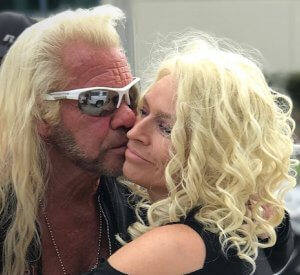 Season 1 of the show revolved around the family's bounty hunting antics, but Beth's cancer also played a prominent role. Fans were given an up-close and, at times, really painful glimpse of the star dealing with the side effects of advanced cancer.
In a November chat with SurvivorNet, Dog explained that with the loss of Beth — who was not only his wife, but his bounty hunting business partner — some other members of the Chapman family will be stepping up for future gigs and TV spots.
The bounty hunter explained that Lyssa, who is 32, and his youngest daughter Bonnie, 20, will each be using their unique skills to help him track down criminals, and keep him safe.
"The family is there to protect Dad and get the bad guy," he said. "The one who really protected me the most is now in heaven, so my family has to take over some of the thinking and some of the protecting that Beth did for me."
Learn more about SurvivorNet's rigorous medical review process.