In an interview in late 2019, legendary singer Sir Elton John got candid about some of the health struggles he has faced — both on and off-stage — after surgery for prostate cancer. Now, the "Benny and the Jets" crooner is dealing with walking pneumonia, yet he's still determined to perform as many of his "Farewell Yellow Brick Road Tour" shows as possible.
RELATED: Celebrating the Celebs Who Helped Remove the Shame from Cancer in 2019
Read More
At a concert in New Zealand over the weekend,
The Daily Beast reports
that 72-year-old John had to cut his performance short after the symptoms of his pneumonia became too much to handle on stage.
"I've just completely lost my voice. I can't sing. I've got to go. I'm sorry," the singer said, according to the outlet. John was apparently escorted off stage by several assistants, and received a massive round of applause from the crowd, despite the shortened show.
John took to Instagram afterwards to apologize about his health issues, and thank his fans for loving him anyway.
RELATED: Elton John's Prostate Cancer — The Challenging Sexual Side Effects
"I played and sang my heart out, until my voice could sing no more," the singer wrote. "I'm disappointed, deeply upset and sorry. I gave it all I had. Thank-you so much for your extraordinary support and all the love you showed me during tonight's performance. I am eternally grateful."
John is currently in the middle of his farewell tour — a massive 300-date tour that is meant to span three years. Despite this weekend's mishap, tour promoters were quick to assure fans that John's other shows in New Zealand, scheduled for Tuesday and Thursday, will still go on, according to The Daily Beast.
Elton John's Cancer Journey
This is not the first time the much-loved British singer has  put aside his health because the show must go on. In a December 2019 interview with BBC One, John told Graham Norton that he wore a diaper under his outfit during a Las Vegas show in 2017, when he hadn't yet regained bladder control after his treatment for cancer. John was diagnosed with prostate cancer in 2017.
RELATED: Sir Elton John and Olivia Newton-John Named to Queen's Honors List
"If only they knew at that moment I was pissing myself," he said, referring to the audience.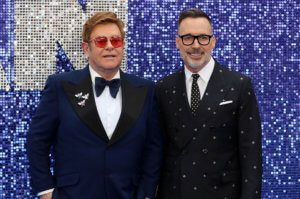 Loss of bladder control is a possible side effect for men who have surgery to treat prostate cancer, as John did. The singer also wrote about his cancer experience in his book "Me," where he explained that he also dealt with sexual side effects after surgery. He explained that he knows a lot of men are hesitant to get prostate cancer treatment after being diagnosed because of possible side effects. But because he and husband David Furnish have two children, the decision was easy for him.
"A lot of men won't have it, because it's a major operation, you can't have sex for at least a year afterwards and you can't control your bladder for a while," John wrote. "But effectively, my kids made the decision for me. I didn't like the idea of cancer hanging over me — us — for years to come. I just wanted rid of it."
The Side Effects of Prostate Cancer Surgery
Possible side effects of prostate cancer treatment are a major factor for a lot of men when deciding which mode of treatment to go with. Many men worry that if they undergo surgery, they may never be able to have a satisfying sex life again — but it's important to know, there are options.
Stanford's Dr. James Brooks explains some of the ways to come with sexual disfunction after prostate cancer surgery. 
"There are things we can do to get couples back to being sexually active," Dr. James Brooks, a urologic oncologist at Stanford Hospital & Clinic, told SurvivorNet in a previous interview. "There are treatments that we can use, including oral agents. Viagra, Cialis and Levitra have been game-changers in this situation. They don't work for all patients. There are other alternatives that a urologist can work with them to help them get back to … getting erections and getting back to being sexually active."
Learn more about SurvivorNet's rigorous medical review process.