In Sickness and In Health
An engaged Michigan couple were both diagnosed with cancer just eight days apart while planning their wedding.
23-year-old Mariah Nelesen was diagnosed with ovarian cancer in January; Fiancé Clay Slenk, 24, was diagnosed just over a week later with leukemia.
Leukemia is a type of blood cancer that develops when the body produces large quantities of abnormal white blood cells; Ovarian cancer is rarely detected early, and two main approaches to treating the disease usually consist of surgery and chemotherapy.
An engaged Zeeland, Michigan couple received news that no one should have to deal with, especially while planning a wedding: They were both diagnosed with cancer eight days apart.
Clay Slenk, 24, proposed to then-girlfriend Mariah Nelesen, 23, the day after Christmas in 2020. The wedding, which was moved up from June of this year following their dual diagnoses, will now take place on April 9.
Read More
"I got a phone call Jan 11 of this year that I had ovarian cancer," Nelesen
told
WOOD TV, the NBC station in Grand Rapids. "That's not a call that anyone expects to receive."
According to the couple's GoFundMe, the cyst turned out to be an Adult Granulosa Cell Tumor, a rare type of ovarian tumor. The bride-to-be had surgery to remove the ovary and she will be undergoing chemotherapy treatment.
Related: Prioritizing Mental Health & Acceptance After an Ovarian Cancer Diagnosis
Nelesen also went through the process of egg-freezing as many women choose to do when they plan on having children, as treatment can affect a woman's fertility.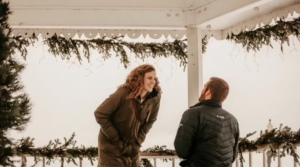 Meanwhile, Slenk had been dealing with the aftermath of getting sick with pneumonia, had some routine bloodwork, and eight days after his partner's devastating news, he was diagnosed with leukemia. Slenk needed immediate chemotherapy treatment and spent 40 days in the hospital.
Understandably, there was a period of anger. Instead of the "Why me?" that most newly diagnosed patients go through, there was, in this rare case, the "Why Us?"
Related: Don't Dwell on 'Why Me' Says Journalist Gerri Willis Who Battled Stage Three Breast Cancer
The two warriors refocused and instead put their faith in God. "Why be angry?" Slenk said. "If I'm angry and frustrated and down and negative, all it's going to do is make this day that much worse."
Instead, the Christian couple are "living out their faith, shining the love of Christ, and blessing many others through their testimony in such powerful ways," according to family and friends on their support page.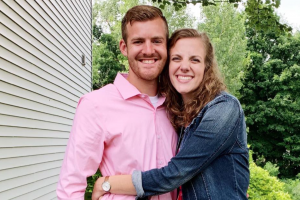 They're making the most of every day together, choosing not to alter life plans, and instead, will soon continue their battle as husband and wife.
"We moved up our wedding date so we could be married during that time," he said. "So she would be here to take care of me and we could go through that hard part together."
Related: Bride Battles Back From Coma To Defeat Stage IV Cervical Cancer Despite Terminal Diagnosis Just Months After Wedding
That hard part, meaning a stem cell transplant for Slenk, is the most intense phase of his treatment. "It won't be easy going forward, but we know that it'll be more meaningful to go through it together," Slenk shared.
Another silver lining? There will definitely not be any Bridezilla moments for Nelesen, as she is foregoing all the typical meticulous planning that many brides get caught up with, and instead opting for a relaxed BBQ. "It's going to be a special day no matter what and we're going to have burgers and brats on the grill."
As for Slenk, he's grateful that their bond has strengthened since one of life's ultimate curveballs. "There'll be a little more sickness before the health, but that's alright," he said.
Understanding Leukemia
To understand more of what Slenk is facing, here is some information on leukemia, which is a type of blood cancer that develops when the body produces large quantities of abnormal white blood cells. These cells prevent the bone marrow from producing any other type of cell including red blood cells and platelets.
"One cell got really selfish and decided that it needed to take up all the resources of everybody else, and, in doing so, took up space and energy from the rest of the body," Dr. Nina Shah, a hematologist at University of California San Francisco, explained.
Related: A Husband and Wife Declared Cancer Free on the Same Day after Battling Leukemia Together: 'There's Nothing We Can't Do'
In a more general sense, blood cancer means that your bone marrow is not functioning properly.
"And when your bone marrow doesn't function correctly, it means that you can have something happen to you like anemia," she said. "Or you can have low platelets, which makes it possible for you to bleed easily. Or your immune system is not functioning correctly."
Related: Pro Wrestler Roman Reigns Cancels Bout After Positive Covid Test; He is More Vulnerable After Surviving Leukemia
Symptoms of leukemia can vary depending on the type of leukemia, and it is unclear which specific type that Slenk has. Common signs and symptoms of the disease include:
Fever or chills
Persistent fatigue, weakness
Frequent or severe infections
Losing weight without trying
Swollen lymph nodes, enlarged liver or spleen
Easy bleeding or bruising
Recurrent nosebleeds
Tiny red spots in your skin (petechiae)
Excessive sweating, especially at night
Bone pain or tenderness
Treating Ovarian Cancer
Shifting gears to Nelesen's journey, doctors have two main approaches to treatment when they are working with ovarian cancer patients. Both methods offer patients a combination of chemotherapy and surgery, according to Dr. Jose Alejandro Rauh-Hain, a gynecologic oncologist at MD Anderson Cancer Center.
"Both groups (of women) get chemotherapy and surgery," he explained during a previous interview with SurvivorNet, "it's just the sequence of how we do it."
Ovarian Cancer Treatment: Surgery or Chemotherapy First?
If a doctor is confident they can remove the ovarian tumor completely without initial cycles of chemotherapy, the doctor will go ahead with a surgical procedure, like in Neleson's case.
The group that receives surgery first still goes through chemotherapy, following the operation to ensure that the cancerous tissue is fully excised.
This necessary combination of both treatments is related in part to the particular virulence of ovarian tumors. The cancer is particularly difficult to detect, so the average woman has a sizable tumor once she is diagnosed. Because of this, both chemotherapy and surgery are needed to remove the cancer.
Luckily, Nelesen seems to be in good hands and she, along with her future husband, should feel fortunate that they both caught their cancer and are taking the necessary steps to beat it. Together.
Couples Facing Cancer Together
We will be sure to follow Mariah and Clay's courageous love story and inspiring journey to the altar while battling cancer. Hopefully the pair can have a celebratory honeymoon once they both make it through all the necessary treatment steps.
Although this circumstance is more rare with getting diagnosed at the same time, there are a handful of other partners out there who have also been through "The Big C" together.
SurvivorNet recently chatted with a married couple who have also both battled cancer together, and although it can sound like double the stress, it can also be so comforting to have someone by your side who completely knows what you're going through.
Michael and Xio Caruso have been married a little over a decade, and are thriving as breast cancer survivors, together! Michael was diagnosed first in January 2017. When he was finishing up with chemotherapy, Xio received her diagnosis.
They're Married, They Both Have Cancer, And They're Taking it on Together
Facing the disease together has given them a unique advantage … they can understand each other. But there are some things about their cancer journey that Michael says have been especially tough.
"What's really starting to get difficult to deal with is just the emotional changes now," Michael says. "We just went to go see Creed 2, and I'm just teary-eyed throughout the whole darn movie … it's like, I shouldn't be that way. It's a tough guy movie! What the heck is wrong?"
While cancer is surely a highly emotional journey, and everyone deserves days for a good cry, it must be especially nice to not have to face those down days alone, as we can only imagine the intense bond that these couples share.
Every battle is different just like every love story is different, and we hope these couples continue to thrive as their love continues to blossom to new heights.
Learn more about SurvivorNet's rigorous medical review process.