Bride Fights Back From The Brink After Cervical Cancer Diagnosis
Lena Spotleson, 26, was diagnosed with stage IV cervical cancer just months after her wedding.  The cancer had also spread to the uterus, left ovary, and pelvic lymph nodes by the time doctors diagnosed Spotelson.
She underwent a radical hysterectomy followed by radiation and chemotherapy. Soon after she received her second dose of chemo, she went into a medically-induced coma due to a E. coli infection that spread to her blood. Against all odds she made it out and is now cancer-free.
A hysterectomy may not always be the best option for cervical cancer treatment, and as a new bride it was certainly not an option Lena Stapleton wanted to consider, but she had no choice.
"You are never going to quit. You are going to take every battle."
That was the mindset of a newlywed, 26, who learned just months after her wedding that she had cervical cancer, it was stage IV, and it was likely to be terminal.
Read More
Lena Spotleson is sharing her story with
NBC 12
in hopes of encouraging other women to pay closer attention to their bodies and speak up if they start to feel concerning symptoms.
In her case, speaking up saved her life.  Her cancer started inside the cervix, but had also spread to the uterus, left ovary, and pelvic lymph nodes when she was diagnosed.
This caused considerable pain and discomfort for Spotleson, who spent months writing it all off as stress.
"I was teaching and getting my master's degree," recalled Spotleson. "My husband and I had just gotten married a month before, and they thought it was stress."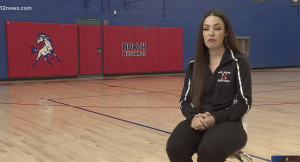 Related: Doctors Dismissed Woman's Symptoms 52 Times Before Being Diagnosed With Advanced Cervical Cancer: Don't Be Afraid To Be Your Own Advocate
Spotleson quickly began treatment which started with a radical hysterectomy, at which point doctors discovered the cancer was more extensive than previously thought.
Radiation and chemotherapy followed to clear her body of any lingering cancer cells.
Her first two rounds of chemo went well, but after the third, she developed a fever and started to feel sick. That sickness turned out to be from E.coli bacteria that had made its way into Spotleson's bloodstream.
"When I got into hospital room, my heart started to hurt," recalled Spotleson. "My nurse got the EKG machine on and put the stickers on my chest. She put the blood pressure cuff on. Lying on the bed, I saw that my blood pressure was 40 over 20. And then I blacked out."
Things got so bad that doctors opted to put Spotelson in a medically induced coma. It seemed for a while that this might be how her cancer journey came to an end.
"The night they intubated me, they told my husband that it didn't look good," said Spotleson. "All my family and friends came down to the hospital. I don't know if they thought I would make it through the night."
For the next two days, Spotleson held on, and on the third day, she slowly started to wake up.
Spotleson's treatment team opted against administering that fourth and final round of chemo, and in the end, it made no difference because soon after, her first scan came back with no signs of cancer. And it has continued that way.
Related: Sportscaster and Cervical Cancer Survivor Erin Andrews, 43, Posts News of Her Five-Year Cancer Checkup: 'Sitting in That Waiting Room Always Puts Life into Perspective'
This turned out to be just the start of a lifelong cancer journey for Spotelson.
"I quit teaching and went to work for the American Cancer Society because I felt like I needed to give back," said Spotleson. "It's important for survivors to share their story, so other people living it are given that hope. They see somebody else survived what they are going through."
She also thinks it helps that her diagnosis came at such an early age.
"A lot of times when people hear survivors speak, they are mostly older adults, and it's difficult to put a younger face to it," said Spotleson. "I've been sharing my story with anybody that needs to hear it. If it helps one person, that's all that matters."
As for how she managed to beat the odds and late-stage cervical cancer, Spotleson said that was all thanks to her cancer care team.
"It was a very difficult case, and we knew it was a difficult case," she noted. "But it was never voiced that I wasn't going to live."
Related: One Woman Dead and 430 Affected After Scottish Government Fails to Notify Them About Cervical Cancer Screening
Benefits Of A Comprehensive Cancer Care Team
Lena Spotleson benefited from a team of doctors dedicated to her case in helping her overcome stage IV ovarian cancer.
"Because this type of cancer grows inside, it takes much longer to diagnose," explains Dr. Javier Magrina, director of minimally invasive gynecologic surgery at Mayo Clinic. "The cancer has a long time to grow before it is picked up."
It was Dr. Magrina who informed Spotleson that she had cervical cancer and then performed her radical hysterectomy.
Dr. Harshita Paripati, medical oncologist, and Dr. Sujay Vora, radiation oncologist, handled her post-surgery treatment.
"We went with an intense chemotherapy and radiation plan," said Spotleson of her customized approach to treatment. "I essentially had both of them at the same time, figuring that I could handle it because I was young, and I was in fairly decent shape."
In addition, a mental health specialist also helped Spotleson during her battle.
"My counselor and I talked about how I was feeling, how my treatment was going," recalled Spotleson.  "She not only listened for my emotions, but if she thought I could benefit from mediation, for instance, she would talk to the doctor about it."
That is how she ended being one of the few who beat the disease after being diagnosed so late.
"For most of the patients that have this advanced cancer, the likelihood of them dying is greater than the likelihood of living," explained Dr. Magrina. "She is in the small group of women that will live."
Seeking Care at a Comprehensive Cancer Center
The Emotional Impact of a Hysterectomy
Treatment paths for cervical cancer may vary depending on the cancer stage and whether or not a woman wants to maintain her fertility.
A hysterectomy may not always be the best option for cervical cancer treatment, and as a new bride, it was certainly not an option Spotleson wanted to consider, but she had no choice.
In a previous interview with SurvivorNet, Dr. Jeanne Carter, a sexual psychologist at Memorial Sloan Kettering Cancer Center, said that hysterectomies might have a positive or negative emotional impact depending on a patient's relationship with the body part.
"Having those parts removed can be very devastating for them, especially in some of our young patients who might have wanted those organs for reproductive options and may have to build families in different ways," explained Dr. Carter.
"Any time a woman loses part of her body, it's what that part of the body symbolized to them that really affects how they feel and adjust to it."
Emotional Impact of a Hysterectomy
Learn more about SurvivorNet's rigorous medical review process.
---