When musician John Tesh was diagnosed with a rare form of prostate cancer in 2015, doctors gave him 18 months to live. Today, Tesh, 67, a former Entertainment Tonight co-host is healthy. And he's sharing the emotional
RELATED: In a Teary Reunion on 'ET,' John Tesh Opens Up with Mary Hart About Prostate Cancer
Read More
challenges he faced during his cancer treatment in his new memoir, "Relentless: Unleashing a Life of Purpose, Grit, and Faith."
A Matter of Faith
At first, "I was angry at God. I was angry at everybody. And for some reason, I was angry at my wife." Tesh has been married to actress, Connie Selleca for 28 years. "Fortunately, she forgave me because that was nothing more than disrespect to her because she had been working so hard as an advocate. Feeling sorry for yourself will also get you killed."
Dr. Patrick Swift, radiation oncologist at Stanford and Clinical Professor of Radiation Oncology-Radiation Therapy, on high intensity focused ultrasound treatments
"I thought that maybe God had put this sickness on me, to either teach me a lesson or for me to have a ministry," he said. "But there's nowhere in the new covenant in the Bible that says that God wants you anything but well."
John Tesh's Cancer Journey
Tesh, a pianist and composer best known for the NBA's "Roundball Rock" theme song, had surgery followed by chemo and radiation in the summer of 2015. "We got really smart and started finding doctors who could help save my life," he told FOX news in a recent interview. But I was not prepared for the suffering. People who have had chemo, they know what this is about."
RELATED: Good News for Prostate Cancer Patients — a Promising New Procedure with Lower Risk of Impotence
"Where I had chemotherapy," he explained. "I have something called androgen deprivation therapy where they take the testosterone out of your body, which basically gives you male menopause. Then I had two major surgeries and I had complications from those surgeries."
RELATED VIDEO: Are the Side Effects of Androgen Deprivation Therapy Worth the Risk?
"I was a terrible, terrible patient," he admits, "and the only reason I was able to get out of that was my wife, who not only was my advocate but also helped introduce me to some powerful scriptures that when I manifested those and when I got the revelation of those, I knew I could get healed," Tesh explained.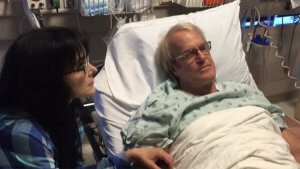 Tesh's cancer remained in remission from 2015 until 2017. "The cancer kept coming back and it kept ending up in my lymph nodes," he told FOX.  He then had laparoscopic surgery.
RELATED VIDEO: A Crucial Message: Ben Stiller's Candid Account About Sex After Prostate Cancer
Then came a decision-point: "We had been studying … the Bible about the promise of healing that came from Jesus. And so, when it came to the last appointment where they wanted to radiate my pelvis with 62 different radiation treatments in a three-month period, at that moment, we realize that we'd caused so much damage to my body that we were done."
"And at the moment," he said, "Connie and I shared a look. Faith was born. And I knew that I was done with treatment and the cancer never came back."
Screening for Prostate Cancer
The test for prostate cancer — a digital rectal exam —  isn't a favorite among men. But, as Dr. Edwin Posadas, a urologic oncologist and director of the Translational Oncology Program and medical Director at Cedars-Sinai Medical Center, explained to SurvivorNet, it lasts only some 30 seconds, and the potentially life-saving information gained makes it worth it.
Dr. Patrick Swift, a Stanford radiation oncologist, says quality of life must be balanced against potential outcomes, "and it involves choosing between surgery or just having radiation with hormone therapy."
"They're inexpensive, relatively noninvasive," Dr. Posadas said about digital rectal exams, which usually go hand-in-hand with a blood test called a "PSA" test, which measures levels of something called "prostate-specific antigen."
"No man is really excited about having a rectal examination, which means that a doctor has to literally touch the prostate gland through the rectum, [but] honestly, it takes less than 30 seconds to get it done," Dr. Posadas said. "It's relatively painless."
Learn more about SurvivorNet's rigorous medical review process.
---