"If I'm gonna die, I'm gonna die in my boots."
These words come from the mouth of Beth Chapman, as seen in a new 30-second trailer released for  "Dog's Most Wanted." The new WGN America reality series will offer viewers a remarkably personal window into Beth's cancer journey, and will show her most difficult moments, such as losing her hair during treatment.
Read More
In the new trailer, viewers get a glimpse of Beth Champman in her truest form—headstrong, frank, devoted to her faith, and dedicated to her bounty-hunting mission. Beth died last month at age 51 after a difficult cancer journey that wracked her family and many thousands of fans with grief.
RELATED: "Dog's Most Wanted" Gets a Release Date As The Family Continues to Mourn Beth Chapman
But for those who thought Beth's passing would mean her beloved personality would be absent from the new show, the trailer makes it clear this is not the case. Instead, it seems "Dog's Most Wanted" will give viewers a very personal window into Beth's cancer journey. Beth's cancer, it seems, will actually be a main focus of the show.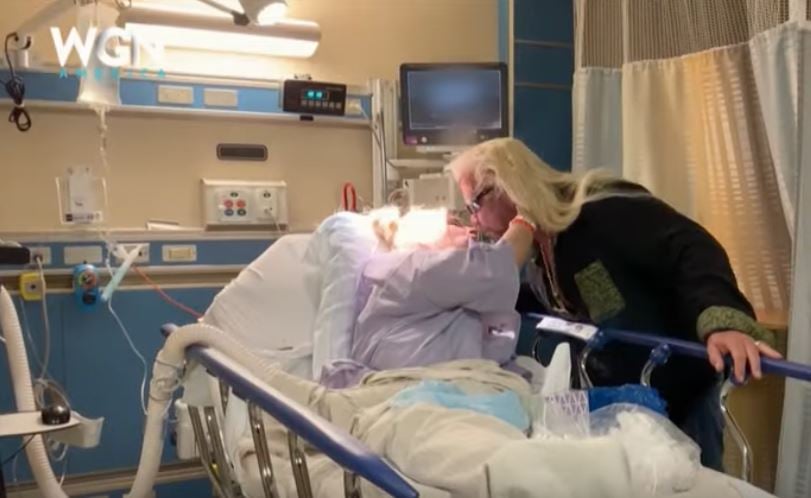 This is evidenced through the very first soundbite in the trailer—Beth's voice. "Once you find out that it's an incurable lung cancer," she says, "There's no stage five."
The trailer then cuts to the Chapman family praying around a table, followed by a clip of Beth in her hospital bed, and a closeup of her devoted husband and bounty hunter, Dog, as he tells the camera, "I love her, and I'll do anything for her."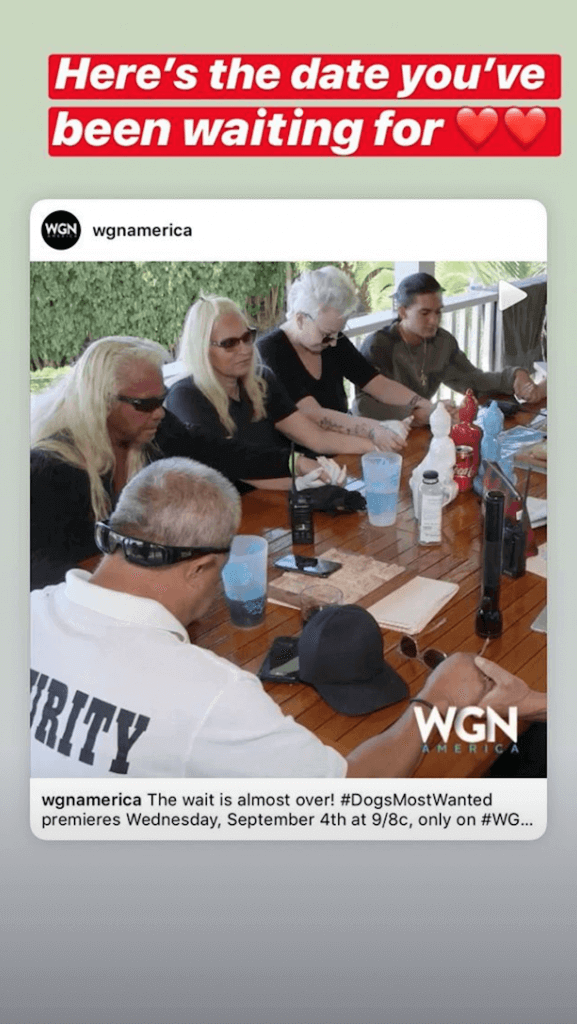 Perhaps the most striking scene in the trailer comes as the camera zooms in on Beth's scalp. We see her shiny blonde hair is missing in large patches—a result of the chemotherapy she'd been receiving for her stage IV lung cancer (we also see her famously manicured nails, of course).
RELATED: As Beth Chapman's Funeral Approaches, A Sisterhood Of Women Get Their Nails Done To Honor The Woman Who Inspired So Much Love
This raw, emotional, and very personal footage of a devastating illness is rare for reality television. It's hard to think of another series that has focused so openly on a cancer journey.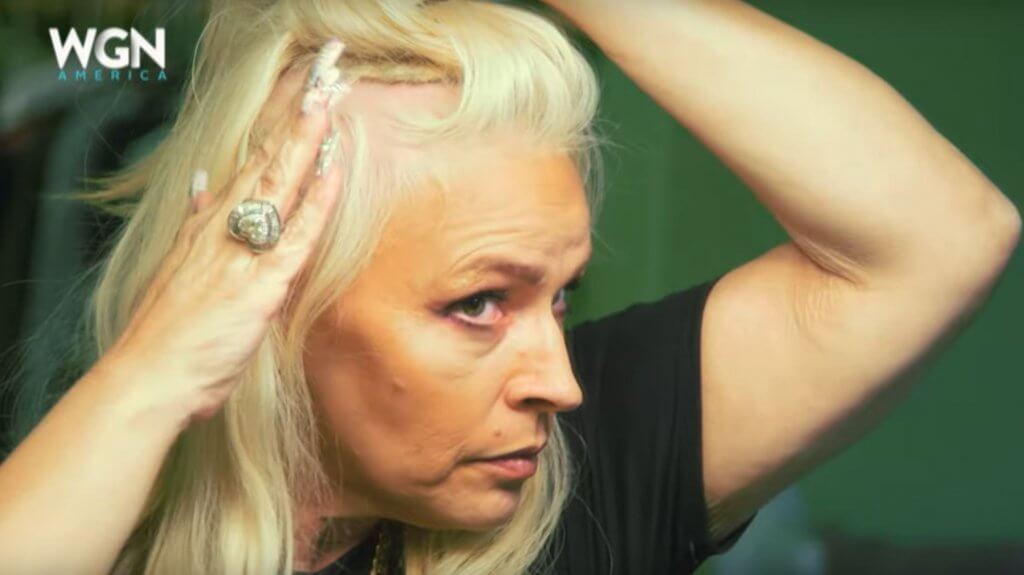 Beth's incurable lung cancer came after a previous stage II throat cancer diagnosis in 2017. During the two years from Beth's initial diagnosis to her death, Dog and the many Chapman children experienced a roller coaster of ups and downs. Beth's cancer went into remission, but then it returned again, having spread throughout her body. And this past March, Beth announced that she would be stopping chemotherapy treatment and "putting her faith in God" instead.
RELATED: Beth Chapman: "God Has the Final Say" on Her Cancer As She Leans Heavily on Her Religious Faith During Family Feud
Beth's final days were especially difficult for the family, as Beth was put into a medically-induced coma to ease her cancer-related pain and stress.
RELATED: Tears as Beth Chapman's Family Announces She's in a Medically Induced Coma, Part of Her Years-Long Battle With Cancer
True to their very public form, the Chapman family was (and still is) consistently open about these struggles. The public transparency continued after Beth died, as the Chapmans held two public memorial services for Beth and continue to post on social media about how they are coping with the loss.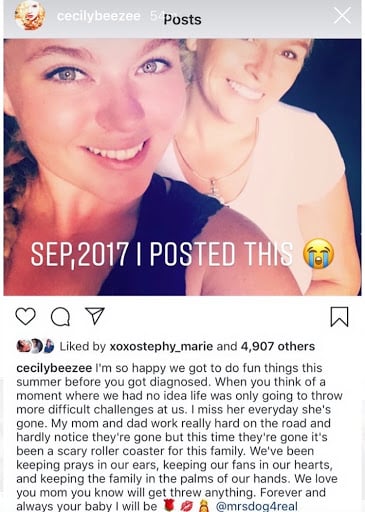 On Tuesday, Beth's daughter Cecily, 26, posted a throwback photo from summer 2017 to her Instagram, in which she and Beth are seen smiling. The original caption—which Cecily wrote in 2017—reads, "I'm so happy we got to do fun things this summer before you got diagnosed… My mom and dad work really hard on the road and [I] hardly notice they're gone, but this time they're gone and it's been a scary roller coaster for this family. We've been keeping prayers in our ears, keeping our fans in our hearts, and keeping the family in the palms of our hands. We love you mom, you know I will get through anything."
RELATED: As Beth Chapman's Daughter Cecily and Step-Daughter Lyssa Find the Joy of Family, Never-Before-Seen Photos Of Beth From Happier Times
In reposting the photo, Cecily invited followers to share her grief, writing "Sep, 2017 I posted this," with a crying emoji.
Then yesterday, Cecily shared an Instagram video of the coastline, with the caption "Little therapy with the dogs. #MissingHer," suggesting that the Chapman family (or "the Dogs") were getting therapy to help them cope with the devastating loss.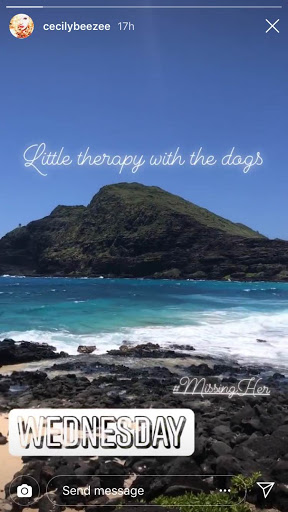 For a lot of people who lose someone they love to cancer, revisiting old photographs and videos of their loved one can be a coping mechanism—and so can sharing these happy moments with others.
RELATED: "Every Day is Hard!" Beth Chapman's Grieving Daughter Cecily Posts Never-Before-Seen Photo With Mom As Fans Reach Out With Love
For the Chapman family, it has become increasingly clear—especially now with the new "Dog's Most Wanted" trailer—that the Chapmans are welcoming the public to experience their grief and recovery alongside them; and in airing Beth's cancer journey on TV, Beth's many fans will be able to do just that.
"Dog's Most Wanted" will premiere September 4th at 9 p.m. Eastern Time on WGN America.
Learn more about SurvivorNet's rigorous medical review process.
---