Duane (Dog the Bounty Hunter) Chapman took to Twitter Friday with the news that his Colorado store, which he owned with his late wife Beth, has been burglarized — and that he will be offering a "large cash reward" to anyone who has information about the robbery. Apparently, personal items that belonged to Beth — who sadly passed away in June at age 51 after a battle with lung cancer — were taken in the burglary.
The store was broken into late Thursday afternoon and cops are currently looking for suspects. The break-in was discovered by an employee at the store, which mostly sells "Dog the Bounty Hunter" merchandise, but also had some of Beth's personal items arranged in a memorial to the reality star. Sources are saying that some of the personal items stolen include Beth's bounty hunting gear, according to Entertainment Tonight.
Read More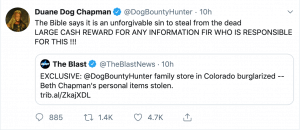 The robbery is just another blow in an already tough year for Dog, and the rest of the Chapman clan. In an interview earlier this week, Dog told Radar Online that his grief over Beth has kept him from returning to his home in Hawaii. Dog and Beth had two homes — one in Hawaii and one in Colorado — but Hawaii is where Beth passed away. So, Dog said, he's been burying himself in work at his Colorado spot.
"I don't know what to do," Dog said. "As long as I stay bounty hunting it's the only thing that keeps my mind off how things are right now. I just have to keep working."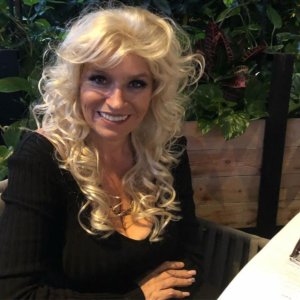 Hawaii was the place Beth loved the most. After she passed, the Chapman family held a memorial for her on one of the island's beautiful beaches to send her off "Hawaii-stye." A second memorial was held on July 13 in Colorado and was open to Beth's many thousands of fans. In the Radar Online interview, Dog shared that many of his children — who also live in Hawaii — have now returned to the island, but it's just too emotional for him in his current state.
"Hawaii is off-limits to my heart at the moment," Dog said. "Being alone is really bad. I sent most of the family home [to Hawaii] but I have [our two youngest children] Bonnie Jo and Garry boy here."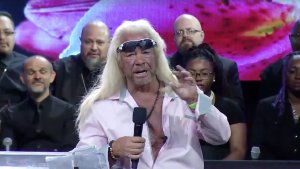 According to Radar, Dog is currently working on putting the finishing touches on the family's new show, Dog's Most Wanted. The new reality series — which will debut on Sept. 4 on WGN America — will follow the Chapman family as they embark on the bounty hunting journeys. According to a trailer for the show, Beth's cancer battle will also play a major role in the season.
Beth has been battling cancer for awhile. She was first diagnosed in 2017 with stage 2 throat cancer. She was treated at the time and was declared cancer-free a few months later. However, at the end of 2018, she was having issues breathing and it was discovered that her cancer had returned — and by then it had progressed and spread into her lungs.
Beth was really open with fans in the six or so months that she was again battling cancer in the public eye. She was very candid about the ups and downs of battling the disease — and accepting the reality that she may not be alive to see Dog's Most Wanted air. Like many survivors, Beth relied heavily on faith during her cancer battle. In a Mother's Day speech at a Florida church, Beth said that she considered her diagnosis "the ultimate test of faith."
In one of the very few interviews Dog has given since Beth's passing, the bounty hunter said that even the final words the couple exchanged revolved around her devote Christian faith. He explained that before she needed to be rushed the the Hawaii hospital, where she ultimately passed away, the family had a beautiful final moment together.
"When she had the attack, I didn't know anything to do but to say, 'In Jesus' name,' and to hold her," Dog said. "And when I said, 'In Jesus' name,' she said, 'Say it again, say it more.' And then she … told the girls and everybody … I love you. Are you guys all OK? Don't worry."
Learn more about SurvivorNet's rigorous medical review process.