Common Breast Cancer Battles
Robin Roberts, who previously battled breast cancer herself, is taking time off from 'Good Morning America' to spend time with her partner Amber Laign, as she battles breast cancer.
Roberts is a two-time survivor herself, diagnosed in 2007, and later diagnosed again with MDS, or myelodysplastic syndrome, a rare blood cancer where abnormal cells form in the body's bone marrow.
Roberts had to undergo a bone marrow transplant to save her life.
Breast cancer is a common cancer that has been the subject of much research, so there are many treatment options out there. Mammograms, a standard screening procedure for breast cancer, and self breast exams can save lives.
'Good Morning America' host and breast cancer survivor Robin Roberts, 61, has
revealed
she's taking a break from the hit television news program for a few weeks.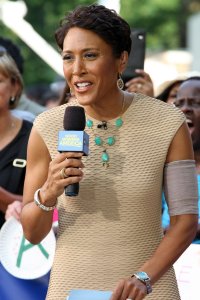 Read More
"Glam Fam, are you ready for a vacation?," Roberts said in her daily morning video message she posts on Instagram for her nearly 800-thousand followers. "So we are not going to be with you for a few mornings. In other words, 'See you in September,'" Roberts sang to the camera.
View this post on Instagram
It's not clear when in September Roberts will return, but she's been taking time off this year to support her partner, Amber Laign, 47, as she recovers from breast cancer. Laign finished her radiation treatments this summer after being diagnosed in February.
Roberts is a two-time survivor herself, diagnosed in 2007 after discovering a lump. Ironically, she made this discovery while prepping for a news segment on performing self-checks.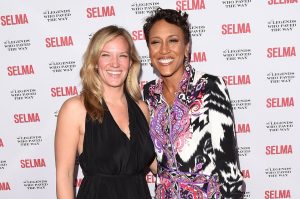 "At first I thought, 'This can't be. I am a young, healthy woman,'" Roberts said, which tends to echo through many women's heads following a diagnosis.
In addition to battling breast cancer, Roberts had MDS, which stands for myelodysplastic syndrome—a rare type of blood cancer where abnormal cells form in the body's bone marrow.  Roberts had to undergo a bone marrow transplant to save her life.
The journalist's early detection was a critical factor in her survival. She treated her breast cancer with surgery, one of several treatment options for this disease, which can also be treated with radiation, chemotherapy, hormone therapy and immunotherapy.
Caregiving for Your Loved One
The Brighter By The Day author recently celebrated 20 years with GMA, and 16 years with Amber, calling her a "blessing."
"We embrace each other's perfect imperfections…like my singing," she recently wrote in another Instagram post. "Certainly did save the best for last."
Roberts says her faith got her through both of her cancer battles, and now she is continuing to lean on her faith as she helps Amber through her own breast cancer journey.
Amber is a bit more private in her life, while Roberts, as a public figure, has felt compelled to continually raise awareness for what she has been through.
Living with Breast Cancer
"When you're the patient you know what you're doing—by your treatment, you have your doctors, you have people watching over you that are helping you," Robin began, addressing how her own battle was much different than what she is experiencing now. "When you're on the other end as a caregiver, you feel helpless," she admits. "And that's what's been so difficult."
But Roberts continues to support Amber by taking time off to join Amber for her medical appointments.
"Like many people, she had put off going to the doctor during the pandemic," Roberts divulged to Ellen DeGeneres during a recent guest appearance.
"And at the end of last year, she followed through with a regular exam and it was discovered. The message is 'get those regular exams, it could save your life,'" she told the audience as they applauded with support.
Roberts daily Instagram video message always ends on a positive and uplifting note, where she says "have a blessed day and be a blessing."
Learn more about SurvivorNet's rigorous medical review process.
---