The Food and Drug Administration announced a nationwide recall of 18 Proctor & Gamble products on Tuesday due to the presence of benzene, a cancer-causing chemical.
Those 18 products are deodorants and include eight Old Spice aerosol sprays and ten Secret aerosol spray antiperspirants.
Read More
This consumer-level recall is due to the presence of benzene, which in heightened levels has been linked to
leukemia
and other hematologic (blood) cancers. The carcinogen can be absorbed through the skin in liquid form, ingested, or inhaled as its vapor lingers in the air.
Proctor & Gamble said in a statement that the voluntary recall applies only to those products with an expiration date of September 2023 or earlier and that retailers would be removing these products from their shelves.
Only those Old Spice and Secret products listed are being recalled at this time, and the public can continue to use all other Proctor & Gamble deodorants.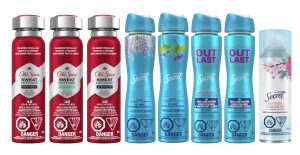 The 18 products being recalled are:
Old Spice High Endurance AP Spray Pure Sport 12/6oz
Old Spice Hardest Working Collection Inv Spray Stronger Swagger 3.8oz
Old Spice Hardest Working Collection Inv Spray Pure Sport Plus 12/3.8oz
Old Spice Hardest Working Collection Inv Spray Stronger Swagger 12/3.8oz
Old Spice Hardest Working Collection Inv Spray Ult Captain 12/3.8oz
Old Spice Below Deck Powder Spray Unscented 12/4.9oz
Old Spice Below Deck Powder Spray Fresh Air 12/4.9oz
Secret Aerosol Powder Fresh Twin Pack
Secret Aerosol Powder Fresh 12/6OZ
Secret Aerosol Powder Fresh 12/4OZ
Secret Fresh Collection Inv Spray Waterlily 3.8oz
Secret Fresh Collection Inv Spray Lavender 12/3.8oz
Secret Fresh Collection Inv Spray Water Lily 12/3.8oz
Secret Fresh Collection Inv Spray Light Essentials 12/3.8oz
Secret Fresh Collection Inv Spray Rose 12/3.8oz
Secret Outlast Inv Spray Completely Clean 12/3.8oz
Secret Outlast Inv Spray Protecting Powder 12/3.8oz
Old Spice Pure Sport 2021 Gift Set
Dr. Jay Shah, cancer care program leader for urologic oncology at the Stanford Cancer Center, previously told SurvivorNet that benzene levels only become an issue for concern if an individual is frequently exposed to a product.
"While a growing body of medical research shows that chemicals in your environment can slightly increase your risk of getting cancer, it's unlikely that occasional exposure, like getting your nails or your hair done, will do much harm," explained Dr. Shah.
This becomes more of a concern with daily-use products such as: shampoo; conditioner; face wash, lotion or serum; make-up; soap; or deodorant.
Dr. Shah pointed out that data suggests that individuals who frequently use a product containing a cancer-causing chemical do have a greater risk of being diagnosed with the disease.
"Hairdressers who handle a lot of hair dyes are historically known to have a higher risk of developing bladder cancer," said Dr. Shah as an example.
In addition to frequent use, genetics can also play a role in determining a person's risk factors.
Dr. George Yaghmour, assistant professor of clinical medicine at USC Keck School of Medicine, told SurvivorNet in a previous interview that products with benzene can be a "driving factor" that impacts those who are already at risk of developing cancer due to a genetic predisposition.
"We don't believe that there are factors that cause leukemia, but we believe that there are mutations accumulated from different environmental factors, on top of predisposing genes … that turn into leukemia," explained Dr. Yaghmour.
What Should Consumers Do With Recalled Products?
Anyone with questions about the recall can contact Proctor & Gamble's consumer care team on weekdays from 9 a.m. – 6 p.m. ET at 888-339-7689.
Additionally, individuals can go online to Old Spice or Secret for more information about which products are being recalled or to get more information about refunds.
If any person using these products believes they have had or are having an adverse reaction, they should contact their physician or a healthcare provider. Those individuals may also reach out to FDA's MedWatch Adverse Event Reporting program should they wish to report an adverse reaction or any general quality problems with the recalled products.
Individuals can contact the FDA by calling 1-800-332-1088, submitting a report online, or downloading a pre-addressed form to mail or fax to the agency at 1-800-FDA-0178.
When asked for comment, the Proctor & Gamble media relations team told Survivor Net:
Following recent news regarding detected benzene in many personal care aerosol spray products across the industry, we immediately began an investigation. Benzene is not an ingredient in any of our products, however, our testing revealed unexpected detection of benzene in some Old Spice and Secret aerosol spray antiperspirant and Old Spice Below Deck products. Our investigation showed that traces of benzene came from the propellant that sprays the product out of the can.  Daily exposure to the level of benzene detected would not be expected to cause adverse health consequences. In light of these findings, and out of an abundance of caution, we have issued a voluntary recall of aerosol spray antiperspirants from Secret and Old Spice as well as Below Deck by Old Spice. Due to the highly specialized nature of aerosol products, we use a manufacturing partner to produce these products.  Our manufacturing partner identified an issue with their propellant supply and is implementing additional measures to address the issue identified in the investigation. All other Old Spice and Secret products are not impacted by this issue and may continue to be used as intended.  This represents the vast majority of our products, including body spray products, solid sticks, soft solids and gel antiperspirants and deodorant products.
Benzene Exposure Linked to Hematologic Cancers
Multiple studies dating back to 1897 have found individuals exposed to high levels of benzene – particularly employees at chemical plants and oil refineries – were more likely to be diagnosed with leukemia.
Similar studies also determined that these individuals had an increased risk of being diagnosed with other forms of hematologic cancers, such as multiple myeloma and non-Hodgkin lymphoma.
Benzene is a liquid chemical most often used as a solvent in chemical and pharmaceutical products. It is also a natural byproduct found in gasoline emissions, secondhand cigarette smoke, and forest fires.
Most people are exposed to low levels of benzene through the air, inhaling the chemical as it slowly evaporates in the air. That is why cigarette smokers have benzene levels that are higher than the general public.
Despite these known risks, benzene is among the top 20 chemicals used in the US based on production volume.
Signs & Symptoms of Benzene Exposure
People who breathe in high levels of benzene may develop the following signs and symptoms within minutes to several hours:
Dizziness
Drowsiness
Rapid or irregular heartbeat
Headaches
Tremors
Confusion
Unconsciousness
Death (at very high levels)
Eating foods or drinking beverages containing high levels of benzene can cause the following symptoms within minutes to several hours:
Vomiting
Irritation of the stomach
Dizziness
Sleepiness
Convulsions
Rapid or irregular heartbeat
Death (at very high levels)
Do Benzene and Formaldehyde Cause Acute Myeloid Leukemia?
Learn more about SurvivorNet's rigorous medical review process.
---