A Father With Cerebral Palsy Fights Pancreatic Cancer
Jonathan Silcock, 37, sought medical attention after suffering from frequent vomiting and sudden weight loss. Doctors told him at the time that he had an upset stomach.
When the vomiting and weight loss continued through the next four months, doctors ordered an endoscopy and biopsy for Silcock. The results showed that it was not an upset stomach but stage IV pancreatic cancer.
Silcock recently married his longtime love, Chelsea. He is hoping to make more memories with his new wife and daughter.
A young father with cerebral palsy is battling pancreatic cancer after frequently experiencing an upset stomach.
Jonathan Silcock, 37, sought medical attention after months of frequent vomiting coupled with sudden weight loss.
Read More
Doctors ordered an endoscopy and biopsy for Silcock, which showed not an upset stomach but stage IV pancreatic cancer.
"I had been losing weight and feeling really unwell. Every time I would eat a meal, I would be sick," Silcock told the Manchester Evening News. "I went to the doctors who referred me to the hospital in February this year, where they performed an endoscopy and a biopsy."
He continued: "I was told it would be a few weeks before the tests came back, but it was just four days later when I got a call asking me to go in and discuss the results."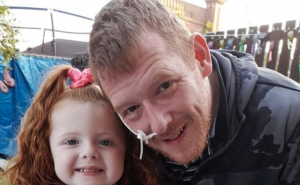 Related: Mom-of-Two, 42, Beats Pancreatic Cancer After Screening For Misdiagnosed Kidney Stones Reveals Tumor
As is often the case with pancreatic cancer, Silcock experienced no other symptoms besides vomiting and weight loss, even though the disease was stage IV.
Silcock started chemotherapy almost immediately, but that could not stop the disease from spreading inside his body.
A few months later, the cancer traveled to his esophagus and bowels, leading doctors to stop his chemotherapy.
He then went on a feeding tube and started to spend more and more time in the hospital.
At that time, doctors said that he had between one and two years left, but then in October, more bad news – the cancer had spread to his lungs.
Silcock is already making the best of what time he has, marrying the love of his life, Chelsea, in June.
He is hoping to make more memories with his wife and daughter.
Related: NFL Great Curley Culp, 75, Battling Stage IV Pancreatic Cancer
"I was in and out of the hospital every few weeks; sadly, that is all my daughter has ever known," said Silcock. "I asked doctors to stop telling me when it had spread because I just didn't want to know. It was just more bad news I didn't want to deal with."
His big wish is to take his daughter on her dream trip to Disneyland.
"It is so important to us so that when the time does come, they can both look back on these times with a smile," noted Silcock. "It really makes you realize how important life is and how you should always make the most of each day."
Late-Stage Pancreatic Cancer Diagnoses
Pancreatic cancer is hard to diagnose early, and Jonathan Silcock is one of the many diagnosed at stage IV.
This is because it is so difficult to detect the signs of the disease in stages I and II, meaning that it often is not until the cancer has metastasized to other organs in the body that people begin to notice symptoms.
Furthermore, many people can easily miss or dismiss the symptoms, who might assume they are just sick, dehydrated, or tired.
Those symptoms include:
Abdominal pain in the lower back
Loss of appetite
Sudden weight loss
Yellowing of the skin
Yellowing of the eyes (jaundice)
Lighter-colored stools
Darker-colored urine
Itchy skin
Recent diabetes diagnosis
Inability to control diabetes
Blood clots
Fatigue
"The problem with pancreatic cancer is that it's always, almost always, caught late. Meaning that it's almost always metastasized or spread by the time it's diagnosed because the symptoms don't happen until it's very late," Dr. Allyson Ocean, medical oncologist, Weill Cornell Medicine, told SurvivorNet in a previous interview.
"The pancreas is an organ that's in our body that's in the back of our abdomen, in the back of our belly. It's very close to the spine, actually. And so, if a tumor is growing in the pancreas, it doesn't cause symptoms such as pain, or weight loss, or jaundice – which means yellowing of the skin – until the tumor is a very large size. And by that time, it's usually already spread. So, we don't have a way to detect this tumor early, and that's the reason why we have such bad outcomes in this disease."
Challenges to Screening for Pancreatic Cancer
Why Is Pancreatic Cancer Difficult to Treat?
"Think of pancreatic cancer as an oatmeal raisin cookie, and the raisins are actually the cancer cells, and the cookie part is all the stroma around it," explains Dr. Ocean.
"And imagine having to navigate through all that stroma, for a treatment to have to navigate through all that stroma to be able to get into a cell to kill it. It has a hard time getting in."
The treatments have yet to find a way to penetrate the cancer, she says, and it is the main focus of scientists and drugmakers now to find a way to break through that stroma and reach the cancer cell.
"We're improving. We're getting better treatments. We are, and there's a lot of stuff in clinical trials," notes Dr. Ocean. "But historically, it's been a very difficult cancer to treat because of this stroma around [the cancer]."
Why Is Pancreatic Cancer So Hard To Treat?
Learn more about SurvivorNet's rigorous medical review process.
---