The Food and Drug Administration (FDA), which has had difficulty regulating CBD products thanks to their explosive popularity, has come out with a warning: Such products may be harmful to one's health.
CBD — or cannabidiol — is a non-psychoactive chemical compound from the cannabinoid family, which naturally occurs in the cannabis plant. CBD, now firmly in the mainstream, can be found in everything from lotions to vapes to chocolate bars.
Fast Facts about CBD and Cancer
The FDA has issued a new warning about CBD, claiming there is no scientific evidence that many of the products containing the substance are safe to consume.
Many cancer survivors have said that medicinal marijuana and CBD products have been incredibly helpful in treating side effects.
Experts have told SurvivorNet that seeking these products from a professional is key.
Read More
Citing a lack of scientific evidence supporting the safety of CBD products, the warning, issued Monday, said the compound "has the potential to harm you."
"Based on the lack of scientific information supporting the safety of CBD in food, the FDA is also indicating today that it cannot conclude that CBD is generally recognized as safe … among qualified experts for its use in human or animal food," the FDA said.
The statement also announced that the agency is cracking down on 15 companies for illegally selling products that contain it. This is not the first time the FDA has issued a warning to companies that sell CBD products. In the past, companies that were illegally selling the products along with claims that they could prevent, treat, or even cure serious diseases like cancer have been sent letters warning them of the risks.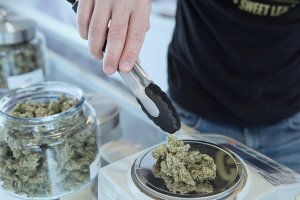 The FDA's Principal Deputy Commissioner Amy Abernethy said in Monday's statement that many people assume that CBD products on the market have been approved by the agency, and trying them out "can't hurt." But "aside from one prescription drug approved to treat two pediatric epilepsy disorders," she said, "these products have not been approved by the FDA and we want to be clear that a number of questions remain regarding CBD's safety — including reports of products containing contaminants, such as pesticides and heavy metals — and there are real risks that need to be considered."
What Does This Mean for Cancer Survivors Who Use Medical Marijuana?
Many cancer survivors say that using medical marijuana was incredibly helpful when it came to dealing with side effects from cancer treatment. (As always, it's important to note that while marijuana can alleviate some side effects for some people, it can not be used as a way to treat cancer.)
If you do use — or are interested in starting to use — medical marijuana to deal with cancer side effects, your best bet is to seek out a professional with knowledge of available (and safe) products. Currently, more than 30 states in the U.S. have medical marijuana programs, according to Dr. Junella Chin, an Integrative Cannabis physician operating in New York City. In a previous interview with SurvivorNet, Dr. Chin warned against seeking out any medicinal marijuana products in unregulated markets
Dr. Junella Chin explains why you should seek out a professional if you're interested in medicinal marijuana.
"In the New York model, I sleep better at night because I know my patients are getting organic products, solvent-free, they don't have mold or fungus in it," Dr. Chin said. "They're meeting with a pharmacist. Everything is getting documented so I can follow up on how much they're picking up, what they're picking up."
Marijuana can be extremely beneficial for people dealing with pain, anxiety, loss of appetite, and other side effects of living with cancer. In fact, countless survivors we've spoken to have told SurvivorNet that they use it medicinally, and they're incredibly happy they have the option to do so. However, as the FDA's new warning shows, how you go about obtaining the products matters. You want to make sure the products you're using are safe.
Dr. Chin also pointed out that cannabis has always been labeled a schedule 1 drug, which means that, legally, it is not considered a drug with medicinal value.
"There hasn't been enough clinical trials and research with medical marijuana, so that is the unfortunate thing," Dr. Chin said. However, she did express hope that with the recent approval of the drug to treat pediatric epilepsy, "that will pave the way for more clinical trials and research."
Learn more about SurvivorNet's rigorous medical review process.