A Fighting Spirit On and Off the Field
Scottish football coach Alistair Gibson, 23, just beat stage 4 Hodgkin lymphoma, and credits COVID to saving his life.
Though Alistair said the most difficult part of the diagnosis was telling his family, he got through it with their support. The cancer warrior also had the support of his team, who all shaved their heads in solidarity for their brave coach.
Symptoms of Hodgkin lymphoma —in addition to lumps on the neck or lymph nodes—may include swelling around the armpits or groin, persistent fatigue, fever, night sweats, unexplained weight loss, and severe itching.
Alistair Gibson, 23, just beat stage 4 Hodgkin lymphoma, and credits COVID to saving his life.
The healthy football coach's main symptom started last March—a persistent cough that plagued him for months. Due to the pandemic, he had a hard time getting a doctor's appointment.
Read More
When the Inverness, Scotland native eventually got coronavirus last August, he was finally able to get in after several months of what he thought was long covid. Fortunately, that was when his stage 4 cancer was finally discovered.
"Two weeks ago the doctor sat me down after a routine follow up scan and said 'Well it's all gone,'" he reports to the Daily Record of his triumphant victory over the disease. "If I'd never caught Covid then I'd never have found out I had cancer."
"In a roundabout way, catching Covid saved my life," he added.
Related: Nurse, 61, With Bad Case of COVID Goes To Hospital For A Chest Scan: Doctors Found Advanced Cancer, And Turns Out The Visit Saved Her Life
Alistair, who works as a sheriff court officer, said that they had to remove an entire lymph node in February to get enough sample for a biopsy.
"I was in total shock and disbelief," he recalled of the life-changing moment. "I even said to the doctor 'Okay it's Hodgkins lymphoma, but it's not cancer' and he said that was exactly what it was."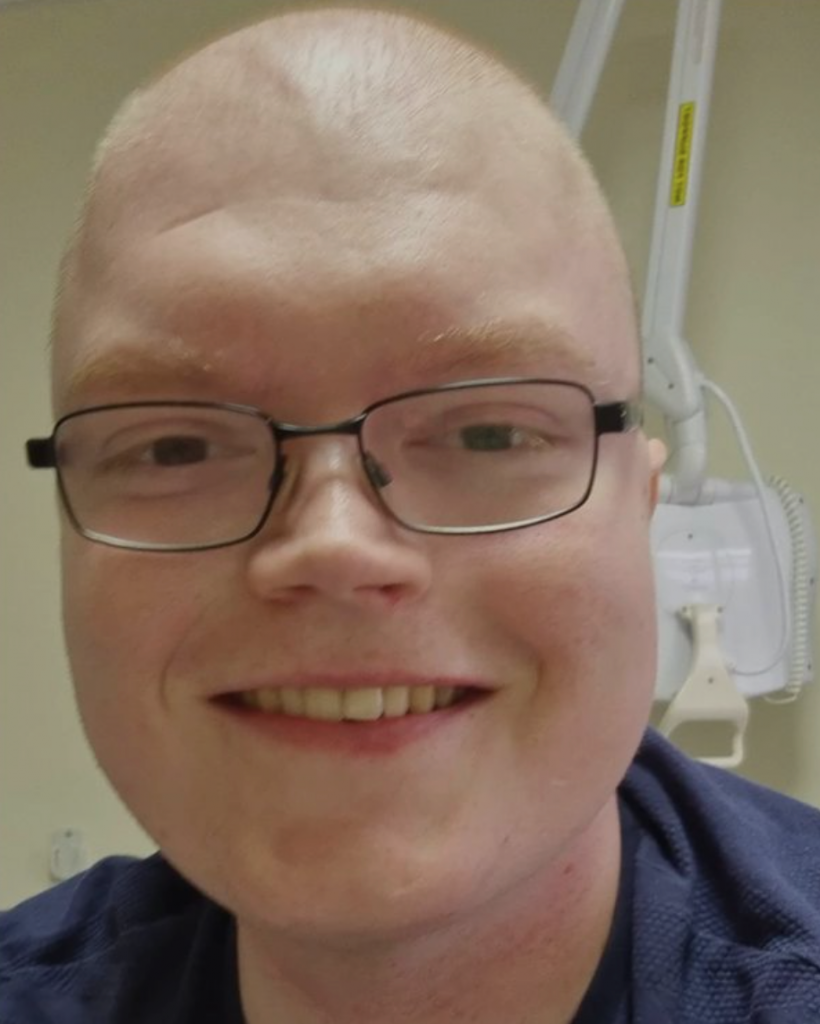 After investigating further with more scans, Alistair's medical team found cancer all over his body. "All the cancer basically lit up the X-ray like I was glowing."
He had to begin chemotherapy treatment the very next day. At that point, aside from the cough, Alistair said he still had no other symptoms.
"The first cycle of chemotherapy just broke me. They gave me a high dose and I remember sitting in the hospital and my hair falling out in chunks."
Telling His Family About His Cancer
Like many other patients, telling his family was the hardest part of his diagnosis.
"I wanted to stay strong for them but telling my mum Kim it was stage four was incredibly difficult," he shared. "My mum would come and see me in hospital and I'd put a brave face on for her but I'd break down the minute she left as I knew how hard it was on her seeing me go through this."
Notably, Alistair did not want to give up his coaching duties (for American football).
"I stayed pragmatic and continued to coach for our team," he said. "I couldn't go to away games but I would watch back the videos of games and did all the tactical stuff."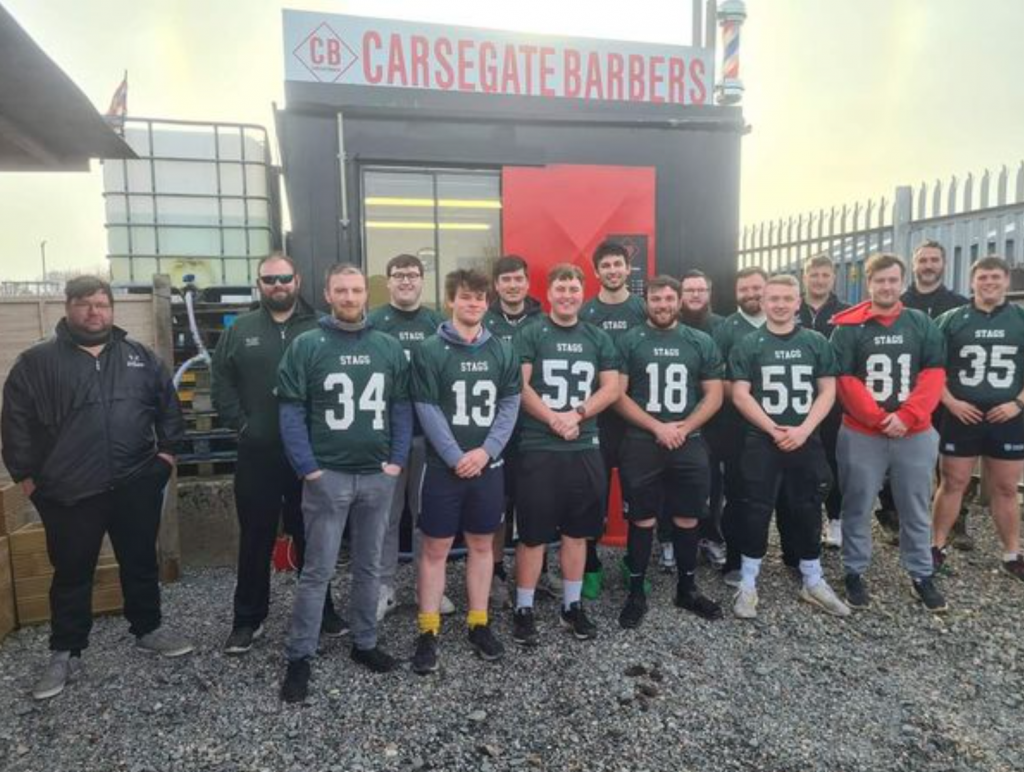 Along with his family, Alistair had an entire built-in army cheering him through his difficult time, and showed solidarity for the coach in the most beautiful way. Alistair couldn't be more grateful.
"I really want to thank our team the Highland Stags who have been brilliant in supporting me," he said of the national, amateur league. "They all even shaved their heads and raised over £3,000."
Related: A Hero For Charity—Unstoppable Football Champ Tom Brady, 44, Gets His Hair Died Orange By Gleeful Pediatric Cancer Patients
Alistair also showed gratitude for the Teenage Cancer Trust who was with him every step of the way.
"I'm not back playing yet but I'm coaching this year's senior team and I'm looking forward to getting back on the field."
SurvivorNetTV Presents 'Endless Abilities,' a Story of Four Best Friends Who Drove Cross-Country in Search of Adaptive Sports
Learning About Lymphoma
Needless to say, gathering knowledge goes a long way as a cancer survivor as well, and it is also important for generally healthy people to have a basic understanding of some of the more common forms of the disease to stay ahead of the game.
Lymphoma is a cancer of the immune system that affects infection-fighting cells called lymphocytes. There are more than 40 different types of lymphoma.
Related: Fox News Host Dan Bongino Says Battling Lymphoma 'Put Horse Blinders On Me To See What Really Matters'
"Lymphoma is split up into a number of different categories," Dr. Elise Chong, a medical oncologist at Penn Medicine, previously told SurvivorNet.
What Kind of Lymphoma Do You Have—What Are The Symptoms?
Knowing which type of lymphoma you have is important as you start thinking about treatment.
"The first distinguishing breakpoint, if you will, is non-Hodgkin lymphoma versus Hodgkin lymphoma," Dr. Chong explained, "and those sound like two different categories. But non-Hodgkin lymphoma comprises the majority of lymphoma, and Hodgkin lymphoma is a single specific type of lymphoma."
Related: New Antibody-Based Drug is a 'Great Stride' Forward to Improving Outcomes in Non-Hodgkin and Hodgkin Lymphoma
Hodgkin lymphoma has distinctive, giant cells called Reed-Sternberg cells. The presence of these cells, which can be seen under a microscope, will help your doctor determine which of the two lymphoma types you have.
There are a few other important differences between non-Hodgkin lymphoma and Hodgkin lymphoma to note. For one thing, non-Hodgkin lymphoma is much more common. And you're more likely to be diagnosed with it after age 55. People usually develop Hodgkin lymphoma at a younger age.
Related: Hodgkin Lymphoma Survivor and Former NFL Star Andre Hal Says He Started Having Pain Recently
It should be noted that another difference between these two types of lymphoma is that non-Hodgkin lymphoma is more likely to spread in a random fashion and be found in different groups of lymph nodes in the body, while Hodgkin lymphoma is more likely to grow in a uniform way from one group of lymph nodes directly to another.
These two different types of lymphoma behave, spread and respond to treatment differently, so it is important for you to know which type you have.
Symptoms of Hodgkin lymphoma —in addition to lumps on the neck or lymph nodes—may include swelling around the armpits or groin, persistent fatigue, fever, night sweats, unexplained weight loss, and severe itching.
The general rule of thumb for any type of illness is get in to get checked if anything out of the ordinary arises and persists for longer than a week or two.
Learn more about SurvivorNet's rigorous medical review process.