'They are essential for my wellbeing:' Actress Demi Moore Leans On Her Friends
Actress Demi Moore just turned 60 and credits her female friends for getting her through some difficult times.
Moore shares that she went through a difficult childhood, addiction, and three marriages that ended in divorce. She says she cherishes her friends now more than ever.
Handling your mental health is important for your well-being and having friends or loved ones by your side when you're going through a difficult time can be essential, our experts say.
Ghost
and
G.I. Jane
actress Demi Moore, who just celebrated her 60 birthday, says her female friends have helped her get through the addiction and trauma in her life. It's always a good reminder to keep your
mental health
a priority when healing from an illness.
"As I've got older I cherish my female friendships. They are essential for my wellbeing," said Moore, speaking on Jamie Lee Curtis' Good Friend podcast.
Read More
Moore had a
traumatic childhood
and dealt with substance abuse in her 20s, using both alcohol and cocaine regularly. She has also been married three times— all ending in divorce. Her ex-husbands include Freddy Moore, Bruce Willis, and Ashton Kutcher.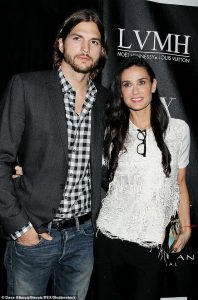 Moore has three daughters with Willis, named Rumer, Scout, and Tallulah. Earlier this year, Willis' family announced the unfortunate news he was diagnosed with aphasia, "a language disorder caused by damage in a specific area of the brain that controls language expression and comprehension" leaving the affected person unable to effectively communicate with others, according to Johns Hopkins Medicine.
RELATED: What Is Bruce Willis' Shocking Diagnosis of 'Aphasia' And Could It Be Linked To Cancer?
"Some study showed women couldn't do without these friendships and I can speak to that," said Moore, on the podcast.
The A Few Good Men star's closest friends include some high-profile celebrities, such as fellow actress Gwyneth Paltrow, model Amber Valletta, and actress Amanda de Cadenet.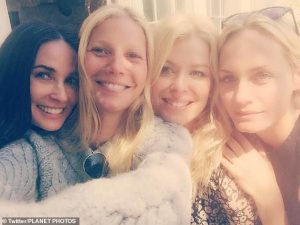 Earlier this year, Moore talked about turning 60 in an interview for People Magazine. She said she feels more 'alive and present' than ever before.
She even recently launched an "inclusive swimwear brand" named Andie and has been modeling her own creations for the campaign, said People.
"It's changing this idea that women become less desirable as we get older," she told People. "We don't want to look matronly or not feel sexy."
 

View this post on Instagram

 
Moore's connection to her female friends is not all that surprising. One of the longest-running studies on happiness, called the 'Harvard Study of Adult Development' "found a strong association between happiness and close relationships like spouses, family, friends, and social circles," according to an article in Harvard Health Publishing.
"Personal connection creates mental and emotional stimulation, which are automatic mood boosters, while isolation is a mood buster," said the project's director, Dr. Robert Waldinger.
The study originally followed the health of 268 Harvard sophomores, all men, in 1938 during the Great Depression, but has since expanded to women.
"Researchers who have pored through data, including vast medical records and hundreds of in-person interviews and questionnaires, found a strong correlation between men's flourishing lives and their relationships with family, friends, and community," said The Harvard Gazette. "Several studies found that people's level of satisfaction with their relationships at age 50 was a better predictor of physical health than their cholesterol levels were."
Heal And Focus On Yourself
For Moore and for many in the SurvivorNet community putting yourself first is not easy, but an important step in achieving better mental health.
Whether you are going through a cancer journey or a challenge in your life taking time to focus on yourself can be a process. There are a number of different paths people might take to help them cope, such as traditional therapy, support groups, meditation, and sometimes medical intervention such as antidepressants. And when going down these different paths it's important to make sure the mechanism you have to care for your mental health continue to work throughout the process.
"I think flexibility is really a core of how to manage it," Dr. Samantha Boardman, a New York-based psychiatrist and author, tells SurvivorNet. "Are your coping strategies that you're using now, are they helpful in the way that they were in the past?"
How to Be Realistically Optimistic: Coping With Mental Health Long-Term
Dr. Boardman encourages people who may be struggling with their mental wellbeing to "take stock of their belief system" and ask themselves the following questions:
Could these beliefs be harming me (like feelings of self-doubt or negativity)?
Is my mindset holding me back from positive steps forward?
Dr. Boardman suggests working to recognize any negative thoughts that may be making the process of cancer treatment more difficult, and trying to dismantle those to be more "realistically optimistic."
Don't Be Afraid To Reach Out For Help
We all want to think we can do things by ourselves, without the help of others. But acknowledging when you do need help and asking for it can prove to be an even harder task.
For Moore, she leans on her female friends. But for everyone else it could be a neighbor, a friend, a relative or anyone you can your trust in to be by your side.
"Some people don't need to go outside of their family and friends circle. They feel like they have enough support there," New York-based board certified psychiatrist Dr. Lori Plutchik tells SurvivorNet. "But for people who feel like they need a little bit more, it is important to reach out to a mental health professional."
In this video, Dr. Plutchik is speaking mostly about how to get support after a cancer diagnosis. However, the conclusion remains the same, no matter what you may be dealing with, you are entitled to ask for help and to seek out all mental health resources.
SurvivorNetTV's series, "SN & You," features survivors who share how they handle their mental health and cope with their emotions after undergoing cancer treatment.
SN & You Presents Mental Health: Coping With Emotions
"People that are strong cry, it's the weak ones who try to hold it in," says Evelyn Reyes-Beato, a colon cancer survivor.
In this episode, you'll hear several women, all of whom are cancer survivors, talk about their experiences dealing with cancer and navigating life after a diagnosis. Many of these women get very emotional about what they have gone through. It just goes to show that crying and being open with your emotions is part of the healing process.
Learn more about SurvivorNet's rigorous medical review process.
---