Millions of women and girls plays video games, and one of the most popular games is called "Overwatch." Now, that game is part of breast cancer awareness month. A girl named Vienna Mori, like so many others, is using her gamer status to help the cause.
One of the characters in Overwatch is named doctor Angela Ziegler. Her nickname in the game is "Mercy." Last year, gamers like Mori raised $12.7 million for breast cancer by dressing their Mercy character's in Pink, and contributing to the "Pink Mercy Campaign."
Read More
Mori also loves dressing up as the character for fun, and going to conventions with other gamers who love to do the same. This practice is called "cosplay."
In a recent Instagram post, Mori uploaded a photo of herself dressed up as Mercy (or Dr. Zeigler). She dresses up as this character a lot, but this time, she dressed up in a pink mercy costume to support breast cancer awareness. "It's October, Breast Cancer Awareness Month, so Dr. Ziegler (Pink Mercy), is here to remind you to get your health checked because cancer is not an easy fight," she wrote alongside the photo. "To all my cancer patients; we can do this! I hope to make Mercy's Pink skin in the future so here is to staying strong."
Her supporters loved the costume, and thought the pink accents were especially cute, "That pink stethoscope??? Yaaasss"
She also posted some sketches she drew of the Mercy character embracing the color pink with a pink, wrap-around sash-dress in one sketch and a pink saber in another. A third sketch depicts the character wearing the pink stethoscope costume that she sported herself in the photos.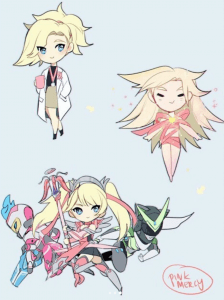 Information about screening for breast cancer
As Pink Mercy said in her post, it's really important that women get screened for breast cancer.
The American College of Radiology guidelines recommend women get annual mammograms to screen for breast cancer beginning at age 40. Still, a huge number of American women are not up-to-date with recommended screenings.
Dr. Senayet Agonafer, radiologist at Montefiore Medical Center
"One of the most frustrating things that I see in my office, and my practice is when a patient … comes in with a huge, golf ball breast cancer that could have probably been diagnosed at an earlier age if they were receiving their annual screening mammogram," says Dr. Senayet Agonafer, a radiologist at Montefiore Medical Center.
If you're unsure about when you should begin screening for breast cancer, Dr. Agonafer recommends talking to your doctor and getting all the facts you need to assess your risk. "You should absolutely be tested for your risk of breast cancer starting at the age of 30," Dr. Agonafer says.
Vienna Mori, Dr. Zeigler, Mercy, and gaming culture
Mori is clear that she isn't her characters, and that Mori the person doesn't have everything in common with the roles she plays. "As colorful as some of my cosplays are, I am actually drawn to the strange, macabre and the beautifully grotesque," she wrote in a recent Instagram post.
And that underneath it all, she's just like everyone else, "I wanted to share an out-of-cosplay photo to reveal who I am beneath the wigs, make up and costumes. I am a regular person like anyone else, just a bit spooky: I work, go to school and do what makes me happy. I dedicate most of my time to my studies, so many of my projects are done slowly but are always fun."
But when she does don her outfits, she loves going to cosplay meet-ups, hanging out with her other friends in character, learning about the art her friends create. "The only devil I worship!" she wrote alongside a photo with a friend in costume.
And she loves getting creative with her her own designs and imagination. "What if Mercy was a veterinarian instead? I would heal all the cats in the world! Special guest, Pumpkin the cat," she wrote alongside a photo of her Mercy character with an adorable kitten.
Learn more about SurvivorNet's rigorous medical review process.