Achieving Balance
Gwyneth Paltrow just appeared on Shop TODAY with Jill Martin, TODAY's streaming channel, and talked balance and how she doesn't sweat indulging here and there.
People living with cancer can benefit from striving for balance. Whether it's learning how to balance your time, your relationships with family and friends, work, diet, fitness; You should figure out what feels best for you.
SurvivorNet spoke with Match Group CEO Mandy Ginsberg who famously stepped down from her role in order to achieve more balance in her life, and there's nothing wrong with that.
Gwyneth Paltrow is all about balance and doesn't sweat indulging here and there. And you shouldn't either.
The actress and lifestyle guru chatted with Jill Martin on Shop TODAY with Jill Martin on TODAY's streaming channel. Paltrow was proud to tell Martin that 98% of her life, she's makeup-free, and that she's learned so much from the pandemic.
Read More
"I think if I've learned anything throughout my life and through this pandemic is we are capable of going inside to recalibrate and to rebalance," the Goop founder said. "That balance is good and not punishing yourself is great."
Related: Actress Gwyneth Paltrow Explains Why Fame Can be 'Terrible,' Reflects on Valuable Parenting from Dad who Died from Cancer
Whether you've been inside for the past year without seeing loved ones, or going through cancer, it's important to not deprive yourself of life's greatest joys, within reason of course. If you're aiming to be healthier or need to drop some COVID (or cancer) lbs, wolfing down a pizza or indulging in a glass of wine or two likely won't throw you too much off track. It's always best to discuss your health plan with your doctor and see what they think is okay for you to enjoy moderately.
For Paltrow, it's a little whiskey.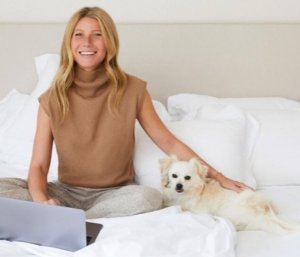 Balance is not just about food, drinks, and exercise, it's also about social exertion and the energy you choose to give and receive from others. Now that the world is opening up, your summer bbq and birthday party invites may be rolling in, so it's also necessary to balance obligations and not take on too much. It's still okay to be selfish. Always listen to your body and put your physical and mental health first.
Related: 'You Know Your Body, Listen To It': Ovarian Cancer Survivor Lisa Mitchell Urges Women To Speak Up About Health
But life moves too quickly to not have fun when you feel up for it.
Paltrow, who is married to TV producer Brad Falchuk, even has the knack to balance her relationships. The Shakespeare in Love actress shared how ex-husband Chris Martin (from the band Coldplay) was just over at her home yesterday, and they marveled over their two grown teenagers, Apple, 17, and Moses, 15. "We just looked at each other, we were like HOW did this go by so quickly. It's wild."
Coincidentally, Martin and the rest of Coldplay performed live this morning from the plaza on TODAY. Paltrow filmed her segment from home and was not in attendance.
View this post on Instagram
The former flames famously "consciously uncoupled" when they announced in 2014 that they were ending their marriage, but they would be co-parenting their children together, which luckily worked out for the blended family.
"He's like my brother, you know, he's my family. I love him and I'm so grateful to him," she told Jill of her ex, who also gets along well with her current husband. Paltrow also approves of Martin's live-in girlfriend Dakota Johnson, daughter of Melanie Griffith and Antonio Banderas, who starred in the 50 Shades of Grey series.
View this post on Instagram
Bottom line, life is short for people with or without cancer. Striving to incorporate balance into all aspects of your life is key.
Work/Life Balance
Work/life balance is highly important when dealing with stress and illness.
Related: 'I Learned That It's About Balance'—'Dollface' Star Brenda Song Talks to SurvivorNet about Work and Her Mom's Cancer Journey
Women are so used to taking care of the people around them. Former Match Group CEO Mandy Ginsberg tells us that it can be hard to ask for help—even when facing health issues.
Related: Match CEO Mandy Ginsberg Stepping Down After Surgery to Remove Recalled Breast Implants
Even though she spent 14 years as the head of the massive Match Group (the company that owns Match.com, Plenty of Fish, Tinder, etc.), Mandy Ginsberg—who recently stepped down as CEO of the group—says she never really figured out how to balance everything she had going on in her life. That became especially evident to her after she was hit with some recent health issues.
"I can't say I ever did the balancing thing perfectly," Ginsberg tells SurvivorNet. "I don't know if any of us do."
CEO Mandy Ginsberg stepped down from her role at Match Group to achieve balance
Ginsberg is a cancer previvor. She had her breasts and ovaries removed because she was positive for a BRCA1 genetic mutation — which puts women at a significantly higher risk of developing both breast and ovarian cancer. A decade after she had a preventative mastectomy, she found out the implants she got had been recalled by the government, and she had to undergo another surgery to get them replaced. Through it all, she tells SurvivorNet that she had to learn to ask for help — something a lot of women simply aren't accustomed to doing.
Related: 'A Healing Weekend Of Meditation'—Actor Cameron Mathison From 'All My Children' Says Meditation Helped His Recovery from Cancer Surgery
"I was going 100 miles an hour," Ginsberg says about her decision to step down from Match Group. "I will tell you it's helpful to have a great partner, or great friends, or a great mom or a great daughter. We need these people. Especially women, who do so much of the taking care of, it's hard to us to ask for help."
"You've got to ask for it," she adds.
Alcohol and Cancer
When it comes to alcohol's influence on cancer risk, the data is mixed. Colorectal surgeon Dr. Heather Yeo says that she does believe high levels of alcohol can predispose people to certain types of cancer–including pancreatic, liver and colon.
Related: Should Every Bottle of Alcohol Carry a Cancer Warning? The New Push From Major Public Health Organizations
But Dr. Yeo says the key with alcohol is moderation. Her view is "for women, anything over a half a glass or a glass a day is probably not helping your overall health. For men, they can probably go one to two glasses before they start seeing health effects."
Does alcohol impact the risk for cancer?
Learn more about SurvivorNet's rigorous medical review process.