In the time since "Jeopardy!" host Alex Trebek went public with his stage 4 pancreatic cancer diagnosis nearly a year ago, many of the show's contestants have spoken up how happy they were to meet the whip-smart master of ceremonies.
The latest to add his voice to the chorus is 24-year-old Terry Heard Jr., of Akron, Ohio, who scored some big wins over the past week, taking home a total of $19,663.
Read More
After his competition aired, Heard, like so many other contestants and friends of Trebek's, spoke about how you would never guess that Trebek is battling cancer; the host has a truly amazing spirit.
RELATED: Alex Trebek Poses With His Daughters in Heartwarming #Girldad Post
When Cleveland.com asked Heard how it felt to meet Trebek, Heard said: "It feels like I've known him all my life since I've been watching 'Jeopardy! every night."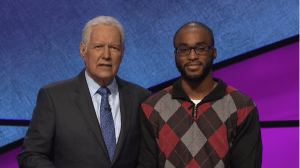 "Obviously, you know he's sick,"  continued the aircraft maintainer at the Air National Guard base in Mansfield, Ohio, who's also finishing up a chemical engineering degree, "but you would never guess it by having a conversation with him. And how he is on TV, in front of the cameras, is exactly what he's like off of the cameras. He's the exact same. He's so down-to-earth, and he's so witty and funny, too."
Many of Trebek's fans have commented on how the popular game-show host's attitude since he was diagnosed with advanced cancer is incredibly inspirational. In a recent interview with local Pittsburgh station WPXI.com, Trebek explained just how much love and support fans have been sending his way — and how much that love means to him.
RELATED: Teen 'Jeopardy!' Winner Raises $200K for Pancreatic Cancer Research in Honor of Trebek
"All of the cards and letters I have received, giving me advice, offering prayers for me, has really touched me. You can't ask for much more than that," Trebek said.
"The response from people all over America and Canada with regard to my current health situation has humbled me, really," he added.
RELATED: New Drug to Keep Some Pancreatic Cancers From Worsening Takes Big Step Forward
The gracious host added that the outpouring of prayers and well-wishes have been a great help for him as he continues his battle with cancer.
Alex Trebek's Cancer Journey
Trebek announced in March 2019 that he had been diagnosed with stage 4 pancreatic cancer, a disease with a five-year survival rate of only 3%. Despite the grim prognosis, Trebek remains optimistic.
Initially treated with chemotherapy, he announced in May of last year that his tumors were responding to the treatment, and shrinking at a "mind-boggling" rate. However, in September, Trebek announced a reversal of those initial positive results.
Trebek disclosed at that time that he would need to undergo another round of chemotherapy. In a 20/20 interview that aired on Jan. 2, the host shared that he is not opposed to trying to experimental treatments for the disease — adding that he's got nothing to lose, so he may as well "go for it."
He's also still determined to continue his work on "Jeopardy!" for as long as he is physically able. The host has said that he would step down when his skills diminish, and he is no longer to continue the job.
Learn more about SurvivorNet's rigorous medical review process.