Learning About Tarek El Moussa's Cancer Battles
Flip or Flop star Tarek El Moussa, 40, is a two-time cancer survivor who recently had a lot on his plate. His ex-wife, Christina Haack, 38, was allegedly seen in a heated discussion with his current wife, Heather Rae El Moussa, 34, at a soccer game for Tarek and Christina's son Brayden, 6. Tarek even had an apparently fiery interaction with Christina's current husband Josh Hall.
Brayden also went to the hospital to have his appendix and a Meckel's diverticulum removed later that day.
Self examinations are incredibly important when it comes to screening for testicular cancer. Men aged 15 to 55 should perform a monthly self-examination to find any changes in the testes that might indicate cancer at an early stage.
Thyroid cancer, like many other cancers, can be difficult to spot and early cancer detection is key to successful treatment. So, it is important to talk to a doctor if you have any concerns about your body.
HGTV star Tarek El Moussa, 40, has been through a lot. But the resilient two-time cancer survivor has always managed to move forward – even when it comes to family disputes and scary health moments.
Tarek has two children – Taylor, 11, and Brayden, 6 – that he co-parents with his ex-wife and former Flip or Flip co-star, Christina Haack, 38. Tarek is now married to Selling Sunset star Heather Rae El Moussa, 34, Christina is married to realtor Josh Hall and the two seem to both be happy. But in a heated exchange on Saturday at Brayden's soccer game, Heather and Christina seemed to have an argument, according to reports.
Read More
Tarek was even seen pulling Heather away by the arm during the seemingly tense discussion. It's unknown what the two were talking about, but Tarek and Josh were also seen being separated by a soccer coach on the sideline later in the game.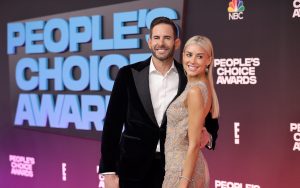 But after the game, things took a turn for the worse for an entirely separate reason. Both Tarek and Christina shared that Brayden had to go to the hospital later that day. Thankfully, he's doing better now and recovering from an emergency appendectomy – the removal of his appendix – and the removal of a Meckel's diverticulum – a congenital (present at birth) outpouching or bulge in the lower part of the small intestine.
View this post on Instagram
"He was extremely sick last night so Christina took him to the emergency room," Tarek wrote of Brayden's trip to the hospital. "It turns out it was the right call because he had to have his appendix removed and also we found out he has something rare called Meckel's diverticulum."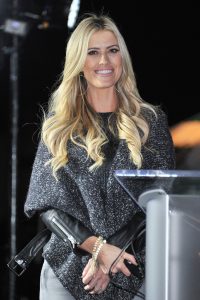 He went on to say Brayden was "such a strong boy" and explain that the whole family came together to get through the scary time.
"Very scary day, but we all banned together as a family to get through it," he wrote.
Tarek El Moussa's Cancer Journey
Tarek was diagnosed with thyroid and testicular cancer in 2013 calling it "the scariest year of [his] life!" The same year, he co-starred in the newly debuted HGTV show Flip or Flop with then-wife Haack – the show has since aired its last episode in 2022.
Interestingly enough, it was actually his time on Flip or Flop that led to his thyroid cancer diagnosis when a viewer noticed a lump on Tarek's throat. Being a nurse, the viewer was determined to contact the network and share her concerns for his health.
Following that diagnosis, Tarek and his then-wife "looked through all [his] old medical records for any other irregularities." They found an irregular testicular exam from two years prior, so just two months after his thyroid cancer diagnosis he decided to look into it.
"I was at one building doing my thyroid stuff and mentioned I was going across the street to get an ultrasound done," Tarek told PEOPLE in 2017 of the day of the testing. "I'll never forget the doctor joking, 'I hope you don't have cancer!'"
He found out he had testicular cancer later that day.
"I get over to the ultrasound and [the technician and I] are talking and having fun and all of a sudden he got really quiet," Tarek said. "I said, 'What's up?' I could tell he was nervous and he was like 'Oh, I'm not a doctor.' I said, 'What do you mean?' And he said, 'Are you in pain? I think you're in pain and should go to the emergency room.'
RELATED: 'I Was In Shock!' 'Selling Sunset' Star Heather Rae Young On How Tarek El Moussa's Testicular Cancer May Be Causing Fertility Woes
"Right then, I knew something was wrong. A half hour later they tell me I have cancer and try to sign me up for surgery. That was devastating."
Tarek El Moussa Beats Both Diseases
Thankfully, he would later beat both testicular and thyroid cancer. In an Instagram post from 2019, he shared his excitement for being cancer-free with Flip or Flop fans.
View this post on Instagram
"Today I got the best news ever…I'm cancer free and I'm healthier than ever!!!!" he wrote in his caption. "This makes me so happy not for me but for my babies ❤️. I have to be healthy and alive for them!! (I'm tearing up writing this😭😭😭)
"They are my everything and they need their daddy! This news is so good because I'm alive to be here for THEM!!"
Since overcoming both battles, he's been open about his cancer journey to increase awareness for the two cancers.
"A lot of people said they got tested because I shared my [thyroid cancer] story," he said.
He's even encouraged men to perform self-checks for testicular cancer.
"[Movember's website will] teach you how to do a self-check," Tarek said in another interview. "It's really important because there are people out there today that are gonna get testicular cancer, like it's gonna happen. And if they find it sooner, the odds of survival are just so much greater."
Now, Tarek and his wife are trying to have children of their own, though they have struggled with fertility.
"Having testicular cancer, he had to be on testosterone," Heather said during an interview on the television show The Doctors. "So I had found out from Dr. A and I was actually shocked that I had not known this before — being a young couple that maybe would wanna have children — that the testosterone he was taking could have been blocking his sperm."
View this post on Instagram
But Heather did share some exciting news about their fertility journey in January. During their latest round of in vitro fertilization, seven eggs were harvested (rather than the two they anticipated), and six of them "ended up being good." They also thawed four eggs from an egg retrieval she did two years earlier, and three of those ended up making it. In total, they now have nine embryos.
Understanding Testicular Cancer
A testicular cancer diagnosis is rare, but it is the most common form of cancer diagnosed in young men. Depending on the stage, the disease is considered extremely treatable. Treatment options can include chemotherapy and radiation, but often the first line of treatment is surgery to remove the testicle which contains the cancerous cells.
Dealing With the Shame That May Come With Testicular Cancer
Symptoms of testicular cancer can be subtle. Some people may even confuse the early symptoms such as a small mass in their testicle as an injury. But when these signs are dismissed, the cancer can grow and become worse.
RELATED: 10 Things I Wish I Knew Before I Was Diagnosed With Testicular Cancer
"It's not uncommon to see men come in with masses on their scrotum and have inflammation of the scrotal wall; they develop pain as a result. A lump is the most common symptom of testicular cancer," Dr. Edwin Posadas, the medical director of the Urologic Oncology Program at Cedars-Sinai Cancer, previously told SurvivorNet.
Dr. Posadas says some men may even notice blood in their ejaculate as a result of testicular cancer. "This symptom is less common, but always bad," he said.
Other symptoms can include:
Breast growth or soreness
Early puberty in boys
Low back pain (a potential symptom of advanced testicular cancer)
Shortness of breath, chest pain, or a cough (a potential symptom of advanced testicular cancer)
Belly pain – (a potential symptom of advanced testicular cancer)
Headaches or confusion (a potential symptom of advanced testicular cancer)
Dr. Posadas urges young men to seek medical care if they are having symptoms. "Most men under the age of 40 tend not to think about seeing a doctor – they need to know to advocate for themselves," he said.
Screening for Testicular Cancer
Testicular self-examination is one way to screen for this disease, Dr. Posadas says.
"It takes less than a minute," Dr. Posadas previously told SurvivorNet. "Rub testicles through your fingers – looking for any sore areas. Rub the top of the testicle, particularly the delicate epididymis. (The epididymis is a tube at the back of the testicles which stores and carries sperm.)
"Don't squeeze real hard on there… [You should] look for a smoother feel; if you feel a hard nodule on there, you may require blood work from a urologist. [Testicular cancer] is highly curable, even when it's advanced."
If You're Worried – Go to the Doctor
In a previous interview with SurvivorNet, Dr. Bradley McGregor, clinical director of the Lank Center for Genitourinary Oncology at the Dana-Farber Cancer Institute, also emphasized the importance of self-examinations.
"It is recommended that men aged 15 to 55 perform a monthly self-examination to find any changes to help find the cancer at an early stage," Dr. McGregor said. And if someone spots any of the early symptoms, "he should visit his doctor immediately." It's important to be aware of your body and get in touch with a doctor if you notice anything unusual.
RELATED: Deadpool's Call to 'Tweak Your Tomatoes' Saved This 31-Year-Old British Man's Life; What To Know About Testicular Cancer
"Testicular cancer commonly occurs from ages 20-45, but it can occur at any age," Dr. McGregor continued. "The highest risk factor for testicular cancer is a history of cryptorchidism, an undescended testicle, where the testicle does not move down into the scrotum before birth. Men with a family history of testicular cancer are at increased risk as well. No lifestyle changes have been shown to definitively reduce risk of testicular cancer."
What Is Thyroid Cancer?
Thyroid cancer is a type of cancer that starts in the thyroid gland which makes hormones that help regulate your metabolism, heart rate, blood pressure and body temperature. Treatments for this type of cancer can include surgery, hormone therapy, radioactive iodine, radiation and chemotherapy.
RELATED: Did You Know 'Dirty Dancing' Actress Jennifer Grey Battled Thyroid Cancer?; She Lost Co-Star Patrick Swayze to Pancreatic Cancer
Spotting thyroid cancer can often be difficult. The American Cancer Society reports that symptoms may include a lump, swelling or pain in the neck, voice changes, trouble swallowing or breathing or even a constant cough.
"Most people have no discrete symptoms — the majority of cases now are found incidentally," Dr. Allen Ho, a head and neck surgeon at Cedars-Sinai Hospital, tells SurvivorNet. "However, a sizable number of people may first discover their cancer when they feel a bump on their neck. Other possible late symptoms include problems swallowing, the sensation of something in their throat, neck compression when laying flat or voice changes."
The good news is that many of these possible symptoms, including lumps in the thyroid, are both common and commonly benign – but it never hurts to ask your doctor. Chances of cancer recovery increase significantly with early detection, so it's important to address any warning signs of thyroid cancer, or any cancer for that matter, with a medical expert swiftly.
Learn more about SurvivorNet's rigorous medical review process.