A 12-year-old cancer survivor fearful her dreams of being a dancer had been crushed, has overcome her extraordinary challenges and earned a spot in a holiday production of "The Nutcracker" next month.
As reported by local Buffalo, NY, TV station WGRZ, ballerina Nya Ricks, now a seventh grader at Maryvale Middle School in Cheektowaga, NY, was diagnosed with acute myeloid leukemia at the age of 6. She had four rounds of chemotherapy, according to the report, and, during treatment, experienced "septic shock," or organ injury or damage that results in dangerously low blood pressure and other potentially life-threatening conditions, and entered into a coma for 21 days.
Read More
"Getting back to even walking was so hard," Nya told WGRZ. "I was thinking, 'How am I supposed to be able to be dancing and be this big star if I can't even walk?'"
"She's every teacher's dream student," Maris Battaglia, director and founder of American Academy of Ballet in Buffalo, NY, which is staging the holiday show, told WGRZ. "It's not just her natural talent … it's her attitude in the classroom, her enthusiasm. She's just a joy."
Nya, the report said, is also an actress and has received interest from the well-known International Modeling and Talent Association, which hosts a yearly competition. The agency has discovered actors like Elijah Wood, who portrayed Frodo Baggins in "The Lord of the Rings" trilogy.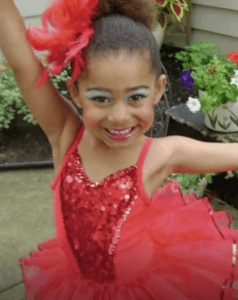 Information about Acute Myeloid Leukemia
Leukemia is the most common type of childhood cancer. Three out every four cases of childhood leukemia are diagnosed as acute, meaning that the leukemia can progress quickly and, if not treated, would probably be fatal within a few months, according to the National Cancer Institute.
Acute myeloid leukemia (AML) is the second-most common type of childhood leukemia after acute lymphoblastic leukemia (ALL). It occurs when the bone marrow makes a large number of abnormal blood cells called "myeloblasts." As these cells build up, they prevent the growth of healthy white blood cells, red blood cells and platelets.
Between 1975 and 2010, childhood cancer mortality decreased by more than 50 percent. For acute myeloid leukemia (AML), the five-year survival rate increased over the same time from less than 20% to 68% for children younger than 15 years of age and from less than 20% to 57% for adolescents aged 15 to 19 years.
Ballet after Cancer
SurvivorNet has spoken with other ballerinas who worried they would never dance again after cancer.
Ballerina Petra Conti, who dances with the Los Angeles Ballet, told SurvivorNet that she was diagnosed with kidney cancer when she and her husband, ballet dancer Eris Nezha, also with the Los Angeles Ballet, were dancing together in "Swan Lake." "I was supposed to do a surgery sooner, but I was supposed to do my last show," she said.
LA Ballet ballerina Petra Conti and her journey with kidney cancer
Her doctors wanted the surgery to happen as soon as possible, but Conti wanted the chance to perform in what she thought would be her last dance: "I got to surgery on the 27th of May, but the doctor, my surgeon wanted me to do the surgery sooner. But I asked him to just wait for me to do my last show, to finish my career in a good way, because I didn't know if I was ever going to dance again. So I was supposed to do the surgery sooner, but then I had my last show on the 21st of May, 2016, my last Swan Lake, with my husband, and then one week later had the surgery."
Much like Nya, Conti was able to slowly build back her strength after treatment, and dances with the Los Angeles Ballet once again.
Learn more about SurvivorNet's rigorous medical review process.
---