Reality TV Bounty Hunter Duane Chapman, whose beloved wife and bounty hunting partner Beth Chapman died of Lung cancer, reflected on the first time he knew he was in love with Beth. For a lot of people who have lost a loved one to cancer, processing old memories is a really important part of coping and moving forward, and Dog seems to be doing just that.
Dog said in an interview with Page Six that he knew he was in love when Beth woke up early for work one day and he was afraid she had left him, "The moment I knew is when, I woke up one day and she was gone, she had went to work early, and I ran tot he closet thinking, 'is all her clothes still here? Did she leave me int he middle of the night?' And all her clothes were still hanging there and I smelled them, and I thought…'shit, I'm in love with this girl.'"
Read More
Dog also talked about the day he had his first date with Beth, "I bonded Beth out for stealing lemons. Her pager went off in King Supers, and they charged her with stealing lemons, cause when they asked her 'do you have anything in your pocket, she got smart with them and they arrested her. So, you when I seen her I'll never forget what she said, 'Oh yes he will be mine.'"
And said that he tried to advise her on what to do in front of a particularly tough judge, "So I went to court with her. I said 'you know this judge is really mean, whatever you do be really cool and just you know, plead guilty and let's get out of here."
But it turned out, Beth didn't need his help at all, "When the judge walked in the room as we all rised, she went 'Hi Francis!'"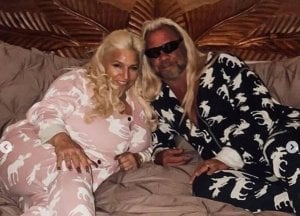 After that, Beth was free to go, and that's when their romance began, "I went 'oh no, my god.' So they dropped all shop lifting charges, and that night, I took her on a date."
In the interview, Dog also answer the question, "How did you know you wanted to become a bounty hunter," saying that he "knew he had to find some way to become a good guy again," after some difficult times in his life and a few run-ins with the law.
And he said he thought that it was a profession he could reconcile with his past, and still become really great at it, "I realized that bounty hunters had this stigma, this kind of back, dark secret in the past. And I knew that because I had this same kind of secret, I'd be one of the world's greatest bounty hunters that ever lived."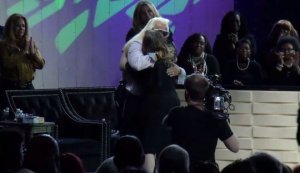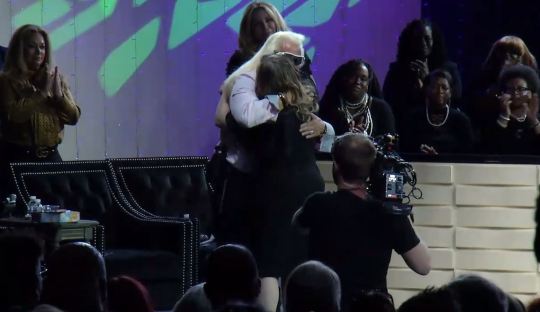 Dog also reveal that the first concert he ever went to was to see Ike and Tina Turner at the Pop Festival in Denver Colorado. He almost revealed the year, but then said "19–mm, mm, mm."
His first run-in with the law, Dog says, was when he was thirteen years old. He said that he was throwing apples at a cop car, and that they didn't catch him.
He said that he doesn't totally remember his first bounty, but that it was a motorcycle club member in a club he didn't like. And he also described the first clothing he felt truly represented him, "I wore a chain belt, and it was a weapon we used back int he 60s to fight with, and I looked at myself in the mirror and said 'wow you look cool.'"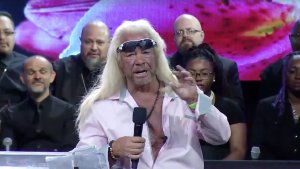 And on the topic of the first time Dog held a gun, he said that he was six or seven years old and he would track animals down "because i never, still today, liked to kill them." He said his dad put a pistol in his hand, and told him to go over and look for animals to hunt. He saw a huge elk, and didn't want to kill the beautiful animal, so he told his dad that he didn't see anything.
As the father and son began to leave the site, Dog said, his father asked, "how come those elk tracks are within ten feet of your feet?"
So, according to Dog, he told his dad that he had seen "Old Moss Belly," a folk character from a legend, in which Old Moss Belly was so old and big that moss grew on his chest. Dog said he knew if he came up with "half a lie," that his dad wouldn't be so mad, and that his dad replied by saying "Well, I'm glad you didn't shoot Old Moss Belly."
Beth's cancer journey
Beth was originally diagnosed with stage II throat cancer in 2017, and after treatment, was declared cancer free. Then, she was diagnosed again the following year with stage IV lung cancer. After the second diagnosis, she decided to forego chemotherapy, relying instead on her Christian faith. (A decision that Beth announced on Mother's Day of this year).
The journey became more difficult yet toward the end, when Beth Chapman was put into a medically induced coma to alleviate some of her pain and stress after a choking incident related to her cancer.
Beth Chapman ultimately died at age 51 in Honolulu, Hawaii, surrounded by family members and those who loved her.
The Chapman family went on to hold two emotional memorial services for their mother—one in Hawaii, and one in Aurora, Colorado. The two locations were where Beth and Dog Chapman split most of their free time when they weren't bounty hunting for criminals.
Information about dealing with fear and negative emotions during cancer
Anxiety and fear are totally normal reactions to the news of cancer, and acknowledging these emotions can be therapeutic and important to the healing process.
"I think the most important advice I would give to someone who has just received a cancer diagnosis is to find people whom they find as a source of support. To allow themselves to go through all of the different emotional reactions to that news," said Dr. Susan Parons, Director of the Center for Health Solutions/Center on Child and Family Outcomes at Tufts Medical Center, in a prior interview with SurvivorNet. Dr. Parsons did not comment on this case specifically.
"The anger, the frustration, the fear. The disappointment. Whatever those emotions are, figure out what's important to you and find those people that can help you realize that."
Dr. Susan Parons, Director of the Center for Health Solutions/Center on Child and Family Outcomes at Tufts Medical Center on dealing with fear and anxiety after a cancer diagnosis.
In times of frustration, it can be useful to a little bit of direction on specific ways to deal with it. A few of the most common ways to deal with fear and anxiety after a cancer diagnosis, that have helped people in the SurvivorNet community in the past, include:
1. Let your family and close friends know – and let them help. So many cancer survivors tell us they want and need support but are often too preoccupied to make specific requests. Urge those close to you to jump in with whatever practical help they can offer.
2. Keep a journal. It can be extremely cathartic to let those feelings loose on paper. Grab a pen and a nice journal and chronicle your different thoughts throughout the day.
3. Join a cancer support group. There are groups in nearly every community offering opportunities to connect with others going through a similar journey. You'll learn incredibly helpful insight from others who can tell you about what to expect and how to stay strong on tough days.
4. Consider seeing a therapist. Ask your doctor to refer you to a therapist so you can discuss your fears and concerns in a safe space. Often, vocalizing your thoughts and feelings rather than internalizing them can provide relief.
Learn more about SurvivorNet's rigorous medical review process.