The Impact of Working Through a Health Condition
Actress Christina Applegate, 51, is eager to join the animated reboot of "Married with Children," as voiceover work is more suitable for her as she battles multiple sclerosis.
Applegate was diagnosed with multiple sclerosis (MS) in August 2021. The disease impacts the central nervous system and can cause numbness or tingling in your limbs.
SurvivorNet experts encourage cancer warriors to continue working while battling a disease if they're able. Working creates a sense of normalcy and purpose for cancer warriors.
Federal and state laws require employers to make reasonable accommodations to assist employees with cancer.
Research published in 2019 in the Journal of Clinical Oncology found "just 54% of working-age cancer survivors report that they are working full time."
Is actress Christina Applegate, 51, doing a reboot of "Married With Children" with some of the other original cast members? After saying that she may not appear in front of the camera again because of her ongoing battle with multiple sclerosis (MS), a potentially debilitating disease of the nervous system, here's why this project could be uniquely suitable for her.
Applegate's Hollywood career is expansive dating back to the 1970s. One of her biggest successes includes her role as Kelly Bundy in "Married With Children," which launched in 1987 and lasted until 1997.
Read More
Development of a possible reboot is still in its early stages, but if it comes to fruition, it is expected to be an animated series. Applegate said she and fellow co-stars Ed O'Neill, Katey Sagal and David Faustino are attached to the project. However, she "can't really say much" beyond that, she told
Vanity Fair.
It would seem Applegate would reprise her role as Kelly Bundy and provide her voice for the character this time around. As she battles MS, a role like that, where she doesn't have to be up and moving on set in front of a camera, may be just what Applegate needs right now.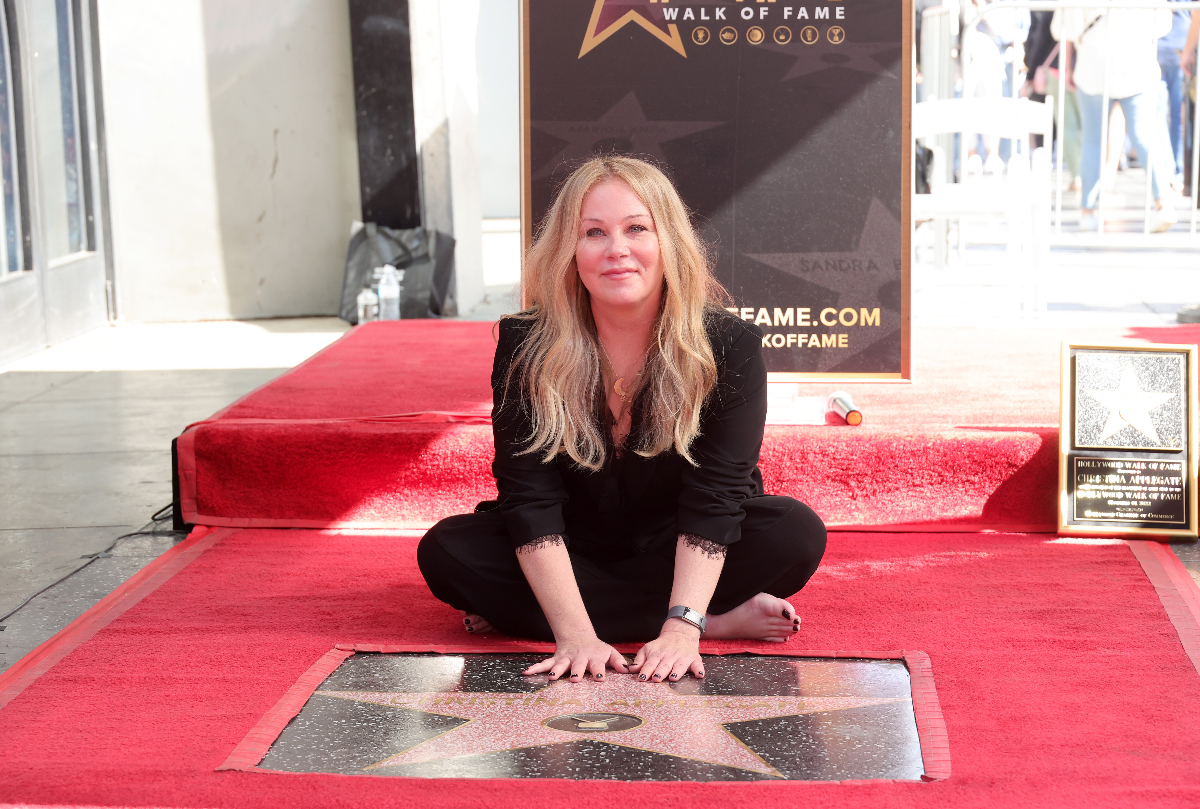 Applegate was diagnosed with multiple sclerosis in August 2021. The disease impacts the central nervous system and can cause numbness or tingling in your limbs.
"I can't even imagine going to set right now. This is a progressive disease. I don't know if I'm going to get worse," she said.
She explained how her symptoms are impacting her daily life.
"With the disease of MS, it's never a good day," Applegate explained.
She went on to say everyday activities like taking showers, using stairs, and carrying things are all challenging.
Since Applegate's symptoms can have wide-ranging impacts, she said voiceover work is best suited for her at this stage in her career.
"I can do voiceover stuff because I have to support my family and keep my brain working," she said.
And we love to see survivors finding ways to continue working that fit with their new lifestyles.
Working Through a Disease or Cancer
SurvivorNet experts encourage cancer warriors to continue working while battling a disease if they're able, as Christina Applegate is doing. Working can create a sense of normalcy and purpose for cancer warriors.
Laurie Ostacher, a social worker at Sutter Bay Medical Foundation, explained the impact employment can have on cancer patients.
"Some women choose to continue working [through cancer] because working is a significant part of their identity, they enjoy the job, and there's flexibility built in," Ostacher told SurvivorNet.
Earlier this year, many companies pledged to better support employees battling cancer through the #WorkingWithCancer pledge. The initiative says, "50% of people with cancer are afraid to tell their employers."
Some of the benefits participating companies claim to provide include job security, on-the-job support, and assisting employees acting as caregivers, CNN reported.
Can a Cancer Diagnosis Impact My Job?
Federal and state laws require employers to make reasonable accommodations to assist employees with cancer. The accommodations, outlined by the Americans with Disabilities Act (ADA), may include extra paid time off work, reduced work hours during treatment, and offering remote work.
It's important to remember, employers don't have to grant every accommodation request. If the accommodation causes "undue hardship" or results in "significant difficulty or expense" the employer does not have to grant the request.
WATCH: The Reality About Going Back To Work After Cancer
The Federal Family and Medical Leave Act (FMLA) allows eligible people to take job-protected leave if they have cancer or care for a family member battling cancer.
Other protections include 12 weeks of unpaid leave, continued group health insurance coverage, and protections against retaliation.
The Value of Working Through Treatment
Doctors and social workers tell SurvivorNet, working during treatment has benefits extending beyond reclaiming a sense of normalcy. Working provides a steady flow of income and reminds you of your life outside of cancer. A work-life also encourages regular contact with others.
Dr. Shelly Tworoger, a researcher at Moffitt Cancer Center, has shared a cancer diagnosis can bring about a range of emotions.
"There's a number of common things cancer patients can experience, such as anxiety, depression, financial toxicity, social isolation," Dr. Tworoger explained.
In addition to relying on support groups, cancer warriors may also have co-workers to help ease feelings of loneliness.
Sarah Stapleton is a clinical social worker at Montefiore Medical Center. She says above all, working gives your mind something else to worry about than battling a disease.
"If you're able to work, you'll be busy and you won't be worrying all the time about how your treatment is going," she says.
People Battling a Disease Are Still Employable
Like Christina Applegate, fellow actress Shannen Doherty also did not let a diagnosis stop her from working.
"We are employable. So, for me, I'm just trying to live the best I can, to be the best example at this moment," Doherty told Variety.
Some people can maintain their full-time jobs despite battling cancer. Ultimately, your ability to work after a cancer diagnosis depends on your cancer, overall health, and the kind of work you do the American Cancer Society says.
Research published in 2019 in the Journal of Clinical Oncology found "just 54% of working-age cancer survivors report that they are working full time."
The study goes on to say, "four years after diagnosis, only 70% of prediagnosis-employed survivors continued to work." The researchers also indicated a cancer survivor's socioeconomic status may have an impact on their ability to work during their cancer journey.
Learn more about SurvivorNet's rigorous medical review process.
---