Melanie Griffith's Skin Cancer
"Working Girl" actress Melanie Griffith was seen leaving a Los Angeles-area skin care clinic with marks on her face.
As she is a two-time cancer survivor, we're hoping all is well with her health.
It's unclear what she went to the clinic for, but we know the "Working Girl" star had basal cell carcinoma in 2009 and 2017.
BCC is the most common form of skin cancer and tends to be slow-growing. It's often overlooked as a pimple or skin tag.
BCC growths can look like open sores, red patches, pink growths, shiny bumps, scars or growths with slightly elevated, rolled edges and/or a central indentation. These spots may ooze, crust, itch or bleed.
"Working Girl" star Melanie Griffith, 65, was photographed leaving a Los Angeles area skin clinic with some marks on her face and hand. As the actress is a two-time skin cancer survivor, we're hoping all is well with her health.
Griffith, a mother of three who is no stranger to paparazzi following her around, was recently pictured leaving the Melanie Grant boutique skin care salon in Beverly Hills, California, with new blemishes on her face.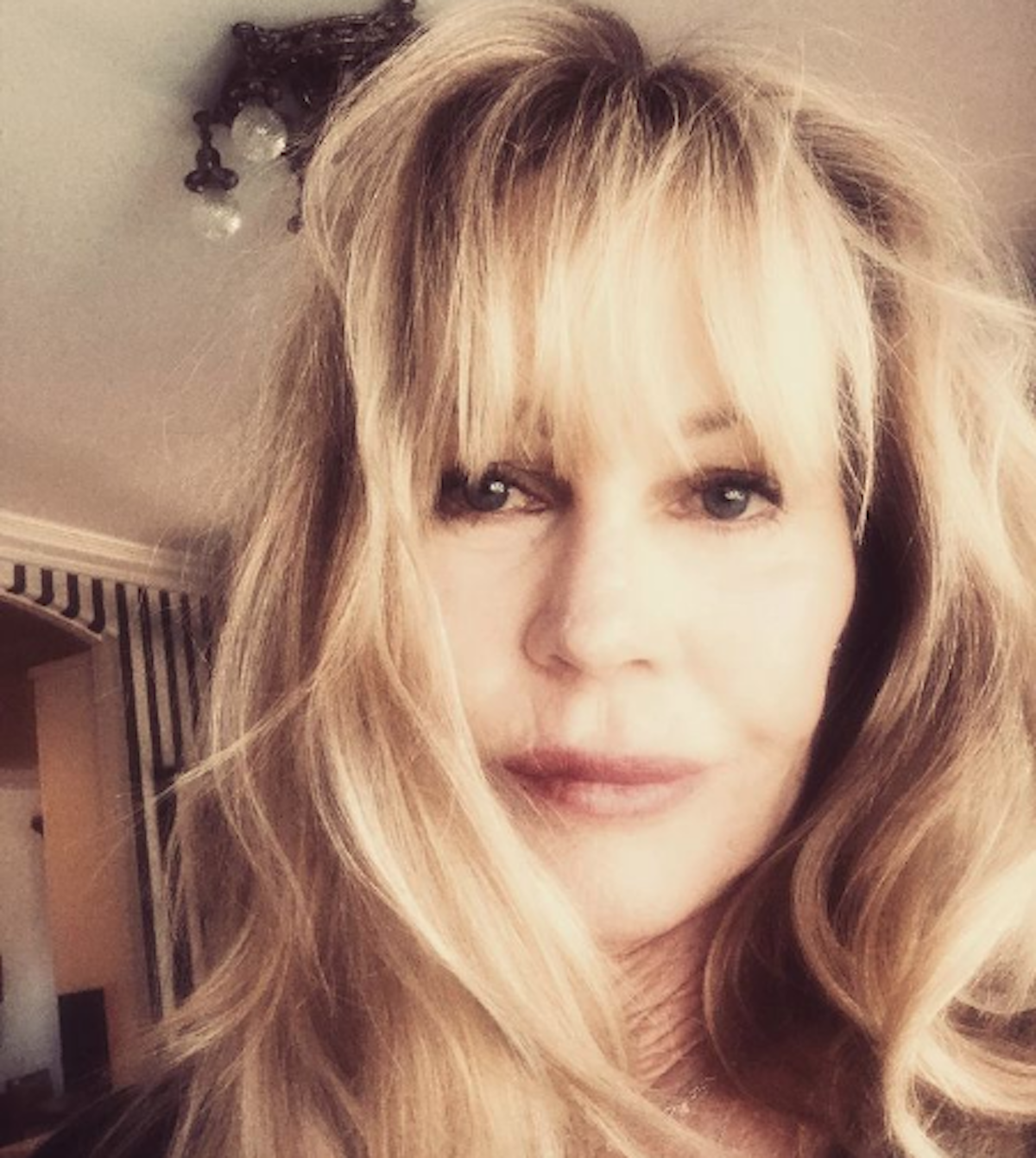 Read More
The exclusive photos, taken last Thursday and obtained by the
Daily Mail
and
Page Six,
captured the makeup-less actress with "bruises on her face and hand," according to the Daily Mail. Despite the apparent discoloration, scarring, and dryness on the side of her face and left hand, Griffith was walking in style – wearing her hair up and donning a leather motorcycle jacket, beige sweater, white pants, Gucci sneakers, and cat-eye sunglasses. She appeared confident in the images and didn't attempt to hide her blemishes from the photographers.
It's unclear what Griffith went to the clinic for, but the salon offers various clinical treatments and organic/essential facials, such as laser treatments, depigmentation, and microdermabrasion.
Earlier this year, Griffith was spotted in West Hollywood with "a large new scar on the left side of her face," which appeared to be healing, according to the Daily Mail.
We're pulling for the beloved actress that she's healthy and cancer-free!
Melanie Griffith's Skin Cancer Battle
May is Skin Cancer Awareness Month, and it's a good reminder of Melanie Griffith's experience with the disease.
The New York City-born star, who lives in West Hollywood, California, first opened up about having skin cancer back in 2009, after she was photographed with a black eye – prompting speculation on how she obtained the bruise.
Griffith, who was married to Antonio Banderas at the time, quickly addressed the public to say it was from treatment to remove early-stage skin cancer from her face.
"The cancer-removing procedure had been performed early enough to prevent further complications," her representative Robin Baum said, the Daily Mail reported.
The actress underwent surgery to treat basal cell carcinoma (BCC), the most common form of skin cancer.
However, in 2017, she experienced a skin cancer recurrence and underwent treatment once again – causing her to become an advocate for the disease, urging people to be careful when exposing their skin to sun and wear proper protection.
In 2018, Griffith took to Instagram to share a selfie with a band-aid on her nose following dermabrasion treatment (a skin-resurfacing procedure) to treat the spot where she had the cancer previously removed.
She captioned the post, "Bandaged again after having dermabrasion, the final step to fix the now removed basal cell skin cancer. If any of you have it, get it fixed. If you lay in the sun, are exposed to lots of sun, be CAREFUL."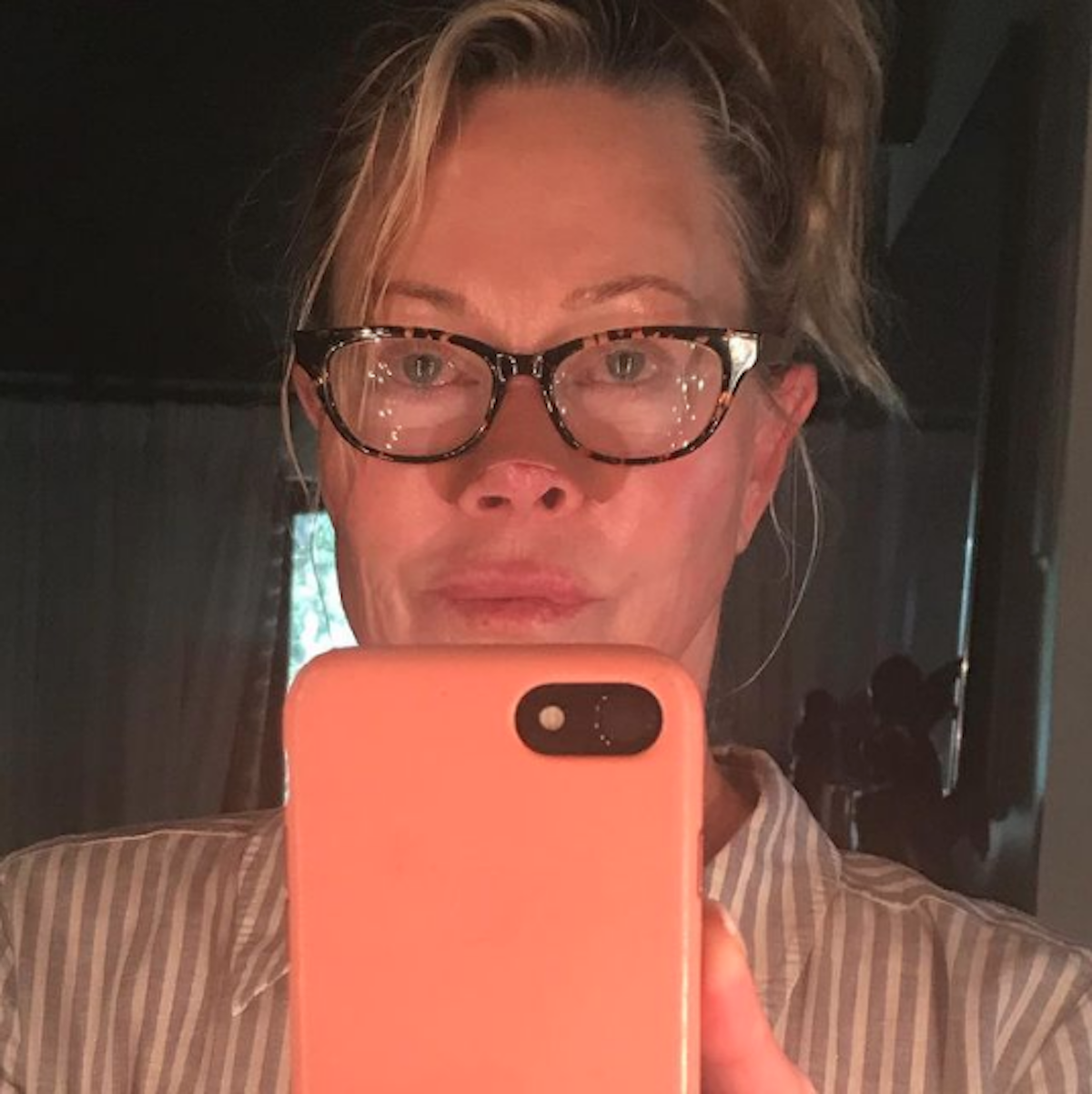 "Use sunscreen. Get checked out by your Dermatologist," the skin cancer advocate continued. "If you don't have one, get one, or go to your nearest clinic and ask to be tested for it."
That same year, Griffith told InStyle, "It's a scary thing when you're an actress and you depend on your face for work. But I realize I have to put a Band-Aid on it, and it's fine. I just look like a dork."
What's Basal Cell Carcinoma (BCC)?
Basal cell carcinoma (BCC) is a form of highly curable skin cancer that causes a "lump, bump, or lesion to form on the outside layer of your skin," where the skin is exposed to a lot of sun, as per the Cleveland Clinic.
The lesion can appear to be "small, sometimes shiny bump or scaly flat patch on your skin that slowly grows over time." This is why these types of lesions can be overlooked as a pimple or skin tag. In patients with a darker skin tone, approximately 50% of BCCs are pigmented (brown in color).
The most common type of BCC is a nodular BCC, which appears as "a round pimple with visible blood vessels surrounding it." More signs of BCC are:
A lump that is slightly see-through and close to your normal skin color
A lump that may be itchy or painful
A lump that may form an open sore, which can ooze clear fluid or bleed with contact
If you happen to spot something abnormal or questionable on your skin, it should behoove you to reach out to your doctor. BCC signs can vary from person to person, so it's necessary to seek medical advice when something seems off. You should always prioritize routine check-ups with your dermatologist and be weary for any skin changes in between visits.
BCC may be diagnosed through a skin biopsy, which is when a piece of the affected skin area is removed and examined under a microscope. Imaging tests are conducted if a doctor suspects the cancer has spread to a different area of the body – something that is rare for BCC.
While BCC lumps grow at a slow pace, they are still considered serious. If slow-growing BCC lumps are left untreated, they can increase in size and begin to take over deeper layers of the skin and tissues, like muscle and bone. Plus, BCC lumps can be painful and become ulcerated (become an open sore), which can cause bleeding and infection.
Meanwhile, the most dangerous form of skin cancer is called melanoma.
"Melanomas are the deadliest type of skin cancer because they have a tendency to spread to other parts of the body," Dr. Anna Pavlick, a medical oncologist with Weill Cornell Medicine who specializes in treating skin cancer, previously told SurvivorNet.
And the acronym ABCDE can you help know how to spot this kind forming:
Asymmetrical moles: If you drew a line straight down the center of the mole, would the sides match?
Borders: Is the mole irregular or jagged?
Colors: Are there multiple distinct colors in the mole?
Diameter: Is the mole larger than 6 millimeters (mm), about the size of a pencil head eraser?
Evolution: Has the mole's color, shape, or size changed over time?
If you answered "yes" to any of these questions, our experts say it's time to see your dermatologist for a skin check.
Other red flags to watch for are:
A sore that doesn't heal
Color that spreads from the border of a spot to the skin around it
Redness or swelling that goes beyond the area of a mole
Itchiness, tenderness, or pain
A change in the way the surface of a mole looks
Scaliness, oozing, or blood
How Is Basal Cell Carcinoma Removed?
Here are some ways BCC may be removed from the body, according to the Cleveland Clinic. Be sure to talk to your doctor about the unique circumstances of you case, as they will be able to help you understand which options makes the most sense for you:
Scraping off the cancerous lump and then burning the layer of skin with an electric needle
Surgically removing the lump with a scalpel (Mohs surgery)
Freezing the lump
Chemotherapy (using medicine to kill the cancerous cells)
Laser therapy (using high-energy laser beams to remove the cancer)
Mohs Surgery: The Best Option For Melanoma
Reducing Your Skin Cancer Risk
Dr. Dendy Engelman, a board-certified dermatologic surgeon at Shafer Clinic Fifth Avenue, previously spoke with SurvivorNet about some things you can do every day to help minimize your risk of skin cancer.
Avoid the sun during peak hours: 10 a.m. to 2 p.m.
Wear a wide-brimmed hat and sunglasses to protect the tops of our heads, the tops of our ears and the delicate area around the eye.
Wear at least SPF 30 sunscreen and make sure to reapply every two hours or after excessive sweating or swimming.
Have yearly skin checks (with a professional) because it's difficult to evaluate areas all over the body.
Avoid tanning beds. There are no "good" tanning beds, and they can significantly increase your risk of skin cancer.
And remember that skin protection is equally important all year round.
Protecting Your Skin From Cancer
"My patients ask me all the time, 'Do I really need sunscreen every day, all year round?' The answer is yes," Dr. Engelman told SurvivorNet. "People think they only need sun protection when they're in the bright, warm sunshine. But the reality is, we can get sun damage at any time throughout the year, even in the cold, wintry months. Think about when you go skiing. That's a very high risk. Even though it's cold, our skin should be protected."
Dr. Cecilia Larocca, a dermatologist at Dana-Farber Cancer Institute, also spoke with SurvivorNet in an earlier interview and suggests people use nothing less than SPF 30 and reapply it every two hours. Additionally, sunscreen should be a broad spectrum, says Dr. Larocca, meaning it covers both UVB and UVA rays.
According to Dr. Larocca, people usually only get about 50% of the SPF on the label. Therefore, if you're using SPF 60, you're actually nearing 30 SPF of protection. To be positive you're receiving the right protection, Dr. Larocca also recommends using sunscreen every two hours and wearing protective clothing, like sunglasses or a hat.
MORE: Choose the Right Sunscreen and Use It Often
Contributing: SurvivorNet Staff
Learn more about SurvivorNet's rigorous medical review process.
---