A Private Cancer Battle
Best-selling author and feminist icon Jackie Collins died in 2015 from stage 4 breast cancer at 77 years old.
One of her daughters, Tiffany Lerman, opened up about her mother's cancer battle and explained why she kept it very private.
A person's health is a private matter, and, understandably so, some people choose to keep their cancer battles out of the spotlight.
Staying positive during cancer treatment can help you achieve better health outcomes. So, whether that means continuing to work, taking up a new hobby or making time for friends, it's important to prioritize your mental health.
Best-selling author Jackie Collins was a beloved storyteller who skillfully shared relatable stories of feminist characters, but never decided to share a private story of her own. In a recent podcast episode, her daughter, Tiffany Lerman, opened up about her mother's lengthy battle with
breast cancer
.
Collins died of stage 4 breast cancer in 2015 when she was 77 years old. Fans and friends from all over the world were shocked and devastated after learning of her death from the secret health battle, but the feminist writer left behind quite a legacy to be celebrated. In fact, she had sold 500 million copies of her work worldwide at the time of her death. And a recent CNN Films documentary commemorating her life called Lady Boss: The Jackie Collins Story, directed by Laura Fairrie, was just released this past summer.
Read More
RELATED: Remembering Jackie Collins Six Years After She Lost Her Secret Battle With Stage IV Breast Cancer: 'She Gave A Great Deal of People A Great Deal of Pleasure'
Tiffany Lerman spoke about her mother's legacy in a recent podcast episode of Ask Jillian. She shared fond memories of the time she spent with her mother and what it was like losing her to breast cancer.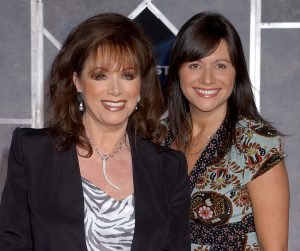 "I get emotional talking about her 'cause I miss her so much," she said. "She was my best friend. She was our best friend, and she was the matriarch of the family. We adored her, our children adored her, our friends adored her… To say that she is missed is such an understatement. And I just tried to make her proud every day 'cause I know that she's watching me, and she's with me all the time."
View this post on Instagram
She also talked about her mother's cancer battle specifically and explained why her mother chose to keep it secret.
"She was a very private person, and, for her, she just didn't want that kind of sympathy," she said. "She didn't want to, you know, be on the front of one of those horrible magazines saying 'Jackie Collins at death's door'… So, she chose to keep it personal and to keep it private."
She added that although her sisters might not have agreed with her decision, they knew they had to respect it.
"It was a very tough decision for her," she said. "It was a very, very tough time, but she did not let the disease, or the cancer, or the illness or any of it define her in any way, shape or form."
Keeping a Cancer Battle Private
A person's health is a private matter; a cancer battle is arguably even more private, which is why some people, including celebrities, choose to keep their health struggles out of the spotlight. Jackie Collins, for example, apparently battled breast cancer for six years  unbeknownst to most people.
People like actress Kelly Preston, who was married to actor John Travolta, also kept her cancer battle a secret; she died of breast cancer at age 57 last summer. Like Collins, Preston's death was a surprise to many as her cancer diagnosis was widely unknown to the public.
RELATED: Kelly Preston Dies of Breast Cancer At 57 — Husband, John Travolta Thanks All Those Who Helped And Says 'Kelly's Love And Life Will Always Be Remembered'
On announcing her death, Travolta, now 67, noted at the time that he – like his late wife – would opt for a quiet, private road ahead as he began to grieve his wife. The actor posted to Instagram: "I will be taking some time to be there for my children who have lost their mother, so forgive me in advance if you don't hear from us for a while. But please know that I will feel your outpouring of love in the weeks and months ahead as we heal."
Actor Stanley Tucci also recently revealed for the first time that he privately fought tongue cancer three years ago. And actress Helen McCroy, wife to actor Damien Lewis, passed away in April at age 52 after a private battle with cancer.
People have different reasons for whether they share the news of their cancer diagnosis or not. For Marquina Iliev-Piselli, she says that sharing the news can be a burden.
Deciding When and Who to Tell About My Diagnosis Became a Burden
"Deciding when and who to tell became quite a burden," she previously told SurvivorNet. "So you have to relive your story over and over again."
This alone is reason enough for people to keep their cancer diagnosis under wraps, but, in the end, the decision is up to the person diagnosed with the disease. And it's important to remember that there's no right way to deal with cancer; everyone handles it differently.
Working during a Cancer Battle
Cancer can be both a mental and physical battle. But for Jackie Collins, it was not something that was going to slow her down.
"She accepted what was happening, and then she went out, and she just worked," Tiffany Lerman said of her mother. "She wrote four more novels, she traveled the world, she went on interviews, I mean, the amount of energy that she had, she never ever let it get to her."
RELATED: Stay Positive, It Matters
Just because you're undergoing cancer treatment, does not mean you should stop doing what you love. In fact, experts recommend quite the opposite. Studies have shown that patients who are able to stay upbeat and positive often have better treatment outcomes. It doesn't really matter what you do, but experts like Dr. Dana Chase, a gynecologic oncologist at Arizona Oncology, recommend doing whatever makes you happy. And if that means continuing to write novels and travel the world like Jackie Collins, then that's exactly what you should do.
Dr. Dana Chase encourages those facing cancer to find moments of joy during treatment
"We know from good studies that emotional health is associated with survival, meaning better quality of life is associated with better outcomes," Chase told SurvivorNet in a previous interview. "So working on your emotional health, your physical well-being, your social environment [and] your emotional well-being are important and can impact your survival. If that's related to what activities you do that bring you joy, then you should try to do more of those activities."
Contributing: Sydney Schaefer
Learn more about SurvivorNet's rigorous medical review process.