Singer Michael Buble And Wife Welcome 4th Child After Son Noah's Cancer Battle
Singer Michael Bublé and his wife welcomed a baby girl Friday, newborn Cielo Yoli Rose Bublé.
The baby girl is the couple's fourth child, including son, Noah, diagnosed with liver cancer at just 3 years old in 2016.
Noah's liver cancer isa a type of pediatric liver cancer called hepatoblastoma. He's been in remission since 2017.
Only 2 or 3 out of one million children are diagnosed with the disease annually.
Singer
Michael Bublé
and his wife are now a party of six! They welcomed a baby girl Friday to their clan of three children including son, Noah, diagnosed with liver cancer at just 3 years old in 2016.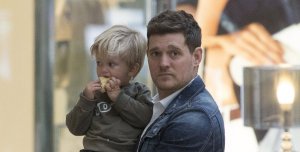 Read More
Noah is now cancer free, and is now joined by newborn baby sister Cielo Yoli Rose Bublé, and other siblings Elias and Vida.
"You finally arrived to our lives with your 3,8 kg!!!", wrote Bublé in an Instagram post. "Thank God for this infinite blessing, we love you!!"
View this post on Instagram
Bublé ended the post with the names of the rest of the family – Noah, Elias, Vida and your mom and dad – with a heart emoji.
Noah is now eight years old, with Buble taking time off from touring to join his wife, actress Luisana Lopilato, 34, in caring for him from their home base in Burnaby, Canada.
"I didn't know that at the time but, mentally, I was so unstable and vulnerable," Bublé said in an earlier interview. "I made a safe record with producers I liked and I just tried to protect myself and hold on to a career."
Noah has been in remission since 2017, and just last month, the 46 year old Bublé released his latest album, Higher, calling it "the greatest record of my life."
"I feel really good now and I was raring to go – like this great weight had been lifted off me," Bublé said. "My son was healthy, my kids and my wife were good, life is good. Why wouldn't I just explode wanting to make an incredible record?"
The album's headlining song, Higher, actually came together thanks to inspiration by Noah himself.
"Well, I was giving the kids a shower when my eight-year-old son Noah said, 'Papi, I wrote a song,'" Bublé said. "And he sang, 'When you go low, and I go high.' And I said, 'Wow, that's really good, where did you hear that?' He said, 'No, it's in my mind.'
"A few months later I sang it to my co-writers and they looked up and said, 'What was that?' Thirty minutes later, we'd written Higher, which may be one of the greatest songs I've written. It turns out he's way more talented than me!"
What Is Liver Cancer?
Liver cancer begins in the liver – an organ located beneath the diaphragm and above the stomach. The most common form of the disease is hepatocellular carcinoma, but there are other types of liver cancers as well.
According to The Daily Mail, Noah battled hepatoblastoma. And while we know that any type of liver cancer in children is extremely rare, the most common type of pediatric liver cancer is, in fact, hepatoblastoma, according to Children's Hospital of Pittsburgh. Still, only 2 or 3 of 1,000,000 children will be diagnosed with the disease.
Blood tests, ultrasounds, CT scans (X-ray images), MRIs (medical imaging) and angiograms are generally used to confirm a liver cancer diagnosis. A liver biopsy, where a small piece of tissue is removed and analyzed for cancerous cells, may also be performed.
Noah had surgery to remove a tumor as well as chemotherapy and radiotherapy. Bublé previously told the Evening Standard that the most important part of his son's treatment was removing the tumor with clean margins, meaning no cancer cells remained on the edges of the tumor site.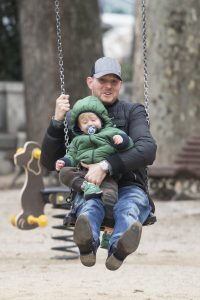 Oftentimes, a liver transplant is considered the best plan when the patient is eligible. For cases of recurrent liver cancer and cancer that has spread throughout the body, your doctor may consider targeted therapy, immunotherapy or chemotherapy as the next step.
Treatment advances in recent decades have lead to 85 percent of children with cancer now surviving five years or more, according to the American Cancer Society. This is up from 58 percent from the mid-1970s.
But according to the National Pediatric Cancer Foundation, more than 95 percent of childhood cancer survivors have significant health-related issues because of the current treatment options, and only 4 percent of the billions of dollars spent each year on cancer research and treatments are directed towards treating childhood cancer in the United States. Since 1980, fewer than 10 drugs have been developed for use in children with cancer while hundreds of drugs have been created exclusively for adults.
Caring for a Child with Cancer
Still, navigating a child's cancer diagnosis can be tricky – something Jayne Wexler knows all too well. In a previous interview with SurvivorNet, Wexler opened up about filling the simultaneous roles of parent and cancer caregiver when her son, Justice, battled acute lymphoblastic leukemia.
"Being a caregiver is a huge job," Wexler said. "Fortunately, my husband and family were very supportive … it's really hard to see your child go through this. If it could be me, I would take it in a second. You just go on auto-pilot and you just do what you have to do."
But that doesn't mean it was always easy. Wexler admitted that as a parent caring for a child with the disease, you don't have a lot of time to sit down and deal with your own emotions.
"You don't have that much time for yourself," Wexler said. "I try to stay strong, but then sometimes you just want to go and cry, and you need to cry… it's good to cry."
The survival rate for children with cancer has improved over the past few decades, but pediatric cancer is still an incredibly hard thing for a family to go through. In her own caregiving experience, Wexler found therapy to be a great way to process everything happening to her family. Regardless of whether it's therapy or participating in your favorite activities or something entirely different, it's important to find ways to also take care of yourself as you're taking care of your child.
Learn more about SurvivorNet's rigorous medical review process.
---