With 33 years and her 2017 breast cancer behind them, Julia Louis-Dreyfus and producer, Brad Hall are still laughing. The Emmy-winning actress has said she knew Hall was "the one" when the couple met at Northwestern University when she auditioned for his theatre production.
RELATED: Actress Julia Louis-Dreyfus on What Breast Cancer Taught Her
Read More
Married June 26th, 1987, Louis-Dreyfus recently marked the occasion with the honeymoon wetsuit photo (below).
View this post on Instagram
In September 2017, Louis-Dreyfus learned she'd been diagnosed with breast cancer the day after winning her sixth Emmy for her role as Selena Meyer, fictional U.S. Vice President (and later President). The "Veep" star shared the news on social media, with a sobering message: "One in eight women get breast cancer. Today, I'm the one."
Study: Love Supports Breast Cancer Patients
Louis-Dreyfus' enduring marriage may have had a measurable impact on her recovery from treatment: According to a study, women with breast cancer who are in satisfying romantic relationships have a reduced risk of health problems following cancer treatment. The link between romance and health was tied to inflammation brought on by stress.
RELATED: Actress Shannen Doherty Says Cancer Strengthened Her Marriage, But Many Survivors Worry Their Partner Will Leave Them
Happy partnerships, the researchers found, corresponded to lower levels of inflammation markers in test-subjects' blood. When ongoing stress kept inflammation markers high, the risk of a breast cancer recurrence as well as other health problems, like heart disease and diabetes, increased. "The research shows the importance of fostering survivors' relationships," says Rosie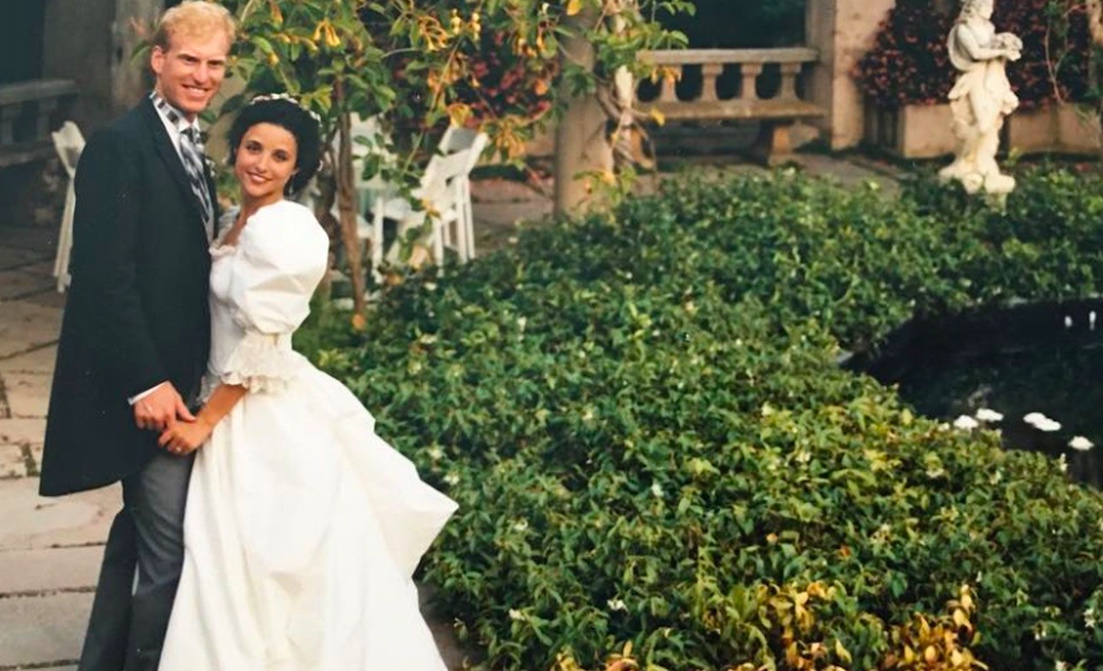 Puffy sleeves were all the rage in 1987, when Julia Louis-Dreyfus married Brad Hall. The couple celebrated 33 years on June 26, 2020.
Shrout, lead author of the study, conducted at the Institute for Behavioral Medicine Research at the Ohio State University. "It's important for part of [patient] screening and treatment to take the relationship into account." When needed, she added, couples counseling could benefit patient health in the long run.
"I've Washed Away My Fingerprints"
Louis-Dreyfus has been an uplifting presence during quarantine. The confessed "clean-freak" shared on Jimmy Kimmel Live!, that her hand-washing obsession has escalated during the coronavirus outbreak: "I've washed away my fingerprints," she said. As a result, she joked, her smartphone's touch-technology no longer recognizes her.
In April, Louis-Dreyfus applied her own comic humor (above) to the stay-home message at the request of California Governor, Gavin Newsom.
RELATED: "I Started Howling Laughing!" Julia Louis-Dreyfus Tells Dax Shepard How She Reacted to News She Had Breast Cancer Just After She Won an Emmy
When Kimmel asked if she's been in charge of the home cooking, she responded, "I am and it's irritating the hell out of me. It's three grown men and myself. It's a lot of food." What's helped, she offered, is "going outside and walking or hiking. That really just calms me down." Many in the SurvivorNet community would agree. But even outdoors, social-distancing remains crucial to stem the spread of the virus.
Julia Louis-Dreyfus' Breast Cancer Journey
Her breast cancer was not detected during a routine mammogram. Instead, when Louis-Dreyfus noticed a concerning divot in her breast in 2017, she scheduled a visit with her doctor. Her proactive response led to an early diagnosis in September of that year, making her breast cancer easier to treat. She went on to have a double mastectomy and 6 rounds of chemotherapy.
Like many cancer survivors, the Emmy-winning actress found that the shock of the initial diagnosis left her at a loss…about work, treatment, and her future in general.
"Restoring sensation to the patient's breast…is the final frontier of breast reconstruction," says Dr. Dung Nguyen, Director of Breast Reconstruction at Stanford University's Women's Cancer Center.
Although her initial instinct was to continue working on Veep while undergoing cancer treatment, she eventually accepted the reality that she'd need to take time off from the show. It's a reality familiar to many as they face cancer treatment:
RELATED: "Still a Little Frightened" — "Veep" Actress Julia Louis-Dreyfus is Cancer-Free, But Like Many Survivors, Fears Recurrence
"For a couple of days — not knowing this road I was about to walk down, not fully understanding, and possibly in a sort of state of denial, too — I was thinking, 'Well, we'll shoot around chemo. We'll figure it out,'" Louis-Dreyfus told Entertainment Weekly. "I had that idea, which is, of course, absurd. But I didn't think of it as such until reality came crashing in."
The Mastectomy Decision
Mastectomy is the removal of the entire breast during surgery, and it is a very common treatment for breast cancer. While Louis-Dreyfus chose a bilateral mastectomy, there are a number of factors to weigh when considering surgery, chief among them is whether breast-conserving surgery (or lumpectomy) is possible.
RELATED: 17-Year-Old Cancer Survivor Says "Veep" and Actress Julia Louis-Dreyfus Saved Her Life — "All of a Sudden I Wasn't Alone Anymore"
Your doctor will look at the size and features of your tumor as well as your family history in order to make a recommendation.
A lot of women who are at high risk of developing breast cancer also decide to have mastectomies in order to prevent it.
"Depending on the size and other features, such as family history, a patient may opt for more aggressive surgery," says Dr. Elizabeth Comen, Medical Oncologist at Memorial Sloan Kettering Cancer Center. "And so even for early, stage-one breast cancer, a woman may elect a mastectomy to remove her whole breast."
Learn more about SurvivorNet's rigorous medical review process.
---