Coping With Mental Health & Removing Stigma
Katherine Heigl, known for her acting roles in 27 Dresses and Knocked Up, has opened up about her battle with depression and how medication "essentially saved her."
We all get depressed from time to time or we have a bad day "that's part of normal human emotion," says Dr. Scott Irwin, director of the patient and family support program at Cedars-Sinai. "And sometimes it gets to the point where that depression can be a little bit overwhelming and we help them through therapy."
It should be noted that clinical depression may require a different approach, say mental health experts
SurvivorNet has great mental health resources for you, including more films that will inspire you.
Katherine Heigl, known for her acting roles in 27 Dresses and Knocked Up, has opened up about her
battle with depression
and what she did to overcome it, something she wishes she could have done sooner in life.
The 44-year-old actress and producer claims she was "essentially saved" from depression through taking prescription medication and focusing on her "private persona."
Read More
"Being suddenly kind of defined by public opinion was very new. And it was very positive at first, so it felt really good … And then it turned," Heigl explained to Yahoo! Life, referring to early on in her career with Greys Anatomy when she was criticized as difficult to work with. "I did feel very isolated in it, I really got in my head." Heigl, who admitted to being a "people pleaser" and previously
dealing with "mental instability"
, continued, "It was really hard for me to have public opinions sway so far the other direction, and I wasn't grounded or stable in my own self enough to not believe them myself. So I spent a lot of time in my early 30's worried that maybe they were right and I was this kind of person. But then defending myself, in my own mind, it's like that horrible neuroses and anxiety."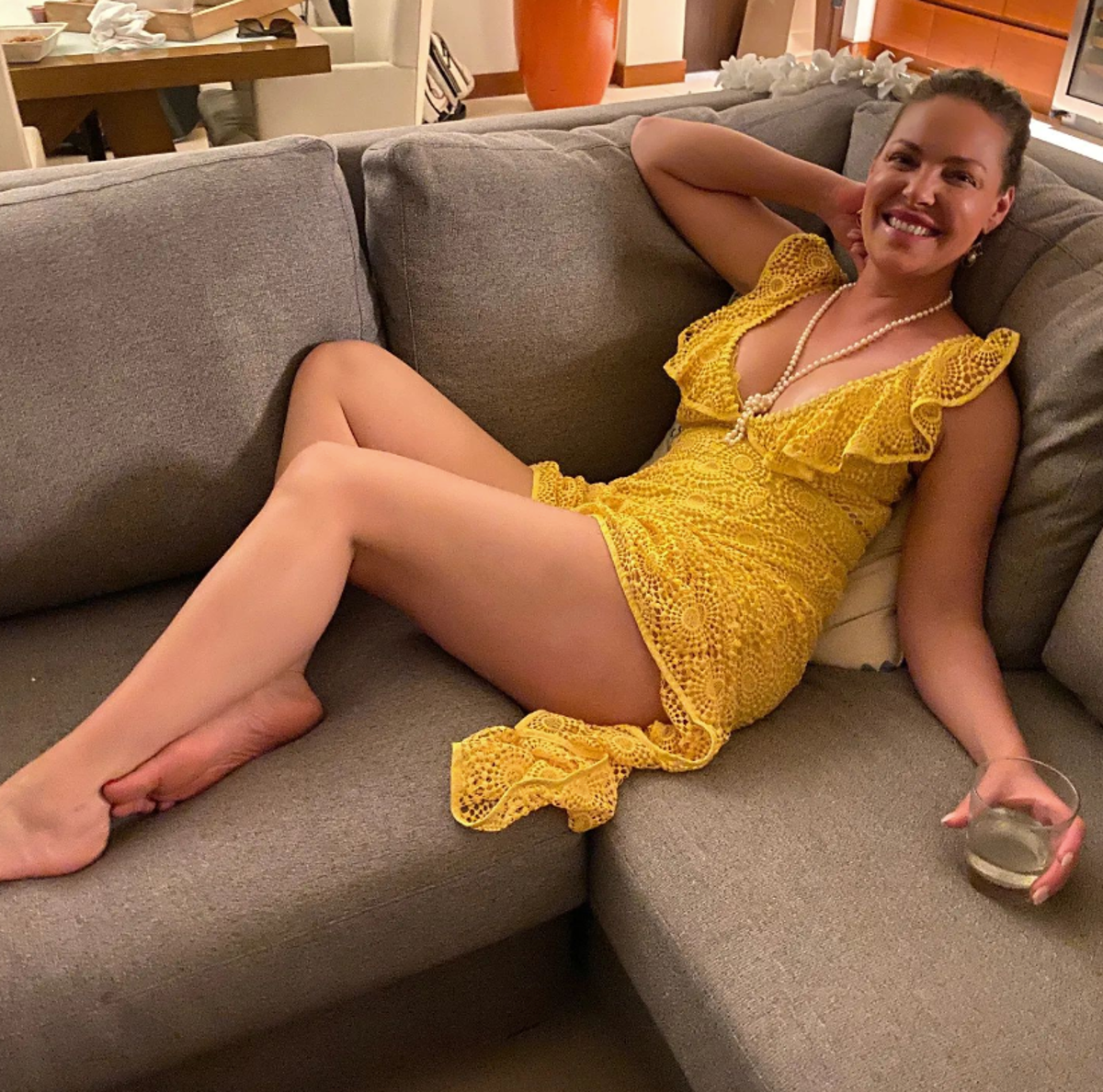 The mom of three recounts that time in her life as "the worst thing" shes been through as an adult because she didn't understand why she was feeling the way she was.
"I thought it was completely on me that it was a moral or character weakness," she added.  "I was at such an incredibly heightened level of anxiety, and so afraid of every move I made and everything I said and everything I did … trying to be the perfect person to not ruffle any feathers … And I was like, 'Oh my god, I can't win. I can't win.' And it was just the super lonely place because I let it mean so much to me."
Looking back, Heigl admits to wishing she hadn't spent so much time in a "dark place of fear."
Heigl credits being open about her mental health issues and being put on medication helped her get to where she is today, noting, "It essentially saved my life."
She was reportedly prescribed selective serotonin reuptake inhibitors (SSRIs), which the National Library of Medicine describes as "a class of medications most commonly prescribed to treat depression" that are normally as a "first-line pharmacotherapy for depression and numerous other psychiatric disorders due to their safety, efficacy, and tolerability."
Heigl added, "I wouldn't be who I am right now with the life I have right now if I hadn't gone through a lot of that. The career stuff, the mental health stuff, the loneliness and isolation. I wouldn't have figured out how to take care of myself and I can now."
In regards to her and her family's recent move from Los Angeles, California to Utah, Heigl said she did it to spend more time on her "private persona."
"My life is the best it's ever been and it has nothing to do with my career. Well, some of it does. But it has more to do with my ability to wake up in the morning and find joy and gratitude in the things that really matter to me … I don't know if I would have learned those lessons any other way," she concluded.
Mental Health: The Basics
The term mental health refers to both our emotional and psychological well-being. Our mental health can affect how we think, feel, and behave. Certain triggers like stress, traumatic events, or change in your physical health can affect mental health. It's really important to keep tabs on your mental health and, if necessary, seek treatment. This doesn't necessarily mean traditional therapy because while it may be really helpful (even life-changing) for some, that doesn't mean it's for everyone.
Problems with mood and overall mental well-being can be attributed to several factors. For some people it's genetic, while others may be experiencing a response to some sort of stressor or past trauma.
Dr. Samantha Boardman, a New York-Based Psychologist, Explains How To Be "Realistically Optimistic" Amid Mental Health Struggles
In order to keep your mental health in check, it's important to be aware of signs — which can be subtle — that there is something affecting your mind. These signs include:
A change in eating or sleeping habits
Losing interest in people or usual activities
Experiencing little or no energy
Numb and/or hopeless feelings
Turning to drinking or drugs more than usual
Non-typical angry, upset, or on-edge feelings
Yelling/fighting with loved ones
Experiencing mood swings
Intrusive thoughts
Trouble getting through daily tasks
These symptoms can be wide-ranging and vary a great deal from person to person. Everyone experiences grief differently, for example. However, if you are feeling unusually sad, on-edge, or like you're no longer interested in activities you used to love, know that there are many treatment options available and many different healthy ways to help you cope.
Treatment
Treatment options for people struggling with mental health really run the gamut. While some people may benefit from seeking the help of a psychologist and getting on medication, others see great improvement by simply implementing some lifestyle changes, such as prioritizing exercise and cutting back on alcohol.
Those struggling should know that they are not alone — about one in five American adults has experienced some sort of mental health issue, according to mentalhealth.gov. However, what worked to help someone else cope may not necessarily help you — as treatment must be individualized.
To maintain a positive mindset and address mental health struggles you may be having, treatment may include:
Seeking professional help from a psychiatrist or therapist
Learning healthy coping skills
Medication such as antidepressants
Adding more physical activity to your routine
Adjusting your sleep schedule
Connecting with others via support groups
Mindfulness and meditation
Genetic Testing & Mental Health
Mental health is a common problem affecting millions of people. Finding the right medication to help those living with anxiety, depression, and more can be a long and frustrating process. However, there's a form of genetic testing which has been shown to be successful in matching patients with the right medication for them — and on the first try.
Coping With Chemo-Induced Depression: Survivor Kate Hunt's Story
"This test covers all of the psych medications, essentially, and it also covers pain medications. It's such a great test," Dr. Lori Plutchik, licensed psychiatrist and co-founder of Caring For Caregivers, tells SurvivorNet. "Depression affects about 20% of women at some point in their life and about 10% of men at some point in their life. That's a very prevalent illness, and then when you're working in the cancer population, which I've worked in extensively over the years, depression can be up to 50% in patients who are having impairments in their life due to their illness."
How Does It Work?
The test which Dr. Plutchik uses, Genomind, tests for multiple factors before determining the medication that will both have successful results and minimal side-effects. In order to do this, there are two parts the test examines. First, the doctor will test for certain genes that are associated with responses to medication commonly prescribed for mental health issues. Secondly, the patient's ability to metabolize medication will be tested. By doing this, it reduces the chance of negative side-effects and allows for patients to respond well to medication on the first try.
Related: Treating Depression After a Cancer Diagnosis
"About 95% of the time the first medication that I choose for them ends up being the right medication," Dr. Plutchik explains. "In other words, we don't have to switch it. They feel well on it. They're having minimal to no side effects, and they just get to a place where they're doing much better, much faster."
Ovarian cancer survivor Kate Hunt explains how she coped with depression while going through chemotherapy
In addition to the test, Dr. Plutchik also takes into account ethnicity and family history — as these can contribute to struggling with depression, anxiety, and other conditions. While this test is simple for the patient to go through, don't let that fool you. This comprehensive genetic test explores specific genes, such as the SLC6A4 gene variants, which can determine how the patient will react to antidepressants such as selective serotonin reuptake inhibitors (SSRIs).
Related: 'Mentally I'm Still Trying to Grasp Life': TikTok Star and Leukemia Survivor Tia Stokes Get Real with Her Followers about Mental Health
"If somebody has [a certain variant] that means they're in a category where they have the highest likelihood of response, a good clinical response, and the lowest likelihood of side effects," Dr. Plutchik says. "If you don't do genetic testing and you just give the medication, the overall rate of response to the SSRIs is somewhere in the high 60's. When someone has this variant in this SLC6A4 gene, then we know that the likelihood of them responding from the genetic standpoint is about 80%. There's a big increase in the likelihood of somebody responding well to an SSRI and that's important information."
How to Fix Relationships When Depression Hits – A Survivors Guide
Currently, the cost of Genomind depends on whether your insurance covers it. For those paying out of pocket themselves, the test costs $2,000. However, for those who have certain types of insurance such as Medicare, they may not need to pay anything at all. Additionally, Health Savings Accounts (HSA) or Flexible Spending Accounts (FSA) can often help cover the entire cost of the test. The test may be offered by your physician, but that's not always the case. In that case, you can request to order the test on the company's website through your physician, and it will be shipped to their office. The test involves a cheek swab, which is then sent to the lab for review.
Cancer & Mental Health
While anyone can struggle with mental health, this is a particular hardship affecting those after a cancer diagnosis and while going through treatment. After being diagnosed with cancer, it's common for people to experience feelings of grief, fear, anger, depression, and anxiety. Additionally, common treatments such as chemotherapy can cause side-effects such as depression. While it's often not clinical depression, if a cancer patient is struggling with mental health during and after their battle, this genetic test may be the key in helping them take these struggles head on.
Related: 5 Powerful Lessons From Alex Trebek's Cancer Journey– Working Through Depression & The Power of Purpose
"Depression and stress make it harder to treat cancer [and] make it harder to tolerate the treatments," Dr. Scott Irwin, director of supportive care services at Cedars-Sinai Medical Center, previously told SurvivorNet. "Actually, there's data that if you have extra stress or depression that you may not recover or you have a higher risk of recurrence, so in treating the depression, we're actually impacting the cancer care outcomes."
"We all get depressed from time to time or we have a bad day "that's part of normal human emotion," Dr. Irwin said. "And sometimes it gets to the point where that depression can be a little bit overwhelming and we help them through therapy."
Dr. Scott Irwin explains how addressing depression can impact cancer treatment
Mental health is a subject that's made huge strides over recent decades, but there's still much more work to be done. However, a genetic test has proven to be a strong step in making sure each mental health patient is prioritized and individualized to ensure successful results on the first try.
Related: What Still Brings You Joy? Your Emotional Health is So Important to Living with Ovarian Cancer
"When you're working with a population of people who are dealing with cancer and even family members who are involved in the care of patients dealing with cancer, they have so much going on that it's so important to address their mental health needs," Dr. Plutchik says. "It's such a scary and stressful, and at times, depressing situation for some people and taking their mental health needs seriously is just as important as taking their physical health needs seriously…I think it just makes people feel so much more hopeful right from the beginning that they're not going to have to go through this painful process of trial and error."
Contributing: SurvivorNet Staff
Learn more about SurvivorNet's rigorous medical review process.
---