Family & Fighting Cancer
Former Today co-host Katie Couric appears alongside her daughter Ellie Monahan in a new Cologuard commercial.
The broadcaster has worked hard to promote colon cancer awareness and screening since her first husband, Jay Monahan, passed away from the disease at 42-years-old.
Appearing with her daughter, Couric hopes the ad will help people realize how devastating cancer can be for a family and push them to take the initiative to get screened.
In a new commercial
, beloved TV star Katie Couric, 65, teams up with Cologuard to promote colorectal cancer screening.
Couric's cancer advocacy has always been closely tied to her love for her family. Now, the former Today co-host is returning to the television screen alongside her daughter, Ellie Monahan.
Read More
The mother and daughter team wants to protect other families from the kind of hardship they endured when
Couric's first husband, Jay Monahan
, passed away from colon cancer. It was 1998, and he was only 42-years-old.
"I wish he could have seen our daughter Ellie get married on the best day of her life, but colon cancer took him from us," Couric says in the advertisement. The commercial will air throughout Colorectal Cancer Awareness Month. Couric's younger daughter Caroline wanted to appear in the commercial, but she couldn't make the shoot. "Carrie would have been in it as well, but she couldn't get out to the west coast," Couric said.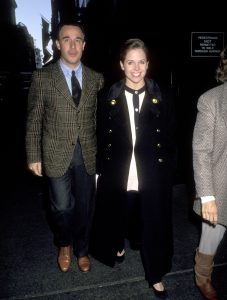 For Couric, having her one of her two daughters by her side in the commercial was an important part of what she wanted to communicate through the ad campaign. "One of the reasons is that there are so many people needlessly missing these major milestones in the lives of people they love," she said. "Of course, when anything happens with my girls, I think, 'I wish Jay could see them go to the prom. I wish Jay could see them graduate from college…' He would be so proud of them. I wish Jay could have walked Ellie down the aisle."
"I think the message we're trying to say," she added, "is you don't have to miss these extraordinary life affirming moments, because you were diagnosed with colon cancer. You can detect it early, and it can be treated and prevented."
Couric has long leveraged her national platform to spread colon cancer awareness and encourage screening. 22 years ago, she had a colonoscopy on-air on Today. Couric's message has taken on a new sense of urgency as more and more young people are being diagnosed with colon cancer. The American Cancer Society has reacted to this uptick by lowering the age at which it recommends people with average risk start being screened from colon cancer from 50-years-old to 45. "We've seen a dramatic and disturbing rise in the incidents of colorectal cancer cases in people under the age of 50," Couric said.
In some cases, screening may be as simple as sending a stool sample to a lab for testing. Couric knows that some people might feel uncomfortable with that, but she wants viewers to understand what is at stake. "It's a lot less icky than being diagnosed with colorectal cancer and having to go through weeks, months, potentially years of treatment," she said. "I think about the over 150,000 people who are diagnosed with colon cancer every year, and I think they would give anything to have it detected at its earliest stage."
"Today" co-host Craig Melvin knows first hand the importance of learning family history to assess cancer risk.
Katie Couric and Jay Monahan's Cancer Battle
Couric, who has found love again with her current husband, financier John Molner, has honored her late first husband by dedicating much time over the years to raising awareness for colorectal cancer. Monahan was just 41 when he was diagnosed with stage 4 colon cancer, and he passed the following year. The couple married in 1989.
Couric spoke to CureToday.com in 2019 about her tragic loss.
"Our daughters were 6 and 2 at the time, and it's really hard to describe the kind of heartbreak that ensued after he passed away," she said. "Our hopes and dreams, what I thought was going to be a long and happy life together, just vanished into thin air after his nine-month battle."
Tragically, the cancer had spread to his liver, which is why Monahan declined so quickly. Couric addressed having to start over and pushing forward.
"I think that it's hard to describe for people what it's like unless you've been there, and you have to rebuild your life," she shared. "Thomas Jefferson once said that the earth is for the living and we're all terminal. So I wanted to try to have a full and happy life, even if it meant doing so without my husband. I had two little girls who were depending on me. I didn't have the luxury or the time to put the covers over my head and give up. I think people find a way to go on because they have to go on. They have no choice but to go on."
Current guidelines call for colon cancer screening to begin at age 45, but people who are at high risk are often advised to begin screening earlier.
Learning About Colon Cancer
One of the most common signs of colon cancer is a change in bowel habits. This ranges from constipation or diarrhea to changes in the size or shape of bowel movements. A change in stool color, particularly black or tarry stools, can indicate bleeding from a tumor that lies deep in the colon.
Dr. Paul Oberstein from NYU Langone Health's Perlmutter Cancer Center goes over symptoms of colon cancer in a previous interview with  SurvivorNet.
"One of the most important facts about colon cancer is that the earlier and smaller it's detected, the easier the treatment is and the more likely it is to be cured," Dr. Oberstein explains. "Because colon cancers grow in the lining of the colon, they sometimes can cause problems with digestion. So someone may have constipation or diarrhea or problems going to the bathroom. Sometimes, they'll cause pain if they're growing large. Rarely, they can grow large enough to be felt as sort of a firm growth in the abdomen, but that's uncommon."
Other symptoms can be harder to pinpoint, such as abdominal pain and unintentional weight loss. Finally, some tumors bleed a small amount over a long period of time, resulting in anemia (low red blood cell count) that is detected on blood work.
Colon Cancer Symptoms
"Imagine a wound on the surface of the skin," Dr. Oberstein says. "It can bleed a little bit and ooze blood. And if that happens, one person– a person might see what's called black tarry stools. So they might see darkness in their bowel movements. And that's a sign of bleeding in the stool that's caused by the cancer."
If a person has significant bleeding, they can develop what's called anemia, which is low blood counts, and be tired or have trouble with normal activities because of those blood counts.
"We often recommend to patients that if they see a change in their bowel movements and they feel more fatigued than usual, or they have new issues, it's something to be concerned about and to be pursued with their physician."
It is important to get screened for colon cancer even if you have no family history.  Experts recommend that people at average risk of colorectal cancer start regular screening at age 45.
Learn more about SurvivorNet's rigorous medical review process.
---