X-Men actress Kelly Hu, 53, discusses a recent breast cancer scare in a new interview.
Hu, who is starring opposite stage IV breast cancer warrior Shannen Doherty in the new Lifetime TV movie List of a Lifetime, says that she learned the news just before shooting began on the film.
Read More
"After having found out that I got this role, I got a mammogram, and I had — in all of these years of doing mammograms — my first irregular mammogram," Hu tells Yahoo. "And it led to me having to get more mammograms and get a biopsy. I had a biopsy done two days before we started shooting. So I was going through, in preparation for this film, my own scare with breast cancer."
That test ultimately came back negative but still had a significant impact on Hu, who plays a breast cancer patient in the new film.
"I'm fine, but it really was sort of traumatic to be living this in real life and, you know, doing all this research for this character, it was such a strange coincidence," notes Hu.
She is no stranger to cancer, particularly breast cancer. Hu says that this made the process of making the movie a far more powerful experience.
"My mother, my grandmother — I have an aunt who actually passed from breast cancer — and so, yeah, it was sort of cathartic," Hu says of her new film.
"I feel like, you know, going through this movie sort of felt like getting to have a little bit of control over getting the message out there, getting women to get themselves checked and do something about it, because I think a lot of women, when they get a diagnosis, are afraid, afraid to move, to do anything.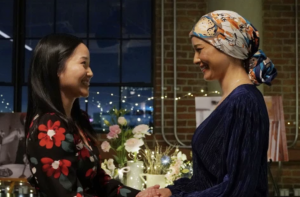 Related: 'I Dole Whipped Cancer's Butt': New Jersey Breast Cancer Survivor Visits Beloved Disney World After Completing Treatment
She made a new friend battling the disease as well in her co-star.
"You would never think that she was living with Stage 4 breast cancer," Hu says of Doherty. "When she walks into a room, she just fills the room. She's amazing, amazing, and so generous and really part of the sisterhood."
Hu admits that researching the film was devastating but expresses her hope that her hard work will pay off. She wants the Asian community in particular to see the movie, she says, in light of the frequently debunked yet still circulating myth that Asian women cannot get the disease.
"I didn't know this until just a few years ago when I was asked to do a PSA about it. And that's why I think it was also great that they cast Asian women in these roles," says Hu. "Asian women can get breast cancer, obviously, my own mother, grandmother, aunt…. I'm not sure where this myth started."
Hu has been getting annual mammograms since the age of 18 after watching her mother battle the disease at a young age. She also got tested to see if she had the  BRCA gene, an inherited or a tumor mutation that puts individuals at risk for breast or ovarian cancer.
"I came out negative, thank goodness," says Hu. "But that didn't stop me from getting mammograms and doing self-checks. It's become like a daily ritual for me, just part of what we do when we shower."
She adds: "I think if you kind of treat it like that, like brushing your teeth, then you can stay on top of it. It's not daunting."
Hu, born and raised in Hawaii, parlayed her success on the pageant scene into a career as one of Hollywood's top action stars.
Crowned Miss Teen USA in 1985 and Miss Hawaii in 1993, Hu became a household name in the early aughts thanks to her roles in The Scorpion King and X2: X-Men United.
She has since appeared on shows including The Vampire Diaries, Arrow and Hawaii Five-0. Hu also signed on to be the face of Viagra in 2015, appearing in commercials for the popular pill which treats erectile dysfunction.
She hopes that a return to her action days may soon be in the cards.
"I would love to be able to see more Asian characters, you know, comic book characters coming out," says Hu. "And female at that. I'd love to be able to see an Asian female comic book character on screen."
Related: Breast Cancer Warrior Hoda Kotb, 57, Feared Sharing Her Survivor Story Until A Stranger Urged Her to Go Public With Her Private Battle
What Is A BRCA Mutation?
Kelly Hu takes screening for breast cancer very seriously after three family members, including her mother and grandmother, were diagnosed with the disease.
That family history is also why she tested to see if she had the BRCA gene mutation.  Dr. Heather McArthur, clinical director of breast oncology at the Simmons Comprehensive Cancer Center at UT Southwestern Medical Center, explains to SurvivorNet that it is actually two gene mutations they are testing for with patients like Hu.
"So BRCA mutations, either BRCA1 or BRCA2, are mutations identified in less than 10% of women with breast cancer," explains Dr. McArthur. "They're mutations that one can be born with or one can acquire over time. "
Dr. McArthur explains that these mutations are common in some forms of breast cancer.
"BRCA mutations and triple-negative breast cancer go hand-in-hand," explains Dr. McArthur. "There's a higher incidence rate of triple-negative breast cancer for patients with BRCA mutations."
What Is A BRCA Mutation?
Advancements In Battling BRCA Mutations
Kelly Hu did not have the BRCA gene mutation, but there have been several advancements in recent years for women who do.
"One of the most interesting or promising developments [recently] was a drug called olaparib, which comes from a class of drugs called PARP inhibitors," says Dr. McArthur.
Sold as Lynparza and approved by the Food and Drug Administration, the PARP inhibitor treats women with metastatic breast cancer with  BRCA-mutation, carrier-related breast cancers.
"PARP inhibitors also interfere with DNA repair," states Dr. McArthur. "So in people who already have a DNA repair defect, [introducing a PARP inhibitor] to further impair redundant repair mechanisms has been a successful strategy."
It works, explains Dr. McArthur, because "PARP inhibitors undermine those redundant mechanisms so that [patients] don't have the backup opportunity for DNA repair."
A 2017 study published in the New England Journal of Medicine showed how well the PARP inhibitor worked in patients with the BRAC mutation.
"Among patients with HER2-negative metastatic breast cancer and a germline BRCA mutation, olaparib monotherapy provided a significant benefit over standard therapy; median progression-free survival was 2.8 months longer, and the risk of disease progression or death was 42% lower with olaparib monotherapy than with standard therapy," wrote researchers.
The group arrived at that conclusion following the results of a clinical trial with just over 302 participants.
Who Can Have PARP Inhibitors?
Learn more about SurvivorNet's rigorous medical review process.