"I did not want to think about cancer. I wanted to have my surgery over, and I didn't want to discuss it. I didn't want to wear pink. I didn't want to know anything about pink. I was not interested in pink. I wanted it over."
It is hard to believe those are the words of breast cancer survivor Hoda Kotb.
Read More
These days, the breast cancer warrior is known as someone who uses her platform to share stories and raise awareness around the disease she battled 14 years ago.
She is back at it again this year, too, with the Today host sharing parts of her cancer journey and the wisdom she gained battling, beating, and recovering from the disease as part of Breast Cancer Awareness Month. And not only on the popular NBC morning show but also on her new podcast, "Making Space With Hoda Kotb."
Given her commitment to breast cancer awareness and willingness to share her own story, it is hard to believe that Kotb initially planned to keep her diagnosis a secret.
Kotb did just that too, telling only her boss, her family, and a few close colleagues at NBC News about her diagnosis. She credits those colleagues she did tell with helping her find the best medical team, led by Dr. Freya Schnabel, director of breast surgery at NYU Medical Center.
Together, they decided on a treatment plan. In Kotb's case, the cancer was stage I, so she underwent a mastectomy and then took an anti-estrogen hormone therapy for five years.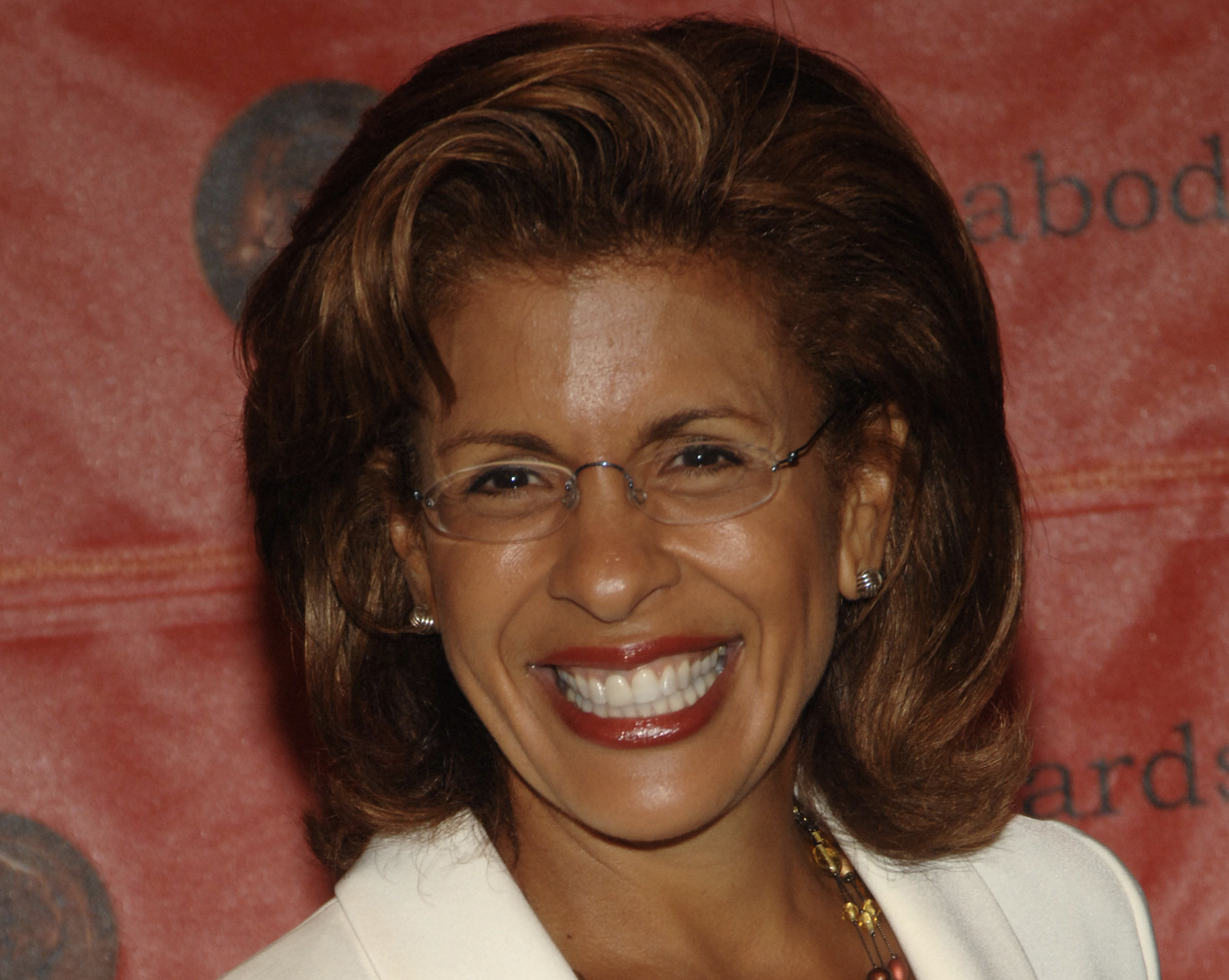 Related: Resilient Boy, 6, Seen Battling Leukemia With Sister By His Side In Viral Photo Completes Chemo and Beats COVID to Return to School
Kotb admits luck played a significant role in her diagnosis since her gynecologist caught the disease after she had neglected to get a mammogram. "I was actually telling people to go get mammograms, and I didn't do it myself," Kotb said on NBC this week.
She told Matt Lauer about her diagnosis, and he invited her to Ireland to be part of his annual "Where In The World…" segment soon after her surgery.
Kotb's life changed not in Ireland but on the plane ride home following a conversation with a stranger.
She recounted the interaction in detail to Arianna Huffington during a 2018 interview as part of the Thrive Global series:
I was about to fall asleep on the plane, and I won't forget this. The guy next to me says: "Oh, I recognize you from one of those shows, which one is it? Good Morning America or Today?" So I go, "Oh yeah, I work on the Today show."
It was something about the guy. He was so captivating and interesting, and I started talking to him. And he said, "What is that on your arm?" And I said, "Oh, it's a compression sleeve." He said, "Well, what's it for?" I said, "Oh, I had a procedure." And he goes, "What was the operation?" And I said, "I can't believe I'm about to tell you this, but I have breast cancer."
And I said, "I hope when you get off the plane, you don't say, 'Oh, I sat next to a girl with breast cancer. I hope there are other things you think of first." And he said, "What is wrong with you? Breast cancer is part of you. It's like getting married or going to college or working at NBC." He said, "I'm going to give you some advice, and you can go to sleep – don't hog your journey, it's not just for you. Think of how many people you could help on the plane ride home. You could put your stuff deep in your pockets and take it to your grave, or you can help somebody. Choice A or choice B." And I was boohooing and having this moment with a stranger, and all of a sudden, I thought, maybe he's right.
Kotb got off the plane and did make a change, going public with her battle. And she has not looked back since.
She spoke about the impact that moment with a stranger ultimately had on her life at the annual Breast Cancer Research Foundation New York Symposium And Awards Luncheon in 2017.
"Cancer shaped me, but it did not define me. It's part of me, but not all of me," Kotb told the audience.
"It just goes to show you that in my early 40s, I was sick, I was getting divorced, and I was in a job that I wasn't suited for."
She then added: "I'm now 53 years old. I have a guy I love, a baby who is the light of my life. She's so sweet! And a job that's pretty cool, too, so 53 is awesome."
And 57 might be even better for Kotb, who adopted a second daughter in 2019 and, according to reports, may soon be welcoming a third baby to the family.
Related: 'Today Is the Perfect Day to Check Your Breasts': Fashion Icon and Cancer Survivor Camilla Franks Encourages Others to Be Vigilant about Self-Exams
Mammogram Guidelines
Women aged 45 and 54 should have annual mammograms; women with a history of breast cancer in their families should begin screening even earlier.
In an earlier interview, Dr. Connie Lehman, the chief of the Breast Imaging Division at Massachusetts General Hospital, emphasized how mammograms save lives. She says, "If you haven't gone through menopause yet, I think it's essential that you have a mammogram every year. We know that cancers grow more rapidly in our younger patients, and having that annual mammogram can be lifesaving."
The centers for Disease Control echoes this, stating that women aged 40 to 44 years should have the choice to start breast cancer screening once a year with mammography if they wish to do so, regardless of the reason.
Meanwhile, lawmakers in both the House of Representatives and Senate are getting behind a bill that would protect access to free mammograms for women between 40 and 49.
The Protecting Access to Lifesaving Screenings (PALS) Act was reintroduced this week by Rep. Debbie Wasserman Schultz (D-FL) and Rep. Congressman Fred Upton (R-MI) in the House and Sen. Dianne Feinstein (D-CA) and Sen. Marsha Blackburn (R-TN) in the Senate.
If passed, the bill would guarantee free mammograms at least once a year to all women 40 and over.
The U.S. Preventative Services Task Force (USPSTF) rates mammograms a C for women in the 40 – 49 age range, meaning that they do not recommend annual screenings. That is at odds with the recommendations of the  American College of Obstetrics and Gynecology, the National Comprehensive Cancer Network, the American College of Radiology/Society for Breast Imaging, and many experts in the field of oncology.
"The notion that breast cancer is a risk only for older people puts young women at risk of not getting a screening that could save their lives. The USPSTF guidelines would exacerbate this problem by discouraging women from getting potentially life­saving mammograms and putting them at risk of losing insurance coverage for screenings," said Rep. Wasserman Schultz.
"As a breast cancer survivor who was diagnosed at 41, I know firsthand the importance of ensuring young women have access to the tools and information they need regarding their breast health. That is why I am proud to reintroduce the PALS Act with Congressman Upton, which extends the moratorium on these ill-advised guidelines and is supported by leading clinical and advocacy organizations."
Related: When You're Getting a Mammogram, Ask About Dense Breasts
"After menopause, it may be perfectly acceptable to reduce that frequency to every two years," says Dr. Lehman. "But what I'm most concerned about is the women who haven't been in for a mammogram for two, three, or four years, those women that have never had a mammogram. We all agree regular screening mammography saves lives."
When Should I Get a Mammogram?
Doing a Self-Exam at Home
In addition to regular mammogram screenings, women should also do self-exams at home. The American Cancer Society (ACS) says, "Women should be familiar with how their breasts normally look and feel and should report any changes to a health care provider right away."
Related: You Should Be Aware of These Signs of Breast Cancer
The National Breast Cancer Foundation provides the following instructions for an at-home examination:
While standing straight in front of a mirror, place your hands on your hips and look at your breasts for any swelling, bulging, changes in the shape of breast or nipple (inverted), redness, rashes, or any fluid leaking. Then do the same with your arms in the air.
Next, while lying down, use your right hand to examine your left breast and vice versa while using your first three fingers to apply pressure. Ensure you cover the entire breast area, from your collarbone to below your ribcage and from your armpit to your cleavage area. Do the same self-exam standing or sitting up. Be sure to use light to medium pressure for the middle breast area and firmer pressure when feeling deep breast tissue.
Getting to Know Your Breasts with Self-Exams
Learn more about SurvivorNet's rigorous medical review process.