'Dole Whip Princess'
On a recent trip to Disney World, breast cancer survivor Angela Kinsley Lawler says she had a magical moment at the "Most Magical Place on Earth."
On Jan. 21, Lawler was diagnosed with breast cancer; she underwent a double mastectomy and chemotherapy. Her doctors haven't yet told her she's in remission, but she hopes she's cancer-free.
Dr. Ann Partridge says that when meeting with a breast cancer patient, she evaluates what the standard options for treatment for her are, which typically include cutting out the cancer — either a lumpectomy or a mastectomy.
On a recent trip to
Disney World
, this
breast cancer
survivor says she had a magical moment at the "Most Magical Place on Earth."
In September, Angela Kinsley Lawler of Hillside, N.J., and her family took their annual trip to Walt Disney World to celebrate Lawler's birthday, and it was this year that she had her "magical" moment — near the Pirates of the Caribbean ride.
Read More
She was sporting a button with the message, "I Dole Whipped Cancer's Butt!" written in bold, white letters as she finished chemotherapy treatments for her breast cancer earlier in the year. The play on words stems from her love of
Dole Whips
— a soft serve dairy-free frozen dessert created by Dole Food Company in 1984 and served at Disney parks.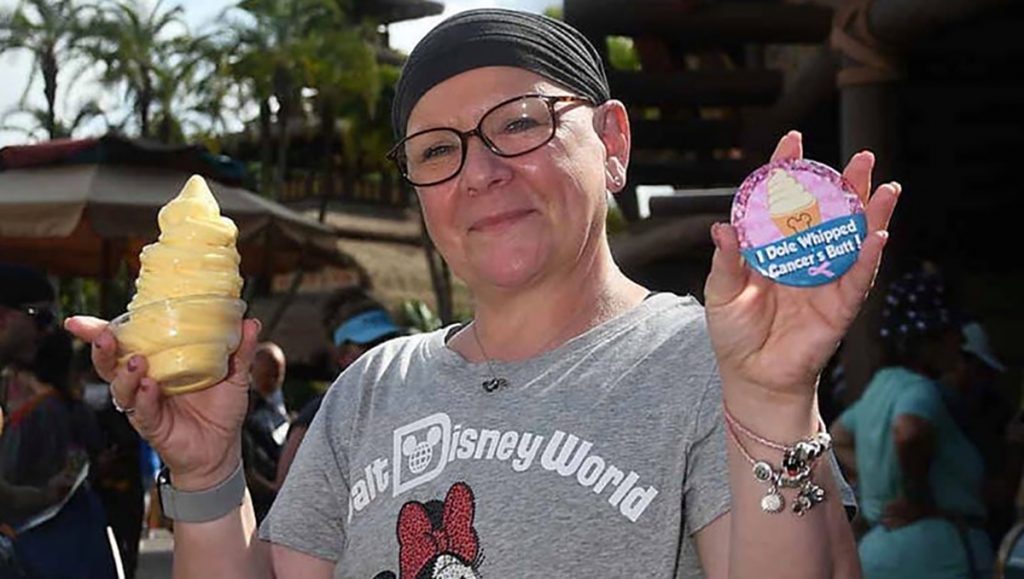 'Dole Whip Princess'
"My family is well aware of my love of Dole Whip," Lawler tells Fox 35 News in Orlando. "I always say I would eat it for breakfast, lunch and dinner while at Disney." Well, her beloved Dole Whip button caught the attention of a Disney photographer who asked to take her photograph.
"He noticed my button and asked if we had a minute because he had something in mind. Of course, we said yes," Lawler says. "As we waited for Adam (the photographer) to come back, I had no idea what he was planning. He asked us to follow him over to Aloha Isle (a stand in Adventureland that serves Dole Whips.) Once we arrived, I felt like a celebrity. He handed me a large Dole Whip and started the photoshoot."
Lawler tells Fox 35 that the photoshoot made her feel like a "Dole Whip Princess" — this moment was one that helped her forget how difficult her battle with cancer has been, she adds.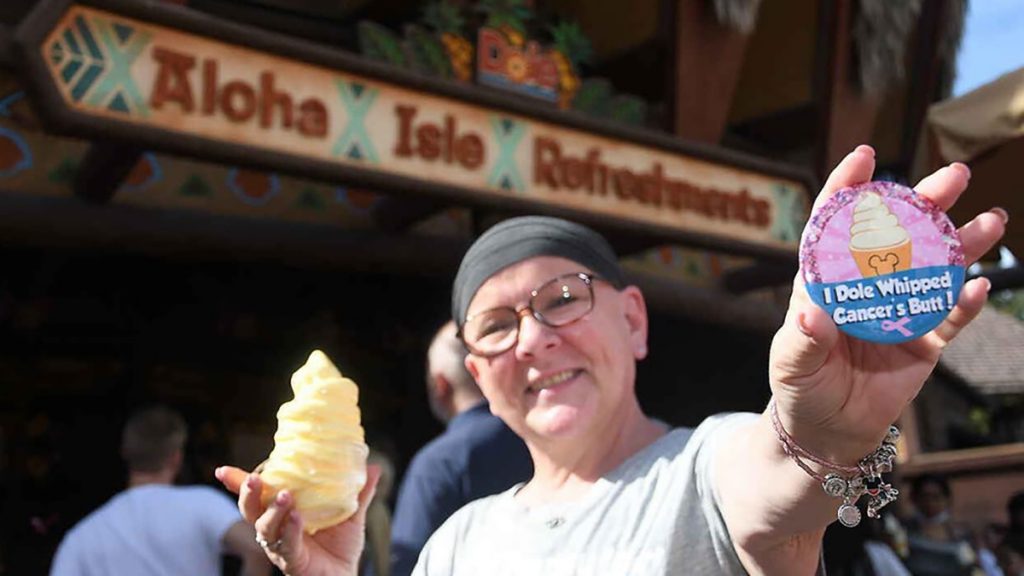 Lawler's Breast Cancer Battle
On Jan. 21, Lawler was diagnosed with breast cancer, according to her Facebook. The type and stage of her cancer weren't specified. Since receiving her diagnosis, Lawler has had a double mastectomy — surgery that removes both breasts  — and chemotherapy treatments. Her last round of treatment was in July — just in time for her annual Disney trip — but she's still receiving hormone treatments every three weeks. The treatments will continue through March 2022.
"When I talk to a woman who comes to me and she has breast cancer, I evaluate what the standard options for treatment for her are, which typically include cutting out the cancer," Dr. Ann Partridge, an oncologist at Dana-Farber Cancer Institute in Boston, tells SurvivorNet. "(This is) either a lumpectomy if you can get it all with just a little scooping around the area — that's abnormal — or a mastectomy for some women, meaning taking the full breast because sometimes these lesions can be very extensive in the breast."
"And I'll talk to a woman about that," she adds, "and I'll say these are two main options, or the big fork in the road."
When Should You Consider a Mastectomy?
Being diagnosed with cancer is hard enough, but receiving a cancer diagnosis during the Covid-19 pandemic was even harder as Lawler had to go through many of her treatments alone, she says.
"My husband couldn't be with me during surgery; he had to drop me at the curb. And all my treatments, even now, I have to do by myself," she says. "Covid has not allowed anyone to bring a support person to visits or treatment, which makes it very difficult. Sometimes you find yourself crying alone."
Having a Support System is Vital
When receiving a cancer diagnosis or going through treatment, a support system can do more than just run errands or handle everyday tasks; they can also provide the emotional support people facing cancer desperately need — something Lawler can attest to.
Even though her husband and family couldn't physically be with her for her cancer treatments because of Covid, her family was still here for her. They made their family Disney trip a priority in light of Lawler's cancer; she and her family are huge Disney fans. (Fun fact: She and her husband of 36 years celebrated their honeymoon at Disney, and her family even has matching Disney tattoos.)
Family Love and Support Makes a World of Difference During Cancer Treatment
For non-Hodgkin's lymphoma survivor Ramy Gafni, his family was there every step of the way while he went through treatment. His mother is actually a cancer survivor herself, and Garni says having that first-hand experience and advice was invaluable.
"She (his mother) said, 'It's so hard to see you go through it,'" Garni tells SurvivorNet. "'I wish I could take it from you and go through it for you.' My mom has had cancer three times, and she's still with us, happily. … She was my role model. I was like, 'Well, she got rid of it, got on with her life. And I'm going to do the same.'"
Looking Forward to Better Times
Lawler's doctors haven't yet uttered the word "remission," she says, and she hasn't had new scans, but "I believe I am cancer-free — fingers crossed." In hoping that she's free of cancer, Lawler is looking forward to happier times, something that's also vitally important to cancer survivors.
She says she's hoping to return to Disney World in May of next year to celebrate her grandson's first birthday — clearly a happier time.
"My daughter and I would like his first haircut to be at Magic Kingdom," she says.
Learn more about SurvivorNet's rigorous medical review process.