Cutting-Edge Cancer Treatment
John Hornsby thought his stomach pains were from a hernia but he was diagnosed with non-Hodgkin's follicular lymphoma.
After numerous failed treatments he was offered a unique clinical trial last year using T cells from a donor.
Within a month he had no sign of cancer and remains in remission.
For nearly six months, John Hornsby suffered from ongoing stomach pain.
"I was either in the bathroom sick or in my bed sick," John, 67, who lives in Latonia, Kentucky, told WCPO 9 News. He was certain it was a hernia.
Read More
Finally, after pleading from his wife, Tammy, 62, John saw a doctor. The diagnosis was much worse than a hernia:  
Non-Hodgkin's follicular lymphoma
, a kind of cancer that mutates white blood cells that usually fight infections.
John's case was inoperable, the doctors said.
"We cried for three days when I found out I had cancer," John recalled. "I told [my wife], I said, 'That's enough. I can't take this crying. I can't do it no more.'"
After his 2013 diagnosis, John Hornsby underwent chemotherapy. At first, his cancer went into remission. But within a year "it was back with a vengeance — even in more spots than it originally had been," Tammy told WCPO.
Over the next nine years, John had eight different treatment courses. Each time his cancer would seem to subside and then reappear more aggressively than ever.
Desperate, the Hornsbys were referred to Oncology Hematology Care in Cincinnati.
T-cells are part of the immune system that protect the body from infection. But while chemo can kill malignant cancer cells, it can also deplete T-cells and other white blood cells. After all those rounds of chemo, said OHC oncologist Dr. Jim Essell, John's T-cells were "exhausted."
"They don't fight cancer as well," added Essell, "which is why we thought he would be a perfect candidate for this clinical trial."
Essell wanted to put John on a phase one clinical trial developed by Caribou Biosciences, a California-based biopharmaceutical company that focuses on genome-edited cell therapies. The approach is more targeted than radiation and would hopefully not lower his T-cell count further.

"It can specifically insert an antibody directed against cancer into these T-cells," Essell said. "Then the T-cells hone in on cancer cells. They release chemicals that cause the cells to divide, bring more T-cells in, ultimately kill the cancer and spare the rest of the body."
In 2021, Hornsby received donor T-cells at Cincinnati Jewish Hospital through an IV, making him the first person to ever receive this groundbreaking cancer treatment.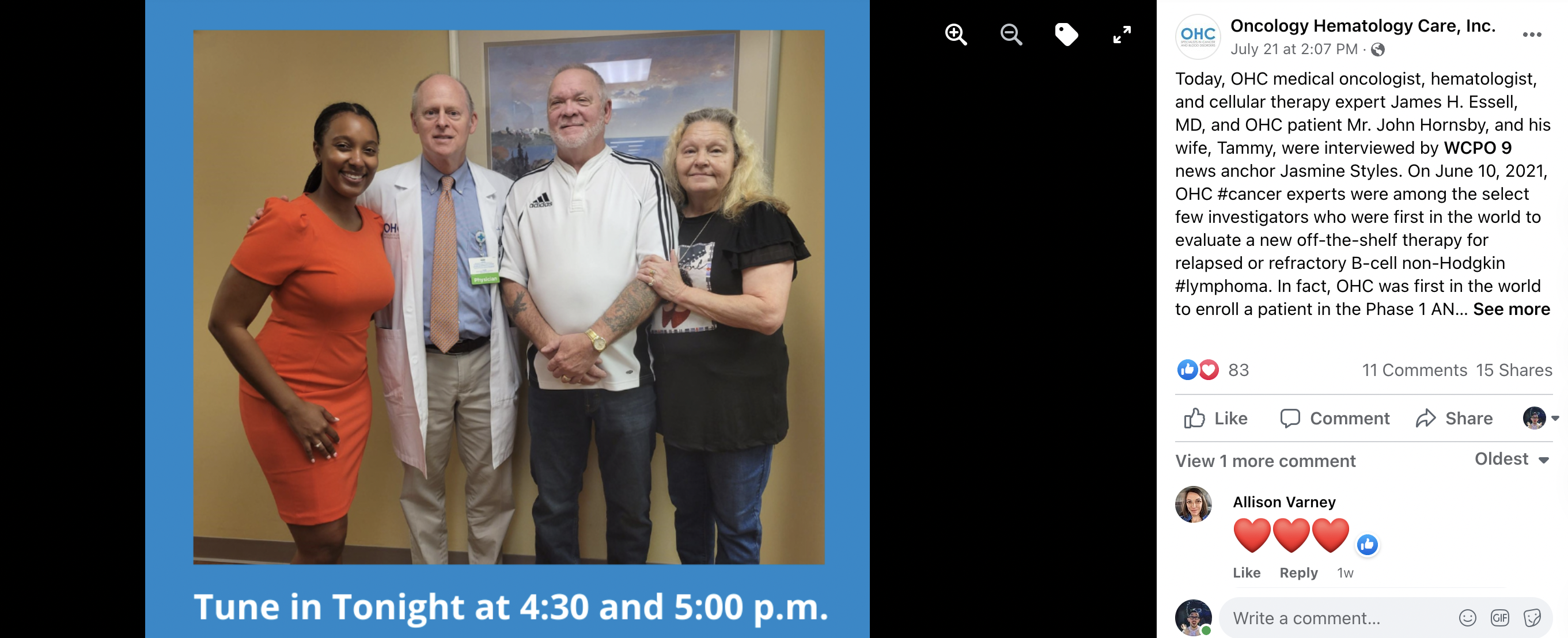 "It didn't hit me at all until I had my test," he said. "And he came back [and said] my cancer's shrinking and shrinking and shrinking."
Less than a month later after a single dose, Hornsby's cancer was undetectable. A year later and he's still in remission.
"God used Dr. Essell's hands to give me another chance," Hornsby said.
It's far too early to make T-cell infusion a standard treatment, according to Essell. But, thanks to John Hornsby, they're on their way.
"The only way we make this groundbreaking improvement is [with] bold, courageous people like John that are willing to take the risk and being the first one ever to get this treatment," he said.
The next phase of the clinical trial is accepting applicants now and will involve a mucg larger group of patients at OHC and other medical centers.
More information can be found at the U.S. National Library of Medicine's clinical trials portal, a database of privately and publicly funded clinical studies around the world.
What is Lymphoma?
Lymphoma is a type of blood cancer that affects the immune system. It begins in white blood cells called lymphocytes which develop a genetic mutation that makes them multiply much faster than normal and stay alive longer than they should.
The quickly multiplying lymphocytes build up in your lymph nodes, the small glands in your neck, armpits, and other parts of your body.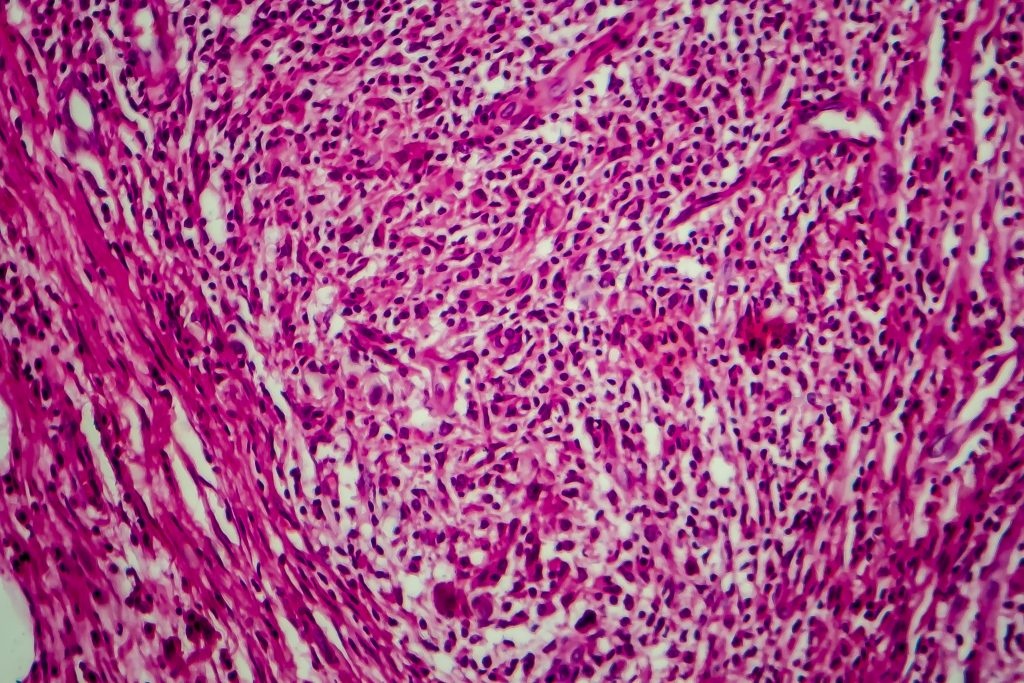 What Kind of Lymphomas Are There?
There are dozens of kinds of lymphoma, but Hodgkin's and non-Hodgkin's are the two most common. In fact, non-Hodgkin's is one of the most frequently diagnosed cancers in the United States, representing about 4% of all cancers, according to the American Cancer Society.
The type of white blood cells linked to the disease determines the distinction: If doctors are unable to detect the Reed-Sternberg cell – a giant cell derived from B lymphocytes – then the cancer is categorized as Non-Hodgkin lymphoma.
You may be at higher risk for lymphoma if you:
Have a family history of lymphoma
Have been treated with radiation or chemotherapy drugs for cancer
Have an autoimmune disease like HIV or Epstein-Barr Syndrome
Had an organ transplant
Possible Signs of Lymphoma
Lymphoma often doesn't have symptoms. Or if they do, as in John's case, they don't point to cancer.
"The symptoms of lymphoma, especially if you have a low-grade lymphoma, often are no symptoms," Dr. Elise Chong, a medical oncologist at Penn Medicine, said in a previous interview. "People say, but I feel completely fine, and that's very normal."
People with lymphoma do not always have symptoms, but common ones include
Swollen glands in your neck, groin or armpit
Fever
Chills
Night sweats
Unexplained weight loss
Feeling tired
Swelling in your stomach
It's important to communicate anything unusual happening to your body with your doctor. Even if you think there's nothing to worry about, it's good to rule out the possibility of more serious issues.
Learn more about SurvivorNet's rigorous medical review process.
---