Gaga's Mental Health Support On Set of 'House of Gucci'
Lady Gaga reveals in a new interview how she sought the support of a psychiatric nurse during the final days of filming House of Gucci. 
Gaga, who lost her close friend to cancer in 2017, is a huge advocate for the cancer community; she's also a big advocate for mental health and asking for mental health assistance when needed.
If you're struggling mentally after a cancer diagnosis, talk to a doctor and get help as soon as possible.
Oscar winner and cancer advocate Lady Gaga is opening up about her mental health struggles, recently sharing that she had a psychiatric nurse with her toward the end of shooting her latest film,
House of Gucci
.
In the film, Gaga portrays Patrizia Gucci, who, in real life, suffered a brain tumor amid her messy divorce from Aldo Gucci. She also hired a hitman to murder Gucci, a member of the renowned fashion designing family.
Read More
In the revealing new interview with Variety, Gaga, 35, tells the industry publication that she sought help from a mental health professional on-set. "I had a psychiatric nurse with me towards the end of filming," she says, explaining, "I sort of felt like I had to. I felt that it was safer for me."
Gaga, 35, is known for being an outspoken advocate about health issues, particularly mental health, and reaching out when you need support.
"I had a psychiatric nurse with me towards the end of filming…"
The 35-year-old phenom is deeply connected to the cancer community, too. Gaga has vowed to be a voice for the cancer community after losing her dear friend to breast, lung, and brain cancer in 2017. And together with her boyfriend,  Michael Polansky, she's an advocate for cancer research and the support of the cancer community. (Polansky is a co-founder and board member for his foundation's newest initiative, The Parker Institute for Cancer Immunotherapy. Immunotherapy is a treatment for many types of cancers.)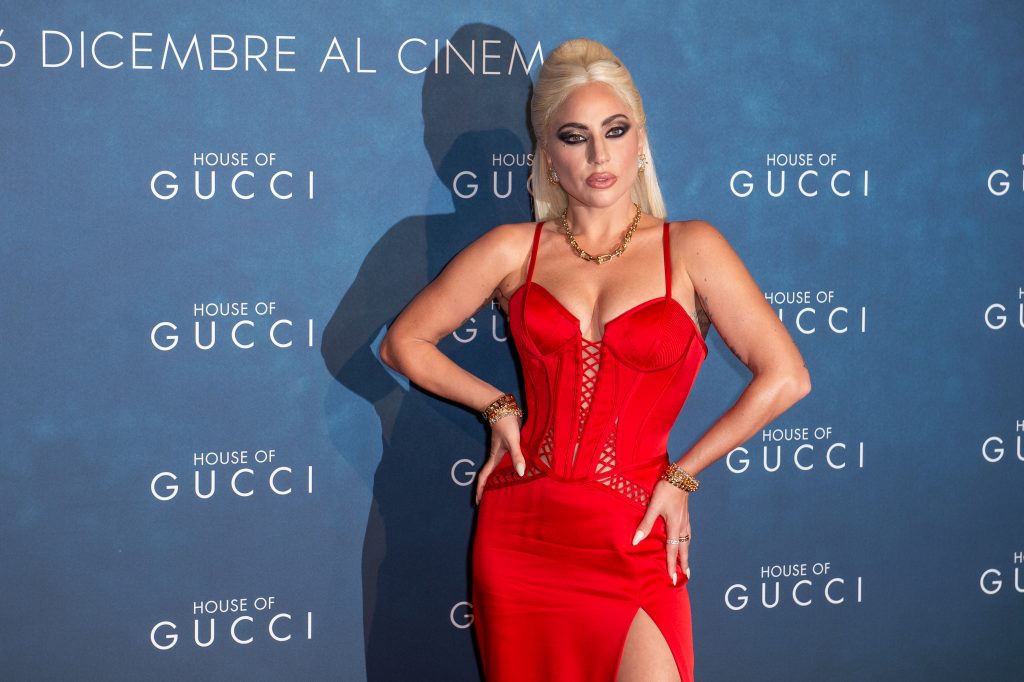 Gaga's Recent Mental Health Support
Gaga says that seeking support wasn't related to her commitment to acting. "I don't think that any actor should push themselves to that limit," she tells Variety. "And I ask myself all the time why I do that. I've done some pretty extreme art pieces throughout my career — the things I've put my body through, my mind. It's like a walnut of sadness in my stomach as I say this to you. I don't know why I'm like that…."
"It's OK to ask for help. If you're feeling like that, ask for help. No matter what…"
Related: After Losing Her Best Friend to Cancer, Lady Gaga Made a Promise: 'I Vow to Be a Warrior For Her & a Voice for Cancer Patients'
Gaga says that her past relationship with her art sometimes missed the mark, and went "too far." She says, "I think that the best answer I could give you, is I have a sort of romantic relationship with suffering for your art that I developed as a young girl, and it just sometimes goes too far. And when it does go too far, it can be hard to reel it in on your own."
Related: Did You Know Lady Gaga's Boyfriend, Michael Polansky, Is a Big Cancer Advocate?
Gaga emphasizes the power of support through a mental health journey. "It's OK to ask for help," she says. "If you're feeling like that, ask for help. No matter what."
"Therapy Saved My Life": After Losing A Loved One, Don't Be Afraid To Ask For Help
Mental Health Support Through Cancer
If you're going through a cancer battle, it can be, in some cases, essential to reach out for help, as Lady Gaga encourages people to do. Many people diagnosed with cancer understandably find themselves mentally overwhelmed, scared, and may experience a sense of grief, loss, anxiety, and even depression.
Related: Do You Have a Question About Mental Health & Cancer– Strong In Cancer — A New Column From SurvivorNet with Dr. Marianna Strongin
If you're having feelings of depression or overwhelm after your cancer diagnosis, get connected with a mental health professional, like a psychologist, as soon as possible. There is support available to you, and the better you feel mentally, the more ready you will be for treatment. Mental health issues like clinical depression can negatively impact cancer treatment. This makes it all the more vital to seek immediate support or to ask your loved ones to help you get support if you're too overwhelmed to do it on your own.
Treating Depression After a Cancer Diagnosis
Learn more about SurvivorNet's rigorous medical review process.