Early Detection Of Pancreatic Cancer Is Crucial
Eric Idle, 79, known for his role in Monty Python, is a pancreatic cancer survivor and is now a vocal advocate for early detection, which he says saved his life.
It is rare for pancreatic cancer to be caught early, but with aggressive testing earlier diagnoses are possible.
Pancreatic cancers are particularly aggressive and can progress rapidly, which means we need to catch them early. But given the pancreas is deep inside the body, a tumor on it isn't as readily detectable.
Pancreatic cancer symptoms – including jaundice and weight loss – typically present at a later stage in the cancer's development.
One of the great stars of the Monty Python films, the British actor Eric Idle, 79, has just revealed he was recently treated for pancreatic cancer. People of a certain age remember Monty Python for their films and comedy sketches that had a dry, somewhat ridiculous humor. Idle was famous for his line, "sticks and stones may break my bones, but words will make me go in a corner and cry by myself for hours."
Idle was diagnosed with pancreatic cancer in 2019, after his doctors pursued additional testing following some routine tests. His cancer was contained in his pancreas– a very fortunate situation considering that pancreatic cancer is often not diagnosed until it has spread and become difficult to treat effectively. Idle is now the face of early detection.
Read More
In their first feature-length film,
Monty Python and the Holy Grail, 
the troupe immediately gets you laughing in the opening shot with a foggy English landscape and "sounds of horses' hooves galloping echoes through the frame. And then, King Arthur, (played by Graham Chapman), and Patsy, (played by Terry Gilliam), ride through the foggy veil, but they're not riding horses," said movie and tv
website
ScreenRant
.
"They're pretending to ride horses while Patsy knocks two coconut halves together to create the sound of hooves. The film's budget wouldn't accommodate horses, and the movie itself immediately acknowledges that with a hilariously meta gag," said ScreenRant.
Idle, who portrayed Sir Robin in the film, only recently shared details of his 2019 pancreatic cancer diagnosis. The actor and comedian tells People Magazine, in an interview, "My doctor specializes in preventative medicine, and he makes me go for blood tests every year," the actor said. "He noticed a difference in the markers from the previous year, so he ordered an MRI and asked them to add contrast. That lit up the pancreas, and there it was."
Idle is still actively making television appearances and singing his heart out.
"[I] did a surprise appearance at Wembley Arena for Professor Brian Cox's Horizon Tour. Sang the Galaxy Song of course," he said in a recent post on Twitter.
Did a surprise appearance at Wembley Arena for Professor Brian Cox's Horizon Tour. Sang the Galaxy Song of course…photo by @ProfBrianCox pic.twitter.com/g7nJreBIZP

— Eric Idle (@EricIdle) September 28, 2022
Idle's Pancreatic Cancer Journey
Idle tells People he had "a partly robotic" five-hour surgery. "I had a fantastic surgeon … and he cut it all out because it wasn't attached to anything; it was intact," Idle recalled. "The technicians had never seen it in that state before because they'd never seen it that early. A lot of the research is studying early warning signs."
When Idle heard he was in the all-clear, he said "I cried."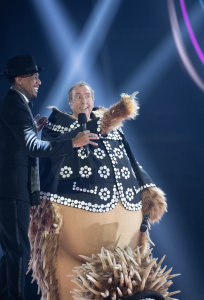 "You can resign to whatever fate you're in. You put yourself in the hands of the doctors, and off you go. You keep smiling and whistle and then look on the bright side. And then when they tell you that you're going to survive, I mean, that was quite a moment," said Idle.
Now, he is fighting back and working with Stand Up to Cancer to create the Bright Side Fund to support research and help promote early detection, according to People. "They're doing great work," he explains. "I think if we can just spread the word a little and try and raise some money, we can put it in the right direction."
Understanding Pancreatic Cancer
Pancreatic cancer is an aggressive disease that is difficult to detect because symptoms – including jaundice and weight loss – typically present at a later stage in the cancer's development. In a previous interview with SurvivorNet, Dr. Anirban Maitra, the co-leader of the Pancreatic Cancer Moon Shot at MD Anderson Cancer Center, explains what he typically sees when patients develop this disease.
RELATED: If You're A First Degree Relative of Someone With Pancreatic Cancer, Screening and Surveillance Could Save Your Life; Here's Why
"Because the pancreas is inside the abdomen often doesn't have symptoms that would tell you that something is wrong with your pancreas," he says. "By the time individuals walk into the clinic with symptoms like jaundice, weight loss, back pain or diabetes, it's often very late in the stage of the disease."
Detecting Pancreatic Cancer Early Is Crucial
Parents, siblings and children of someone with pancreatic cancer are considered high risk for developing the disease because they are first-degree relatives of the individual. PGVs (pathogenic germline variants) are changes in reproductive cells (sperm or egg) that become part of the DNA in the cells of the offspring. Germline variants are passed from parents to their children, and are associated with increased risks of several cancer types, including pancreatic, ovarian and breast cancers. Germline mutations in ATM, BRCA1, BRCA2, CKDN2A, PALB2, PRSS1, STK11 and TP53 are associated with increased risk of pancreatic cancer.
Jessica Everett, a genetic counselor at NYU Langone's Perlmutter Cancer Center, encourages people in this category to look into possible screening options.
"If you're concerned about pancreatic cancer in your family, start by talking to a genetic counselor to learn more about your risk and what options you have," Everett said.
Early Detection Methods
If you're at high risk, and you suspect something might be wrong, there are tests that can be performed to see whether you might have pancreatic cancer, an endoscopic ultrasound or an MRI scan are two common ways of doing this. For Idle, it was an MRI.
"About three years ago I was incredibly lucky: I was diagnosed with pancreatic cancer," Idle said in TIME magazine, recounting how the early detection came about. "Lucky? One of the most lethal forms of cancer, how on earth was that lucky? Well, because it was found incredibly early."
"So this day we are doing an MRI," Idle wrote at the time. "[His friend] has already done blood work and notices a slightly high marker, a dubious blood score on a panel, and on a hunch asks Westside Medical Imaging, while they are examining a couple of other areas, to shoot an isotope into me to highlight and take a look at the pancreas."
Doctors have been known to find early and treatable pancreatic cancers using both an endoscopic ultrasound and an MRI. Studies have been conducted on a blood test for pancreatic cancer, and although this looks very promising, more tests are needed, and at the moment an ultrasound and MRI are still the best widely available tests we have.
"He and the MRI technician gaze at the ghost of a tumor sitting in the middle of my pancreas," he wrote. "It is intact. It is unattached. But it is undeniably, most probably, the C thing."
"However, this little puppy is still fairly new. It hasn't burst or spread." Idle's "been testing every six months and doing well."
"The cancer is gone," he wrote. "They could find no further trace in my body. I had been a dead man walking. I am going to live."
Dr. Allyson Ocean, a medical oncologist at Weill Cornell Medical Center, previously told SurvivorNet that "mortality is rising because it's caught so late," she said, referring to pancreatic cancer, "and we don't have enough effective medications against the cancer."
So, the question in front of oncologists today is: "How can we detect this disease earlier in the process so we can have a better impact on the survival of our patients?" Maitra said.
Dr. Allyson Ocean explains why pancreatic cancer is so hard to treat.
The treatment options for pancreatic cancer are slow going, but progress has been made over the last few years. One being immunotherapy, a type of cancer treatment that uses your own immune system to fight cancer.
A clinical trial led by researchers at the Perelman School of Medicine at the University of Pennsylvania, and sponsored by the Parker Institute for Cancer Immunotherapy, found "a combination of chemotherapy with an immunotherapy meant to unleash the anticancer capacity of the immune system was effective against one of the hardest targets in cancer care, pancreatic cancer," said Penn Medicine.
"The researchers found that in 34 patients with advanced pancreatic cancer randomized to receive the immunotherapy nivolumab with two chemotherapy drugs, nab-paclitaxel and gemcitabine, had a one-year survival rate of 57.7 percent, significantly greater than the historical average of 35 percent with chemotherapy alone," the institution said.
Immunotherapy for pancreatic cancer hasn't historically worked that well. "Up until now, immunotherapy hasn't had a big role," Dr. Ocean said previously.
Leaning On Family
Idle credits his family for helping him through this diagnosis. "They rallied around me," he said. "We had to move quick, and we did. There was no time to lose."
As he moves past this part of his life, Idle told People he is most excited about spending quality time with his loved ones. "I'm a father, so I really enjoy my kids, and I love seeing them," he says. "I don't look very far in advance. I'm a writer, so I tend to get up and start early on whatever problems I've set myself. And that's a good way of avoiding any anxiety. You just spend your time trying to solve them."
Someone who knows a thing or two about solving problems is Jason Becker. The 19-year-old rock star Jason Becker was diagnosed with Lou Gehrig's Disease. Doctors said he would never make music again and that he wouldn't live to see his 25th birthday. 22 years later, without the ability to move or to speak, Jason is alive and making music with his eyes.
Jason Becker: Not Dead Yet
SurvivorNetTV is proud to present, Jason Becker: Not Dead Yet, a feature-length documentary film that tells the incredible story of a guitar legend who refuses to give up on his dream of being a musician despite the most incredible odds. It is a story of dreams, love, and the strength of the human spirit.
The film has been made with the full co-operation of Jason and the Becker family, who have given their consent for this to be the first feature-length documentary film about his life. They have provided their entire family archive of never-before-seen photos and footage.
With assistance from Abigail Seaberg
Learn more about SurvivorNet's rigorous medical review process.
---