Lindy Thackston is Coping with Grief
In her new Instagram story, Lindy Thackston remembers a 23-year-old friend and fellow cancer fighter who recently passed; she calls this the "hardest part of this cancer stuff."
Thackston was diagnosed with stage 3 colorectal cancer in May 2020, and she recently found out it the cancer spread to her left lung.
Coping with grief and loss during a cancer battle is difficult, but it's the healthy thing to do to fully feel your emotions and process them; see a psychologist if you're struggling.
Fox anchor Lindy Thackston, 41, has had a difficult couple of years battling colorectal cancer and more recently cancer in her lungs, and now she's coping with the loss of friends made on her cancer journey.
Related: Fox Anchor Lindy Thackston, 40, Heads to Florida for Second Opinion As She Awaits Test Results To Determine If 'Cancer Is Still In the Body'
Read More
In a new Instagram story, Thackston, who recently celebrated her 41st birthday on November 29, writes, "The hardest part of this cancer stuff is losing friends. It's devastating and very scary for me at the same time."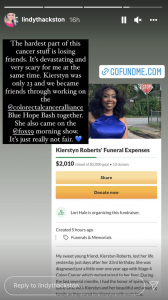 Her friend Kierstyn Roberts was only 23, she writes. "We became friends through working on the Colorectal Cancer Alliance Blue Hope Bash together. She also came on the Fox59 morning show. It's just really not fair," says Thackston.
Lindy's Cancer Battle
Lindy Thackston was diagnosed with stage 3 colorectal cancer in May 2020. She went public with her diagnosis, as well as her treatment plan, and has continued to share updates with fans and followers. Thackston finished her chemotherapy treatment – she had 10 rounds of chemo – in spring 2021.
Related: Colon Cancer Screening is Extremely Important; Guidelines Now Say to Start at Age 45 if There Is No Family History
Thackston lost her hair while going through her cancer battle, as a result of chemotherapy, and bravely shared her ever-changing look on social media. And in September of this year, the anchor shared with her fans on Instagram that her cancer had spread to her lung. She eventually had surgery to treat it.
She wrote, " Unfortunately my biopsy came back with the news the colorectal cancer has metastasized to my left lung. I am now technically stage four, but the good news is, my oncologists say it's curable."
Preparing for Lung Cancer Surgery
Coping with Loss During Cancer
When you're diagnosed with cancer, there may be an impending sense of loss, anxiety, depression, and overwhelm. All of those feelings are normal. As you go through treatment and connect with other cancer fighters, as Thackston did, you may meet other people for whom treatment is not as effective.
Related: Dallas Cowboys Quarterback Dak Prescott Overcomes Grief of Mother's Cancer Death, Losing Brother to Suicide & Ankle Injury, Makes Triumphant Return to Football
When you're faced with loss during your cancer battle, it's important to fully process those feelings, versus pushing them down and not acknowledging them. Experiencing grief is draining and difficult, but it's the healthy thing to do (even though it may not feel like it at the time).
Related: 'This Book Helped Me Get Through My Own Journey in Grief' Says Meghan McCain of New Lifetime Movie She's Producing
If you're struggling while coping with loss or grief of a friend or loved one through your cancer battle, reach out for help. A friend, family member, or a skilled psychologist are all great resources for processing grief and loss in a safe space.
Learn more about SurvivorNet's rigorous medical review process.